Biden Failed China Spy Balloon Test—Mike Pompeo
The spy balloon United States officials believe originated from China was a "trial" to see how America would respond, Mike Pompeo has said, arguing that it now knows "the Biden administration won't do a darn thing about it."
The former Secretary of State and CIA director under Donald Trump criticized the handling of the situation by President Joe Biden, who chose not to shoot down the stratospheric surveillance aircraft for several days after it was sighted over the continental U.S.
The balloon was shot out of the sky by the U.S. military on Saturday, after traveling across a vast swathe of U.S. and Canadian territory in a suspected bid to surveil sensitive military sites in America. It was first spotted over the Aleutian Islands, an archipelago off the coast of Alaska, on January 28, before traveling across the state, Canada and then back into the northern U.S. on Tuesday.
The high-altitude aircraft was allowed to travel in U.S. airspace as Biden accepted a recommendation not to take it out while above land, over safety concerns for those on the ground. Defense officials said it had been taken out six nautical miles off the coast of South Carolina.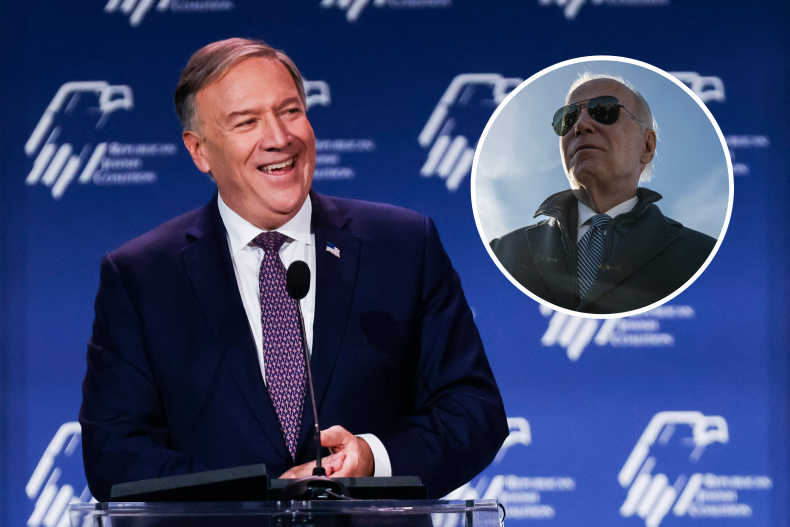 Speaking to Trey Gowdy on Fox News on Sunday, Pompeo described it as a "spy balloon that was truly a trial balloon to figure out how the United States would respond." In his view, it was a test that the Biden administration failed.
"I'm glad that they shot it down; it was probably a handful of days too late," he said. "They [the Chinese] probably got all the collection they needed for those first few days and now they understand that they can penetrate U.S. airspace, hang out with a balloon the size of a couple buses for a few days and the Biden administration won't do a darn thing about it."
The balloon's appearance in American skies came just days before an anticipated trip by Secretary of State Antony Blinken to Beijing to meet with the Chinese leader, Xi Jinping—the first such meeting since Pompeo's in October 2018. That trip has now been canceled.
"On Wednesday, when I was briefed on the balloon, I ordered the Pentagon to shoot it down on Wednesday as soon as possible," Biden told reporters as he arrived in Maryland on Saturday. "Without doing damage to anyone on the ground, they decided the best time to do that was [to get it] over water."
China has said that the aircraft was a civilian weather balloon that had been blown off course—a claim U.S. officials have contested. On Monday, it said America had "seriously impacted and damaged both sides' efforts and progress in stabilizing Sino-U.S. relations" by using military force.
"Chinese spying on America—no surprise," Pompeo said. "Weakness of America just is going to invite more aggression."
In a statement on Sunday, China's foreign ministry said it reserves "the right to take further actions" in response to the balloon being shot out of the sky. Another balloon passed over South America over the weekend; China said it was also for civilian use.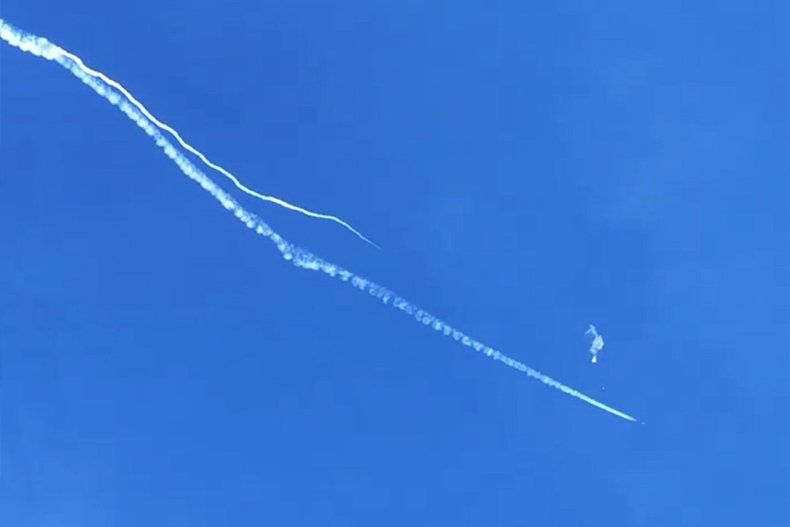 Asked why the balloon wasn't shot down sooner, Pompeo said: "I can't articulate why they would not have immediately taken down this threat."
He suspected that "we would have picked it up" as soon as it penetrated the Air Defense Identification Zone—an area in which identity checks for aircraft are required and which extends from the Alaskan coast into the Bering Sea towards Russia and China.
"This isn't something small coming across [the Pacific]; it's not even a fast mover," Pompeo said. "This is going slow and it is big."
Pompeo also touted his new book, Never Give An Inch: Fighting For The America I Love, which came out in January and has been seen by many as a potential springboard into a 2024 presidential run. He previously told CBS that he and his wife would come to a decision on whether to run "in the next handful of months."
When asked to comment, a White House official told Newsweek: "The military recommended taking the balloon down over water, following the determination by military commanders that there was undue risk of debris causing harm to civilians while the balloon was over land in Alaska, Canada or the continental United States.
"The president directed the military to take it down at the first available opportunity when it could be done safely without risking American lives while maximizing our ability to recover the payload," they said. "We sent [a] clear message to China that this is unacceptable. We protected civilians. We gained more intel while protecting our own sensitive information. This is what the American people expect of their Commander in Chief."
Newsweek reached out to NORAD for comment.
Update 02/06/23, 12:20 p.m. ET: This article was updated to include comment from the White House.