Joe Biden Failing to Win Over Democrats Despite Midterms Boost
Only just over half of Democratic voters want President Joe Biden to run for a second term in 2024 despite better than expected results for the Democrats in last week's midterm elections, a new poll has found.
A Redfield & Wilton Strategies poll conducted for Newsweek found that 51 percent of Democratic voters supported Biden running again in two years, while 37 percent said he should not and a further 12 percent said they didn't know.
The poll asked those who responded "no" why they believed Biden shouldn't seek another term and found that 60 percent cited his age as the most significant reason.
The president will turn 80 on Sunday and become the first octogenarian to serve in the Oval Office. Former presidents have entered their 80s only after leaving office and Biden is the oldest serving president in U.S. history.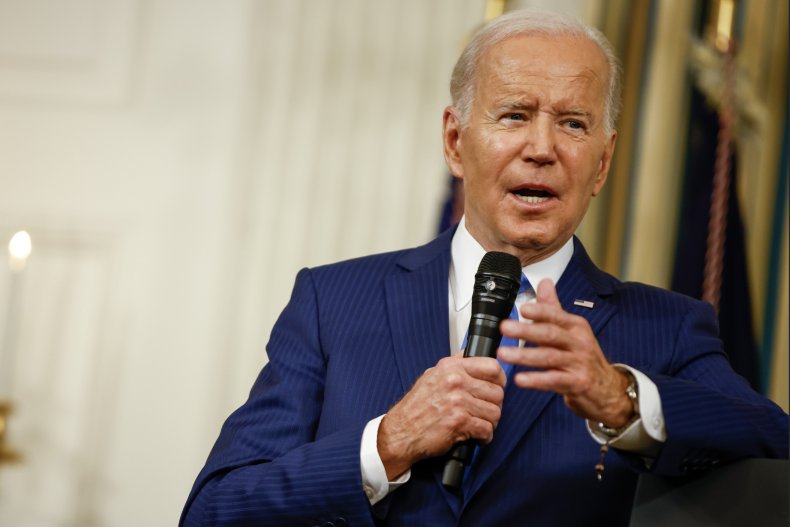 Biden's age was by far the biggest reason why respondents said he shouldn't run again, followed by 12 percent who cited strengths of other potential Democratic candidates and 9 percent who cited his economic policies.
Just 2 percent said that the midterm election results were the most significant reason Biden shouldn't seek a second term.
The Redfield & Wilton Strategies poll was conducted on November 17 among 1,500 eligible voters. The question about whether Biden should run again polled 797 respondents who said they were likely to vote in the Democratic primary, said they voted for Biden in 2020 or said they are registered Democrats.
Democrats beat expectations in this year's midterms and retained control of the Senate, while the Republican majority in the House of Representatives will be smaller than was widely predicted.
Biden's party also won key state-level races, including the gubernatorial elections in Pennsylvania and Arizona but a significant section of Democratic voters appear concerned about another Biden run.
Nonetheless, the Redfield & Wilton Strategies poll also found Biden with a substantial lead over potential Democratic rivals in a hypothetical primary with 61 percent of Democratic respondents saying they'd vote for him.
Vice President Kamala Harris came in second place with 12 percent, followed by Secretary of Transportation Pete Buttigieg on 9 percent. That question surveyed 585 respondents weighted by likelihood to vote in a Democratic primary and excluded undecideds.
The Redfield & Wilton Strategies poll found division among respondents when it came to perceptions about the midterm elections, with 29 percent saying they strongly agreed that Republicans had performed worse than expected.
Twenty-nine percent agreed with that premise, while 7 percent disagreed, 4 percent strongly disagreed and 21 percent neither agreed nor disagreed. A further 9 percent didn't know.
Biden has indicated he wants to run for president again in 2024 and he's widely expected to consider the matter with his family over the Thanksgiving holiday, though he has made no formal campaign announcement.
That stands in contrast to former President Donald Trump, who has declared his candidacy. The Redfield & Wilton Strategies poll found that 59 percent of Republicans supported Trump running again, compared to 32 percent who didn't and 9 percent who didn't know.