President Joe Biden's critics have seized on his fall while boarding Air Force One on Friday to make claims about the commander-in-chief's overall health.
Reacting over the weekend, conservatives called the stumble "scary" and "sad" as they made claims about the president's health, echoing attacks former President Donald Trump levelled against him during the 2020 election cycle.
The Republican attacks came as Biden's positive approval rating remained high following the passage of his $1.9 trillion COVID-19 stimulus package, and despite the ongoing border crisis.
Posting on social media on Sunday, Rep. Ronny Jackson (R-TX) said: "I served as White House physician under THREE Presidents. I've seen what it takes physically AND mentally to do the job. I can tell you right now that the way Biden is hiding from the public is a MAJOR red flag. Something's not right!"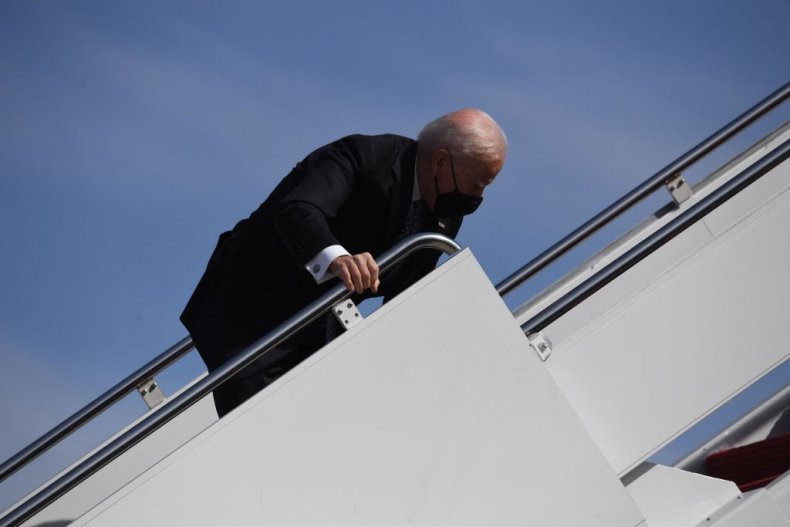 The former Trump adviser Boris Epshteyn said the video of Biden stumbling three times on the steps of Air Force One "isn't funny" but "scary" as he sought to cast doubts over his health.
"I remember the press bashing [Donald] Trump for touching the rail once. Biden falls repeatedly but I'm sure he's the picture of health," Donald Trump Jr. tweeted with footage of Biden's fall. "No wonder all our enemies are pouncing simultaneously and mocking him publicly."
Fox News host Sean Hannity called the footage "sad." Hannity also used the stumble to make allegations about Biden's health and mental faculties.
"This is the hardest job in the world, the most demanding job in the world," the conservative commentator said. "And if our president is struggling, we have every right to know."
After the footage of Biden's fall went viral and picked up media coverage on Friday, the White House explained that the wind was to blame for the stumble, and sought to calm speculation about the president's well-being.
White House Communications Director Kate Bedingfield said: "I know folks have seen that President Biden slipped on his way up the stairs to AF1, but I'm happy to report that he is just fine and did not even require any attention from the medical team who travels with him. Nothing more than a misstep on the stairs."
Karine Jean-Pierre, the deputy White House press secretary, also told reporters that it had been "pretty windy outside" and claimed that she almost fell coming up the stairs of the plane herself.
In December 2019, Biden's physician Kevin O'Connor said he was a "healthy, vigorous, 77-year-old male" who was fit to "execute the duties of the Presidency." Biden appointed O'Connor to be the new White House physician in January.
Newsweek has contacted the White House for further comment.