Joe Biden Is Falling and Bernie Sanders Is Rising in Key Swing State of Pennsylvania, New Poll Shows
Support among voters in Pennsylvania for former Vice President Joe Biden has dropped sharply, while support for Senator Bernie Sanders of Vermont is on the rise, a new poll shows.
The new survey by Franklin & Marshall College published Thursday showed Biden still in the lead at 22 percent compared with Sanders in second place at 15 percent. But support for Biden in Pennsylvania, according to the poll, had dropped a full eight points while support for Sanders had risen by 3 points since the survey was last conducted in October.
Senator Elizabeth Warren came in third, with 14 percent. But her support had also declined by 4 percent. Former New York City Mayor Michale Bloomberg, a billionaire businessman, came in fourth with 7 percent of respondents' support.
The survey also showed that 50 percent of voters are firmly committed to removing President Donald Trump from office in 2020. Meanwhile, only 35 percent said they will definitely not support a change of president in the November election.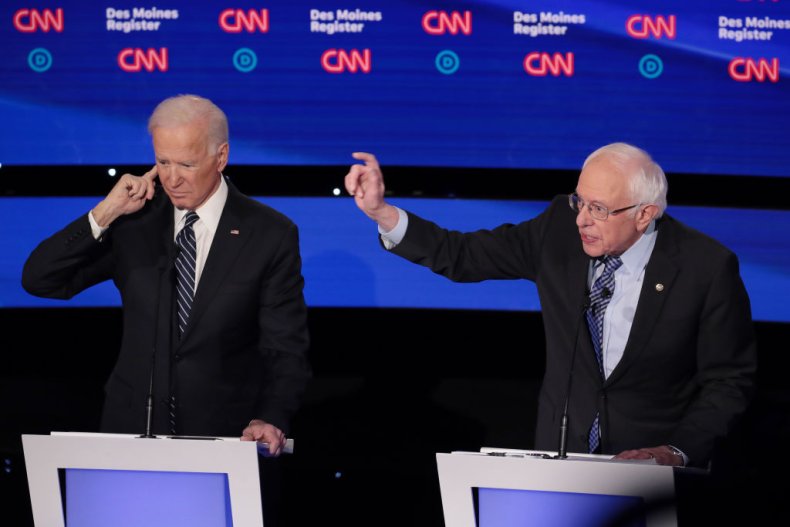 Pennsylvania will become a key battleground state for the 2020 race after the state turned blue for Democrats in every presidential election from 1992 through 2012. In 2016, the state narrowly went red for Trump. Former Democratic presidential candidate Hillary Clinton received 47.9 percent of the votes in Pennsylvania, while Trump garnered 48.6 percent—a difference of less than one percentage point.
The latest poll results from Pennsylvania came as Biden's lead nationally and in state-level polls appears to be slipping. While Biden had been the clear frontrunner nationwide, recent national polls have shown his support declining while Sanders has surged. A CNN poll from earlier this month showed Sanders leading Biden nationally for the first time at 27 percent compared with the former vice president's favorability at 24 percent.
But an average of national polls by Real Clear Politics shows Biden in the lead with 28.1 percent compared to Sanders 23.8 percent. Warren trails further behind at 14.8 percent, with no other candidates in the double digits.
Meanwhile, Sanders leads the pack in Iowa and New Hampshire, which will be the first states to narrow the candidate field. The Real Clear Politics average of Iowa polls shows Sanders with 23.8 percent, followed by Biden at 20.2 percent. In New Hampshire, the Vermont senator leads by even wider margin, with 26.3 percent – nearly 10 points ahead of Biden's 16.8 percent.