Joe Biden has a long history of misspeaking. But on the politically sensitive issue of the Southern U.S. border, his vice president, Kamala Harris, has caused the administration far more headaches with gaffes and missteps than Biden has. Until now.
During a CNN town hall on Thursday, Biden was asked if he has plans to visit the Southern border during his presidency. He responded that he's been there before and he knows it well.
"I mean, I know it well. I guess I should go down. But the whole point of it is I haven't had a whole hell of a lot of time to get down," the president said.
Biden added that his wife, Dr. Jill Biden, has traveled to both sides of the river and seen the circumstances.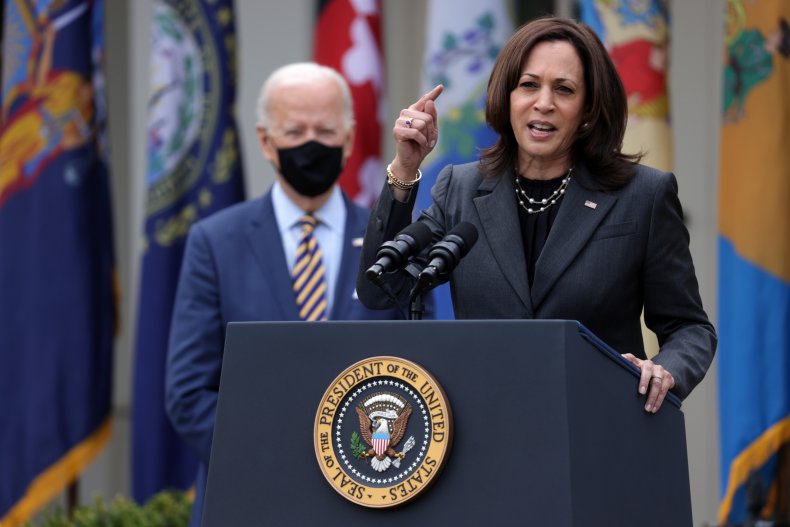 Biden's claim that he had visited the border left the White House scrambling on an issue that has hurt the administration on both sides of the political divide. Conservatives criticize Biden for failing to be more aggressive in pushing back migrants and progressives are furious that he has yet to rollback some of Donald Trump's tough enforcement policies.
When asked about the border visit, the White House could only cite a moment when Biden drove along the boundary during a car ride from an airport in El Paso more than a decade ago.
"He did drive through the border when he was on the campaign trail in 2008. And he is certainly familiar with the fact—and it stuck with him—with the fact that in El Paso, the border goes right through the center of town," White House press secretary Jen Psaki told reporters Friday.
The Washington Post reported that Biden's 2008 involved a route "that for a few minutes hugs the border."
Psaki went on the offensive, saying that the President "does not believe a photo op is the same as solutions," and that even though former President Donald Trump visited the Southern border he did not make a positive impact on immigration.
There were other holes in Biden's story. The First Lady last visited the border in December 2019 during the presidential campaign, according to CNN. And Biden said he didn't have time to visit the border because he was traveling around the world. In fact, he had only made one international trip.
Biden stirred controversy months after Harris was criticized, mostly by Republicans, for never traveling to the U.S.-Mexico border despite leading efforts to curb migration.
In an interview with NBC Nightly News anchor Lester Holt, Harris said that she plans to go to the border and repeated, "we've been to the border."
"You haven't been to the border," Holt replied.
"And I haven't been to Europe, Harris said. "And I mean, I don't understand the point that you're making. I'm not discounting the importance of the border."
Harris finally made a trip to Texas on June 25 with Homeland Security Secretary Alejandro Mayorkas, Senate Judiciary Chairman Dick Durbin (D-IL) and Democratic Texas Representative Veronica Escobar.
"I said back in March I was gonna come to the border, so this is not a new plan, but the reality of it is that we have to deal with causes and we have to deal with the effects," she told reporters at the time.
However, Harris was denounced by lawmakers for visiting the Western city of El Paso instead of more high activity areas of the Southern border like the Rio Grande Valley which includes portions of South Texas and the Gulf of Mexico.
But unlike Biden, Harris' tour went beyond her vehicle.
Her group toured a migrant processing facility and spoke to Customs and Border Patrol agents and unaccompanied minors. She also made an unscheduled visit to Paso del Norte Port of Entry along the border. Harris also met with leaders from NGOs, social services and legal organizations who all work with migrants.
After her trip, Harris urged lawmakers to use a "sense of humanity" regarding immigration reform and migrants at the border.
Newsweek reached out to the White House for comment but they pointed to Friday's press conference.