Joe Biden Formally Ends Donald Trump's 'Remain in Mexico' Policy: What it Means for Immigration
The Biden Administration formally ended the Trump-era immigration policy known as the "remain in Mexico" program on Tuesday, which forced asylum seekers to wait in Mexico until their cases were processed in the United States.
In most cases, asylum seekers will be allowed to continue into the U.S. while their cases are processed.
This policy, which was terminated in a memo issued by Homeland Security Secretary Alejandro Mayorkas, was the center of President Donald Trump's immigration program known as the Migrant Protection Protocols (MPP). In the memo, Mayorkas said the MPP "does not adequately or sustainably enhance border management in such a way as to justify the program's extensive operational burdens and other shortfalls," and said that the policy known as "remain in Mexico," had "mixed effectiveness."
On the first day of the Biden presidency, the administration suspended the MPP and President Joe Biden issued an executive order to "promptly consider a phased strategy for the safe and orderly entry into the United States, consistent with public health and safety and capacity constraints, of those individuals who have been subjected to MPP for further processing of their asylum claims," according to the memo.
"I direct DHS personnel to take all appropriate actions to terminate MPP, including taking all steps necessary to rescind implementing guidance and other directives or policy guidance issued to implement the program," Mayorkas wrote.
Advocates of immigration reform are calling the policy reversal a big win.
"The forced return policy was cruel, depraved, and illegal, and we are glad that it has finally been rescinded," said Judy Rabinovitz, American Civil Liberties Union (ACLU) attorney and lead counsel in a case against the MPP.
Between February 19 and May 25 2021, over 11,000 asylum seekers who were in the program were processed into the U.S, according to data from the Department of State.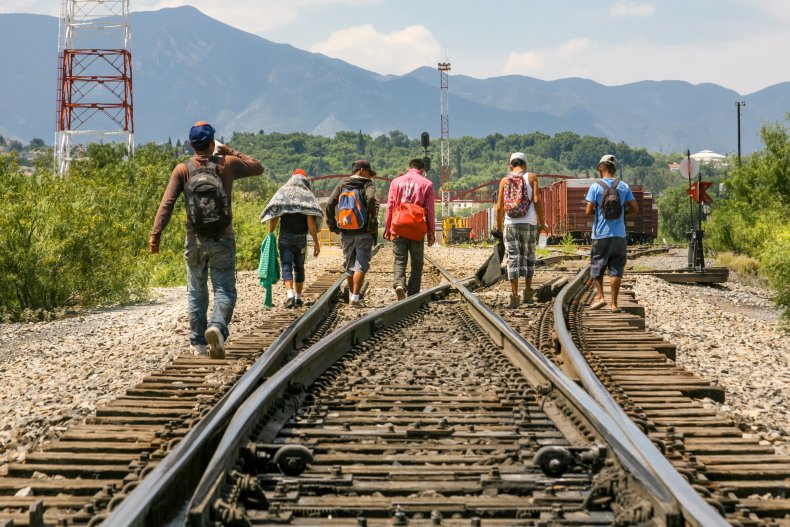 When the MPP was in action under Trump, asylum seekers from Central America, or anywhere else that attempted to access the country from the U.S.-Mexico border had to stay in Mexico awaiting long immigration hearing processes and court dates that took months or years. While they waited, these asylum seekers were often subjected to dangerous conditions, including squalid circumstances, and threats like extortion, kidnapping and sexual abuse.
Roughly 68,000 migrants were "returned to Mexico" under the policy, according to the DHS.
The announcement of the MPP's formal finish comes only a few days after the Department of Homeland Security officially banned the much maligned practice of separating children and parents who are caught crossing the U.S.-Mexico border illegally.
Customs and Border Protection (CBP) Acting Commissioner Troy Miller issued a memo last week banning this "zero-tolerance policy" under most circumstances.
Newsweek reached out to the American Immigration Council for comment.