Barack Obama, Joe Biden and the Virality of Friendship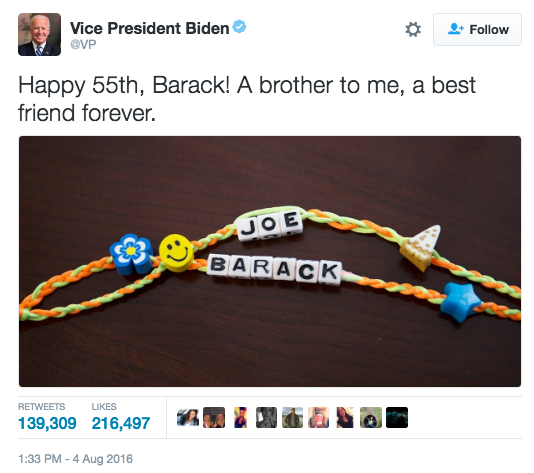 There's no better proof of the strong bond between President Barack Obama and Vice President Joe Biden than a pair of custom friendship bracelets in celebration of the president's 55th birthday on Thursday.
By tweeting "best friends, forever," Biden invoked a code that's familiar to all young Americans. He drew a line that cannot be ignored, between real friends and political frenemies, the haters and frauds who fold in the face of pressure and controversy.
It is this apparently strong and unusually public relationship between Biden and Obama that compelled more than 100,000 people to share the tweet and inspired others to meme-ify it.
It is now Biden's most-retweeted tweet of all time, according to Twitter. In fact, the most shared tweets from @POTUS, the @WhiteHouse, and @FLOTUS all have one thing in common: an unabashed dedication to love, love, love.
If Biden and Obama really are BFFs, the intimacy of their friendship would be rare among those who have occupied the Oval Office. John F. Kennedy Jr. offered the vice presidency to Lyndon B. Johnson to win the South, not a friend, and scholars like Robert Caro and Doris Kearns Goodwin have dedicated hundreds of pages to their famously bitter relationship. Or consider George W. Bush's contentious relationship with Dick Cheney, who separately shot a friend in face in 2006 (accidently); according to a February report by The New York Daily News, the former vice president has yet to apologize.
Outside of the White House, some politicians start as friends or acquaintances and slowly become enemies—such as Donald Trump and Hillary Clinton.
Most politicians never try to pretend that friendship and politics mix. For those whose friendships are real, go the RT spoils.