Joe Biden Gains Big With Swing Voters After Debate, Trump's COVID Diagnosis, New Polling Shows
Democratic presidential nominee Joe Biden has received a significant uptick in support from swing voters—who were seen as key to helping Donald Trump win in 2016—following the president's performance in the first debate and his coronavirus diagnosis last week.
New polling by Yahoo News/YouGov shows Biden leading Trump by double digits among swing voters who backed Trump in 2016 but then voted for Democrats in the 2018 midterms. The polling also shows a negative shift for Trump among voters who dislike both presidential candidates and white, college-educated women.
While the polling showed that the same amount (31 percent) of voters who switched their party support between 2016 and 2018 backed Trump on September 25 and October 5, Biden's support grew dramatically. Before the debate and Trump's diagnosis, Biden was backed by 40 percent of the key demographic. Now, the former vice president is supported by 56 percent—a lead of 25 percentage points over the president.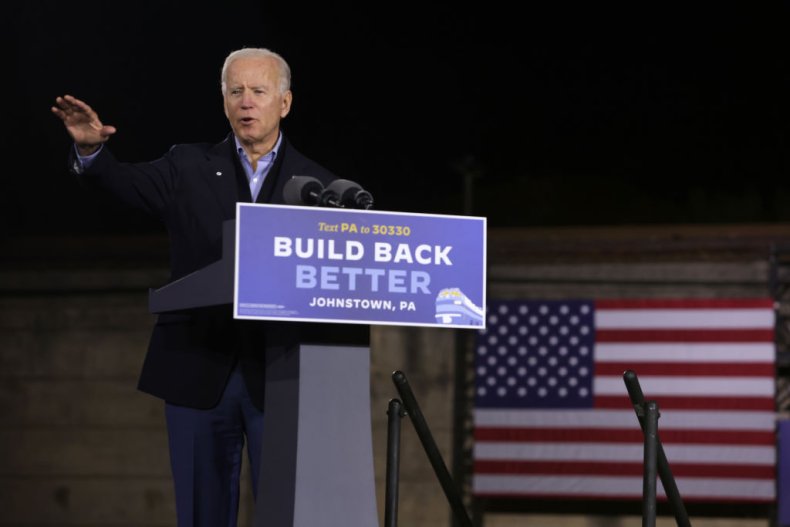 Among voters who dislike Trump and Biden, 24 percent said they would cast their ballot for the president when the poll was carried out on September 25. That level of support dropped in half by October 5, with just 12 percent voicing their willingness to support the president in the election. Whereas Biden previously led Trump by 7 percentage points among the key demographic, he now leads by 17 percentage points.
The shift was even more dramatic when looking at white, college-educated women. While 41 percent of the demographic supported Trump on September 25, that level had dropped by 8 percentage points by October 5. Now, just 33 percent say they back the president. Previously, Biden was ahead of Trump by just 10 percentage points with this group. Now, the Democrat leads by 22 percentage points—with support from 55 percent.
Several national polls carried out following the first presidential debate show Biden gaining significant ground over Trump. Although Biden led the president in nearly all national polls before the debate, several new surveys show that the Democrat is now up by double digits nationally.
A poll published Sunday by NBC News and The Wall Street Journal showed Trump with just 39 percent support—trailing Biden, who was backed by 53 percent of likely voters, by 14 percentage points. Polling by CNN published on Tuesday showed Biden up 16 percentage points over Trump, with the Democrat supported by 57 percent of respondents and the Republican backed by just 41 percent. And a survey by Reuters and Ipsos, which was released Sunday, had Biden with a lead of 10 percentage points.
Biden also appears to have the advantage in the key battleground states of Arizona, Florida, Michigan, North Carolina, Pennsylvania and Wisconsin, according to the polling averages compiled by Real Clear Politics. Trump trails the Democratic nominee by 5 or more percentage points in Michigan, Pennsylvania and Wisconsin. In Florida and Arizona, the president is down by more than 3 percentage points. Although the margin is narrow in North Carolina, Biden leads by an average amount of 1.2 percentage points.