President Joe Biden is seeing a hopeful sign in key battleground states that could help get him reelected next year.
Early polling indicates Biden has been able to hold his ground among a group of voters who are generally overrepresented in battleground states, according to a new analysis from The New York Times.
"The polls so far this cycle suggest that the demographic foundations of [Donald] Trump's advantage in the Electoral College might be eroding," the Times chief political analyst, Nate Cohn, wrote on Monday. "Mr. Biden is relatively resilient among white voters, who are generally overrepresented in the battleground states."
Cohn continued, "Overall, 83 percent of voters in Wisconsin, Michigan and Pennsylvania were white in the 2020 election, according to Times estimates, compared with 69 percent of voters elsewhere in the nation."
Wisconsin, Michigan and Pennsylvania are half of the six states that website FiveThirtyEight identified as swing states in the 2020 presidential election.
The figures are welcome news for the Democratic Party, which is expected to nominate Biden to run for a second term, despite his low approval ratings.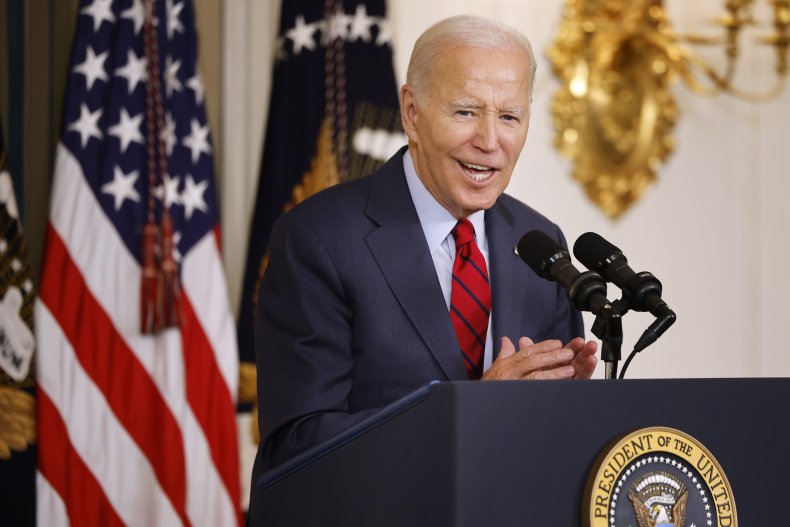 Biden's approval fell from 41 percent in July to 39 percent in August, and even among voters in his party, his approval has dropped from 80 percent to 74 percent, according to a CNN poll released last week. The numbers reflect a declining trend in polling on Biden, whose approval rating was 45 percent in January.
Newsweek reached out to the White House via email for comment.
The data analyzed in Cohn's Times story also shows a narrowed gap between key battleground states and the national popular vote in last fall's midterms, with Democrats doing about the same in those states as they did nationwide. Meanwhile, the Republican Party's Electoral College advantage is down from +3.8 percentage points in 2020 to +0.7 today, according to the Times.
"We are a different country today than we were seven years ago," political consultant Jay Townsend told Newsweek. "The complexion of the electorate is different in the swing states than it was in 2016. Since 2016, 20 million elderly voters have died, and 32 million young people have reached voting age. It should be no surprise that the demographic tidal wave is most pronounced in the swing states."
With hot-button issues like abortion and crime on voters' minds, Democrats were able to fend off a red wave in 2022's midterms and have continued to be successful in state elections where these matters are at the forefront of voters' concerns. If Biden's reelection campaign can repeat that strategy, he may see victory as well.
Cohn wrote, "If those state-specific trends prevail over the national ones again, perhaps Mr. Biden can hope to get the best of both worlds: good results in the Northern battlegrounds, thanks to his national strength among white voters, with resilience in the blue-trending Sun Belt states where idiosyncratic factors might cancel out unfavorable national demographic trends."
While Biden remains a strong candidate among white voters, Trump has been able to make gains among nonwhite voters, which could improve his popular vote. Although it may not be the critical shift seen in key battleground states, Trump's success among the fastest-growing electorates in the U.S. could also help him in the next election.
"Evidence is mounting that Republicans made inroads with Latinos in 2020 that they sustained in 2022," Bernard Fraga, an election expert and author of The Turnout Gap: Race, Ethnicity, and Political Inequality in a Diversifying America, told Newsweek. "This challenges assumptions made not only by politicians and their consultants but by social scientists who assumed that Latinos were out of reach for Republicans."
He went on: "I've seen the data: Trump and other Republicans made real gains with working-class first and second-generation Latinos across the country despite harsh rhetoric and actions on immigration."
Pollster Doug Kaplan, president of Kaplan Strategies, said that Trump's been able to dominate attention because of his standing as the front-runner in the GOP primary. But, he added, it will be difficult to tell how these demographic shifts will play out once Biden takes the offensive.
"The question remains whether Biden has lost minority voters, just as one can contemplate Trump's potential loss of white voters," Kaplan told Newsweek.