Joe Biden Gifts Boris Johnson $6k Bike, Johnson Gives a Photo Printed From Wikipedia
President Joe Biden gifted British Prime Minister Boris Johnson a new, $6,000, custom-made touring bicycle and helmet at their first meeting on Thursday.
As part of the customary exchange, Johnson gave Biden a free-to-use Wikipedia photo of a British mural depicting Black 19th century abolitionist Frederick Douglass in return.
The two leaders met for the first time this week in Cornwall, England ahead of this weekend's G7 summit. The summit also marks Biden's first international trip since taking office.
British government officials decided on the photo after spotting it on Douglass' Wikipedia page, according to a report from The Times of London. Johnson's gift is reportedly a nod to the Black Lives Matter movement that has advocated for racial justice in both nations.
The mural of Douglass is painted on the wall of a residential street corner in Edinburgh, it was painted by artist Ross Blair, who first unveiled the piece online in 2020. The photo of the mural was captured by dual British-U.S. national Melissa Highton.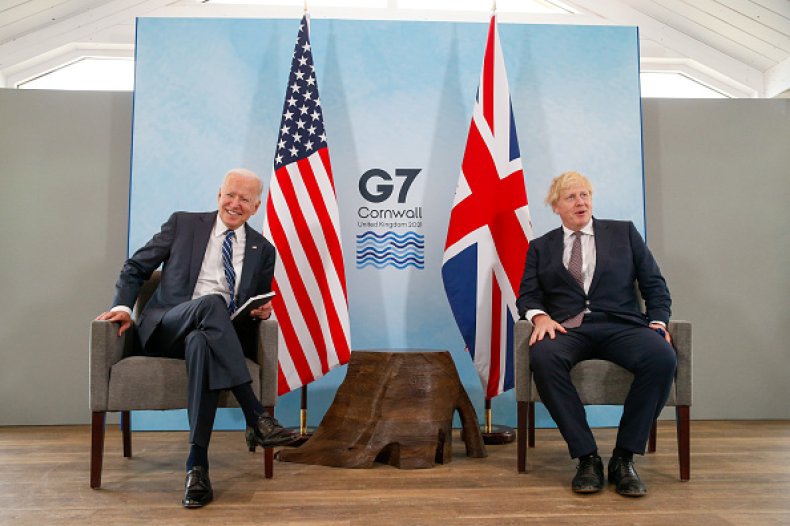 The bike presented by Biden was emblazoned with the U.S. and British flags and offered as "a gesture of friendship and in recognition of their shared interest in cycling," according to the White House.
Johnson is an avid cyclist known for regularly biking to work during his time as the mayor of London. Earlier this year, the prime minister was criticized for biking outside of his local area while COVID-19 infections spiked in the U.K.
The bike and matching helmet was built by Bilenky Cycle Works after the State Department contacted the Philadelphia-based small family business for the order, The Philadelphia Inquirer reported on Friday.
Biden and Johnson's wives also received gifts from their counterparts.
Johnson's new wife, Carrie, received a leather tote made by U.S. military wives and a presidential silk scarf while First Lady Jill Biden received a first-edition copy of "The Apple Tree," a collection of short stories by Daphne du Maurier, who lived in Cornwall.
On Thursday, Biden told the press that he and Johnson had something in common.
"We both married way above our station," Biden joked.
After this weekend's summit, where world leaders will discuss several topics— specifically combatting the coronavirus pandemic, the Bidens will meet Queen Elizabeth II at Windsor Castle.
"Joe and I are both looking forward to meeting the Queen," Jill Biden told reporters. "That's an exciting part of the visit for us. We've looked forward to this for weeks and now it's finally here. It's a beautiful beginning."
Update 06/11/21 - 4:10 p.m. ET - This story has been updated with additional information.