Upon arrival in Michigan on Wednesday, Democratic Presidential candidate Joe Biden was greeted by supporters of President Donald Trump, who chanted "four more years."
In several videos posted to Twitter, Biden and his police escort can be seen arriving in the Detroit suburb of Warren, while a crowd of Trump supporters stands nearby.
"Four more years! Four more years! Four more years!" the crowd can be heard yelling towards Biden and his escort. Several supporters can also be seen holding up Trump campaign signs as well as American flags.
Biden took to Michigan on Wednesday to speak about an economic plan, the auto industry and unemployment in the state, but moments before he took the stage news broke of Trump telling journalist Bob Woodward that he wanted to downplay the severity of the novel coronavirus pandemic.
"While this deadly disease ripped through our nation, he failed to do his job on purpose," Biden told attendees at an autoworkers union hall in Warren. "It's a life and death betrayal of the American people."
"He knowingly and willingly lied about the threat it posed to our country. For months," the former vice president added.
Prior to his speech, the Washington Post published an excerpt from Woodward's forthcoming book, Rage.
"I wanted to always play it down. I still like playing it down, because I don't want to create a panic," Trump told Woodward in an interview the journalist recorded.
White House Press Secretary Kayleigh McEnamy disputed the book's excerpt shortly after the Post published its story about the book, telling reporters that the president "never downplayed the virus."
Biden's visit to Michigan comes just a day before Trump is scheduled to visit the state for a campaign rally in Freeland.
In 2016, Trump won Michigan by just .2 percentage points, according to Ballotpedia.org, but several recently conducted polls show the former vice president ahead in the state.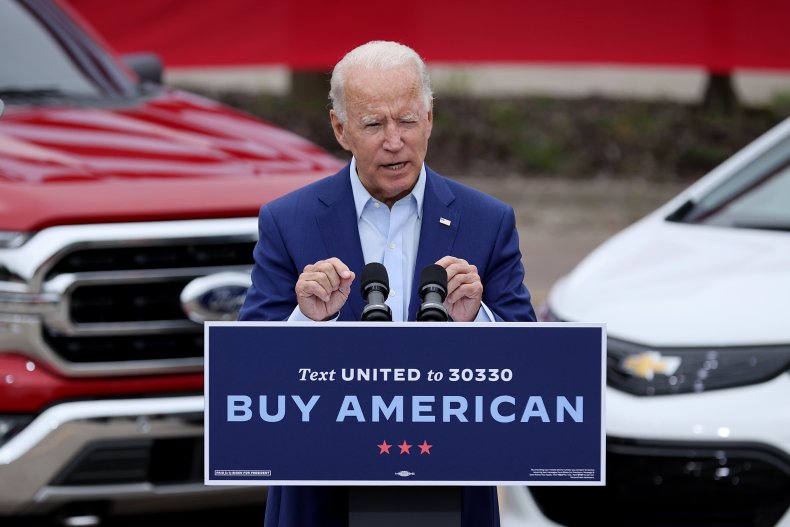 According to a poll conducted by CNBC/Change Research, 49 percent of respondents in Michigan said they'd vote for Biden, while 43 percent sided with Trump. This poll surveyed 4,143 likely voters in six battleground states from September 4 to September 6 and has a margin of error of plus or minus 1.4 percentage points
Another poll, conducted by The Detroit News and WDIV found 47 percent of likely voters in Michigan choosing Biden as their preferred candidate, compared to 42 percent that said Trump. This poll surveyed 600 likely voters in the state from September 1 to September 3 and has a margin of error of plus or minus 4 percentage points.
Newsweek reached out to Biden's campaign for comment but did not receive a response in time for publication.