Joe Biden Could Participate in First Democratic Presidential Debate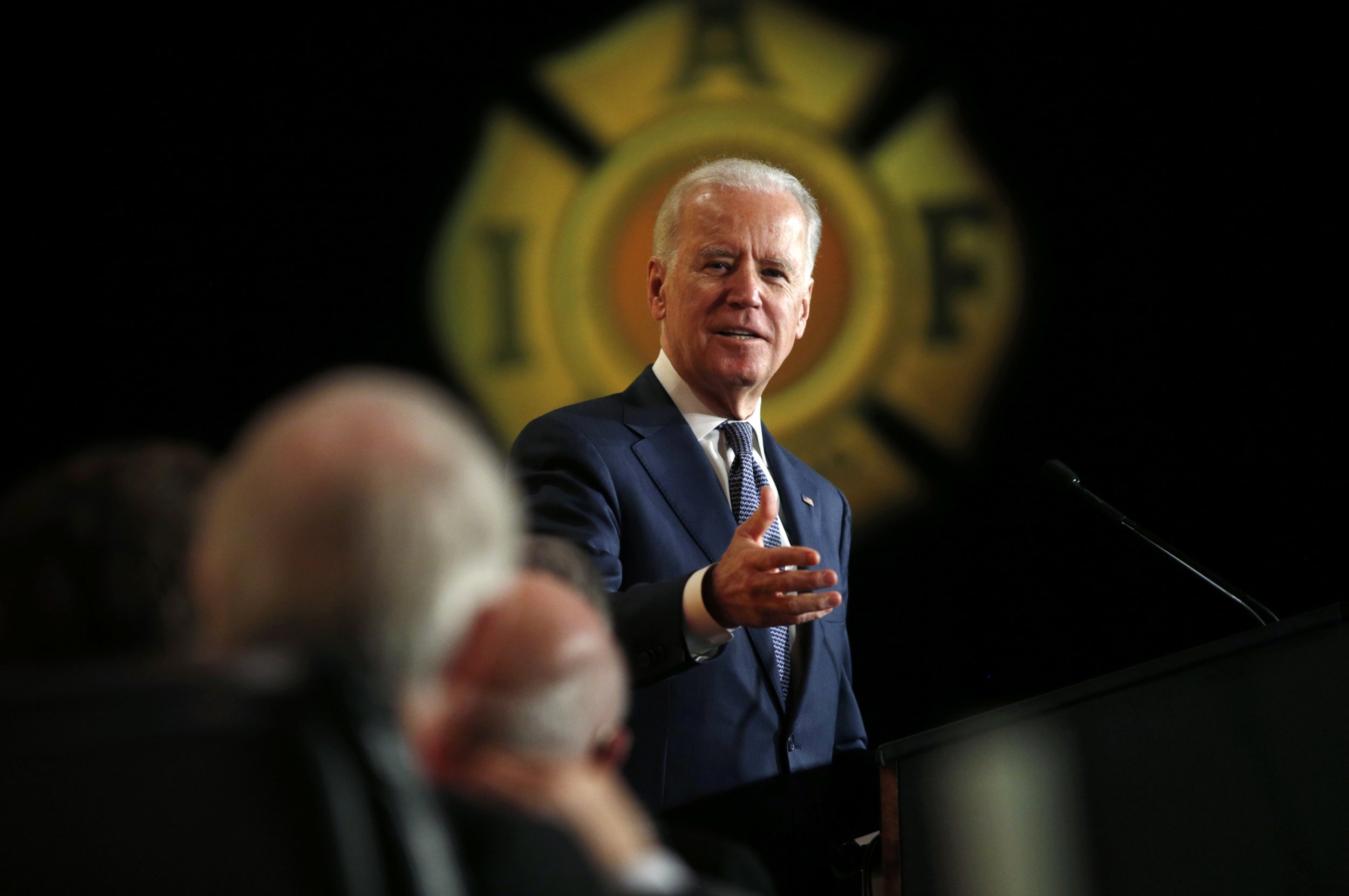 Vice President Joe Biden still has a chance to participate in the first of six Democratic presidential debates—if he is timely in declaring an intention to campaign for the White House.
CNN, host of the debate next month, released its debate criteria on Monday. The five Democratic candidates who have declared their bids for the presidency—former Secretary of State Hillary Clinton, U.S. Senator Bernie Sanders of Vermont, former Maryland Governor Martin O'Malley, former U.S. Senator Jim Webb of Virginia and former Rhode Island Governor Lincoln Chafee—have been invited to participate.
Biden, who isn't yet a candidate, qualifies under CNN's criteria to take the stage because he has met the minimum required polling threshold. CNN said candidates must have achieved an average of 1 percent in three polls released between August 1 and October 10.
Biden, 72, has repeatedly said he won't run for president unless his family is emotionally ready, following the death of his son, Beau, in May. In an interview with America Media, which publishes the weekly Catholic magazine America, Biden last week said his decision might not come in time for him to make a successful run. But if he wishes to participate in the debate on October 13, Biden would only need to file the necessary paperwork to the Federal Election Commission or declare his intention to do so on that day.
He previously launched two bids for the Democratic presidential nomination, in 1987 and 2007.
The political action committee that is backing Biden has begun creating operations in 11 states that hold primary elections on "Super Tuesday" next March, according to Reuters. Its moves to add staffers suggests an increasing confidence that Biden will run for president.
Recent polls have indicated that Biden isn't far behind Clinton and Sanders for support among Democratic primary voters. In a national poll published last Wednesday, Biden ranked No. 2, ahead of Sanders, as his party's choice for the next president. Biden trailed Clinton by just eight percentage points.
The Republican candidates already have participated in two debates during this election cycle. With such a crowded GOP field, only contenders who met the requirements set by Fox and CNN, respectively, were allowed to take part in each event. The candidates who didn't poll high enough participated in earlier, unofficial debates before the main events.
There are now 15 GOP presidential candidates, down from 17 following the decisions by Wisconsin Governor Scott Walker and former Texas Governor Rick Perry to drop out of the race.
The first Democratic debate will be held at 9 p.m. on October 13 at the Wynn Las Vegas in Nevada. CNN host Anderson Cooper will moderate the two-hour event.
The Democratic National Committee (DNC) has received widespread criticism for its debate schedule. Many, including O'Malley, argue the DNC didn't give voters enough time to hear from the candidates, though some Republicans have said the Democratic debates are beginning too late.