Joe Biden Has a Michael Bloomberg Problem, Democratic Strategists Say
The candidacy of former New York City Mayor Michael Bloomberg for president has the ability to pose a significant threat to one of the current Democratic frontrunners.
That person is Joe Biden, several Democratic strategists told Newsweek.
One of the reasons, the strategists explained, was because of Bloomberg's billionaire status, which lends him the ability to self-fund his campaign. But more importantly, both of the 70-something-year-old white men draw from the same electorate: moderate voters.
The strategists also said a Bloomberg candidacy has the likelihood to ignite the liberal base of the party and prompt more support for those such as Sens. Elizabeth Warren (D-MA) and Bernie Sanders (I-VT).
Bloomberg has taken steps toward officially launching a candidacy, such as filing the necessary paperwork, despite previously saying earlier this year he would not do so after Biden entered the race. But the New York businessman has concerns that none of the 2020 hopefuls may be able to unseat Trump.
"I think his voter is not that different from a Biden voter. He has the ability to attract a lot of Independents and some of the other voters that weren't sold on Biden, Warren or Sanders," said Basil Smikle, a strategist and former executive director of the New York State Democratic Party. "If he can cobble together a lot of those voters across the country, then he can have a strong presence in the campaign."
But Bloomberg's entrance into the presidential fray is late, to put it mildly. Several candidates have already dropped out due to lack of support and half a dozen debates have already taken place. Smikle conceded that Bloomberg's short-term plan of winning primaries and caucuses, as well as earning enough support to make it onto the debate stage, may not exist.
"I don't know if there's a particular strategy in the short-term that gets him victories in the early states. Those voters really like, even if you're not a die-hard machine politics candidate... they still like someone that represents party and I don't know that they believe Bloomberg does that," Smikle elaborated. "If he does get into this, he's gotta be in this for the long haul but not necessarily be able to play in some of the early primary and caucus states."
A Trump presidency, Smikle noted, might have actually made voters who would have otherwise written him off in the past more receptive to someone like Bloomberg or even a Tom Steyer, a billionaire liberal philanthropist who is also running for president.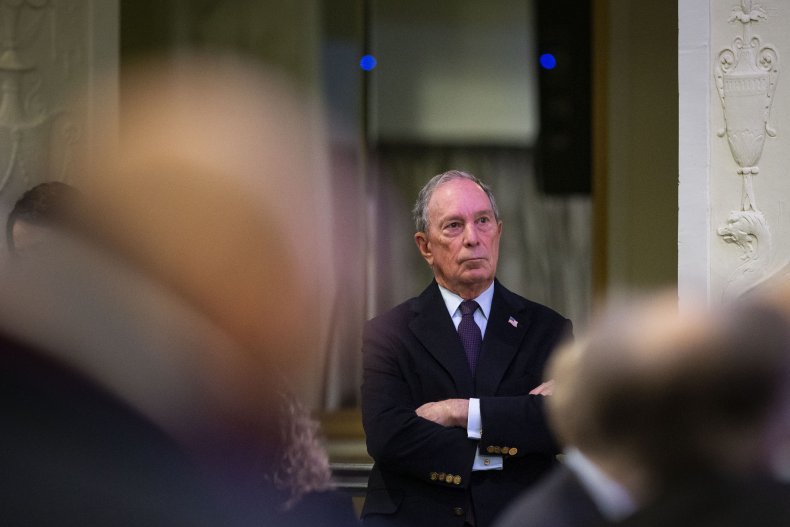 "I think there are a lot of Democrats looking at this and saying, 'It's another billionaire candidate wanting to use his resources to run for president.' Where they would have dismissed it outright several years ago, the emergence of Donald Trump made it much more viable than previously," Smikle said. "You can't dismiss the candidacy outright as you once were able to."
Adrienne Elrod, a Democratic strategist and former senior adviser to Hillary Clinton's presidential bids, said that "Joe Biden, without a doubt" would be most affected by a Bloomberg candidacy.
"Biden is sort of the leading establishment moderate in the field of candidates. Bloomberg has made no qualms about the fact he's not satisfied with the current field of candidates," she said.
Elrod, based on her conversations with people close to Bloomberg, said the former mayor is "most concerned with beating Donald Trump." Voters and some prominent figures within the Democratic Party have questioned whether Biden is the best nominee to take on Trump, citing the smaller figure of cash his campaign has on-hand than other candidates and the verbal stumbles he's made along the campaign trail.
"That has become an issue for this primary electorate. They say, 'Yeah, I want health care fixed. Yeah, I want wages to rise.' But we're now counting a big issue, which is beating Donald Trump. That's a big issue that people care about," Elrod said. "The overriding thing I hear all the time from people is, 'I am concerned Donald Trump is gonna get reelected.' And when you follow that up with a, 'why do you think that?' people say, 'I'm concerned with the current field of Democrats.' Whether that's right or wrong, it's to be determined."
Biden was quick to shrug off the notion that the billionaire would pose a threat to his campaign. He also said Bloomberg's decision to jump into the race is not a representation that he lacks enthusiastic support, citing his poll numbers.
"With regard to Michael Bloomberg, I welcome him in the race. Michael is a solid guy and let's see where it goes. I have no, no problem with him getting into the race," the former vice president told reporters Friday. "In terms of he's running because of me, the last polls I looked at, I'm pretty far ahead. If I'm not mistaken, I'm doing pretty well both relative to Trump and relative to all the people running in the Democratic primary."
Biden isn't the only candidate with skin in the game who reacted to a potential run by Bloomberg. Sen. Bernie Sanders sent an email to supporters classifying Bloomberg as "another billionaire using his wealth to try to buy an election" while Trump has already coined a nickname for the former mayor.
"I think he's going to hurt Biden, actually. He doesn't have the magic to do well," the president told reporters at the White House Friday. "Little Michael will fail... There is nobody I'd rather run against than Little Michael."
'For every action is a reaction'
A Bloomberg candidacy is far from problem-free, Democratic strategists said.
Bloomberg courting moderate voters could also have a favorable effect for Warren or Sanders, the most liberal candidates who often battle over who can be more progressive. However, Democratic strategist Kenneth Baer said, it's too soon to tell for sure.
"It could really energize some of the base for the far-left candidates. For every action is a reaction," the former Obama Administration official said. "But there's a reaction to the reaction. The good thing is maybe he injects some more robust policy debate in the party, which is always a good thing."
In addition, Bloomberg has a constituency problem, argued Democratic strategist Aisha Moodie-Mills.
"The man really doesn't have a constituency," she said. If he were to impact any of the current 2020 hopefuls, it'd be Biden, because people "are starting to get anxious that Biden doesn't have the juice to raise the money to go the distance."
But that's a big if for the CNN commentator.
"I don't think a Michael Bloomberg candidacy impacts any of the candidates in terms of actual support from voters. And this is what is so striking about the 'Billionaire Boys Club' who just feels like they can throw their money around and that's going to get them votes," Moodie-Mills expounded. "He doesn't necessarily have a constituency of voters in any of the key states that, frankly, matter. So, I'm not sure what his presumed path to victory would be."
She rejected the notion Bloomberg may be hoping to influence policy debate rather than having the true desire to be a formidable candidate. If those were his intentions, Moodie-Mills said, he would have joined the race long ago. And if Bloomberg and others are sincerely concerned about a Trump presidency that lasts eight years, she said rich Democrats like Bloomberg and Steyer should spend their money more wisely.
"If the 'Billionaire Boys Club' really wants to dump Trump, they would be wise to invest the millions they're planning to spend on their vanity projects to try and election themselves in real, structural change, in fighting back against voter suppression that, frankly, is the biggest threat to Democratic turnout," Moodie-Mills said. "There's other ways that money could be spent."