Video: Joe Biden Praises Son Struggling With Mental Illness, Drug Abuse—'Beau Is my Soul, Hunter Is my Heart'
The Democratic Party's front-running 2020 candidate Joe Biden heaped praise on his son Hunter Biden, who is struggling with addiction and mental health problems, during an interview with CNN's Chris Cuomo, calling him "my heart."
Hunter Biden, 49, a lawyer and businessman, is Joe Biden's second son. His eldest, Beau Biden, the former Delaware attorney general seen as a potential future candidate for the presidency, died of brain cancer in 2015.
"He's gonna beat this. This kid, I'm tellin' ya," Biden, the former vice president and U.S. senator for Delaware, told Cuomo as he sat next to his wife, Jill Biden. "Beau is my soul, Hunter's my heart. And Hunter's been through some tough times, but he's fighting. He's fighting. He's never given up. He's the most honorable, decent person I know."
In a recent interview with The New Yorker, Hunter Biden, who went through an acrimonious divorce from his first wife Kathleen, who accused him of spending money on alcohol, drugs, and prostitutes, opened up about his problems with addiction.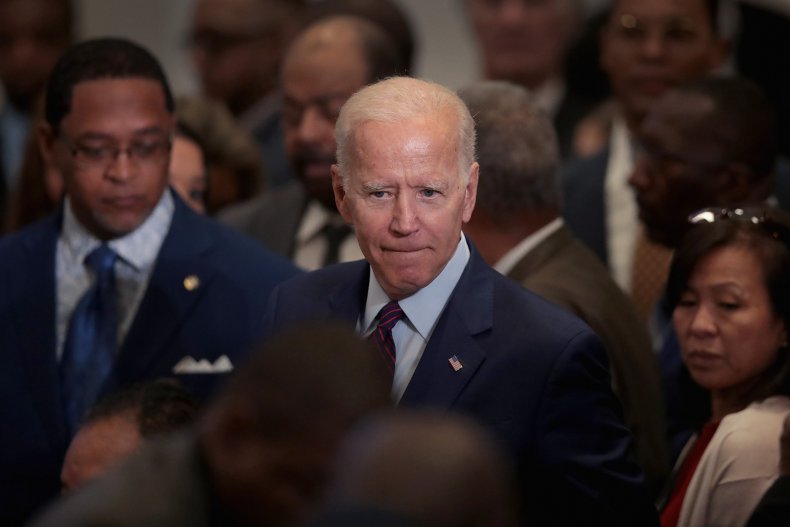 "Look, everybody faces pain," he told the magazine. "Everybody has trauma. There's addiction in every family. I was in that darkness. I was in that tunnel—it's a never-ending tunnel. You don't get rid of it. You figure out how to deal with it."
Joe Biden addressed the article in his Cuomo interview. "I read that article and all I could do is think of, 'My god, he gives me so much more credit than I deserve as a dad,'" the elder Biden said.
"But it took enormous courage. I knew nothing about that article. Nothing about that article. Except he told me toward the end he was having this long interview.
"It's a catharsis for him. And look, everybody has to deal with these issues in a way that is consistent with who they are and what they are. This guy is the most generous, honorable man that I know, and I am confident—confident—that he's going to make it.
"The idea that we treat mental health and 'physical health' as somehow they're distinct—it's health!"
Cuomo said treating mental health problems like any other health condition, such as cancer, would be a huge development. "It's gigantic. And, by the way, it's doable. It is doable," Biden replied.
Hunter Biden is also embroiled in controversy relating to his business ties to China and Ukraine. President Donald Trump called for a Justice Department investigation into Biden's business dealings while his father was in the White House.
A recent Ipsos poll found that 24 percent of registered voters said they would back Biden in the Democratic primary, putting him in first place. Second was independent Vermont Senator Bernie Sanders on 17 percent. The third most popular answer at 15 percent was "don't know."