Joe Biden Insists 'I Don't Have to Atone' for Calling Busing 'Asinine' in the Past
2020 Democratic presidential candidate Joe Biden insisted to reporters on Thursday that he does not have to "atone" for comments he made decades ago regarding the policy of busing to integrate segregated school districts, asserting that his career record on civil rights "stands for itself."
CNN aired a clip of Biden, who served for 36 years in the Senate then two terms as vice president under former President Barack Obama, pushing back when confronted about his past comments about busing. Speaking with the media in Iowa Thursday, a reporter asked Biden if he felt he needed to "atone more" for some of his past statements on the issue, pointing out that he'd once labeled the practice "asinine."
"I don't have to atone," Biden responded. "Look, my record stands for itself. I've never been accused by anybody in my state, or when I've been running, as not being an overwhelming supporter of civil rights and civil liberties."
The 76-year-old candidate then suggested that this questioning of his record on civil rights was "kind of a new thing," before appearing to minimize the issue by pointing out that people were talking about a vote "going back, you know, 40, 50 years."
In the 1970s, Biden was an opponent of federally enforced school busing programs that integrated minority children into predominantly white school districts. Democratic Senator Kamala Harris of California, raised this as an issue of concern during the second round of 2020 presidential debates last week, pointing out to her opponent that she — as the daughter of immigrants of Indian and Jamaican heritage — was one of the children who benefitted from the policy.
Biden tried to defend himself from Harris' criticism at the time, saying he did not actually oppose the pro-integration practice.
"I did not oppose busing in America," the former vice president said. "What I opposed is busing ordered by the Department of Education." However, according to The New York Times, Biden's opposition to busing — which lasted into the 1980s — went beyond just the federal government's role with the effort.
In 1975, first-term Senator Biden strongly supported legislation that opposed busing and was put forward by staunchly segregationist Senator Jesse Helms of North Carolina.
"I oppose busing," he said in an interview at the time."It's an asinine concept, the utility of which has never been proven to me."
"The new integration plans being offered are really just quota systems to assure a certain number of blacks, Chicanos, or whatever in each school," Biden continued. He then argued that this policy somehow suggested that minority children could only learn if they were seated next to white students. "That's racist!" he said.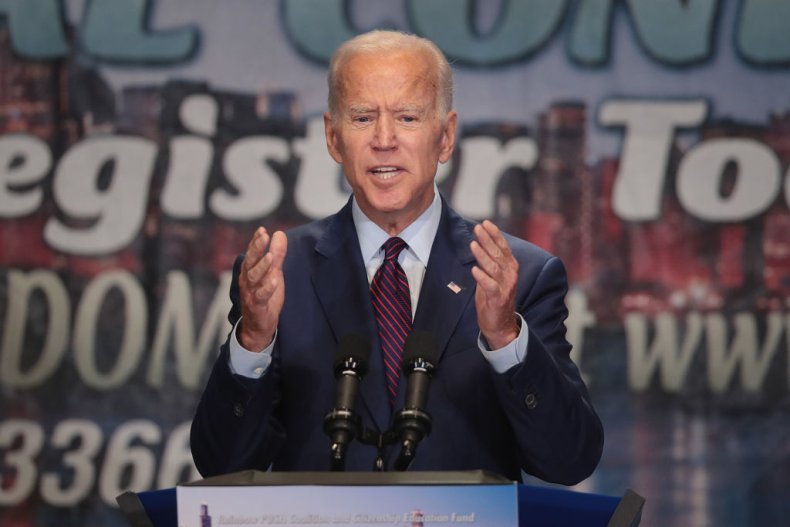 "The problem, you see, is that the courts have gone overboard in their interpretation of what is required to remedy unlawful segregation. It is one thing to say that you cannot keep a black man from using this bathroom, and something quite different to say that one out of every five people who use this bathroom must be black," he added.
Biden went on to introduce legislation in 1976 that blocked the Justice Department from using busing as a way to desegregate schools. The next year, he then went on to co-sponsor an amendment to cut federal funding for busing programs. A decade into his Senate career, in 1983, Biden voted in support of another amendment that was described at the time as "toughest anti-busing rider ever approved by either chamber of Congress."
Speaking to the reporters on Thursday, Biden suggested that people were missing "context" when they criticized his past remarks and positions.
"Everything is lost in context as well," he said. "The context of the time is something that the vast majority of people don't know from 25 or 30 years ago."
The former vice president's voting practice and comments on race have been used against him by both his fellow Democratic candidates like Harris, and by conservatives, like Club for Growth. That Republican organization, which includes a political action committee, recently aired ads during the Democratic debates spotlighting Biden's past.