Video of Joe Biden Saying 'Iranian People' Rather Than Ukrainian Viewed 1M Times
Joe Biden accidentally said "Iranian people" instead of Ukrainian in a moment that has gone viral from his State of the Union speech.
Clips of the moment have started to be shared on social media as well as the reactions from those around the president. So far the incident has been viewed over 1 million times.
One clip appears to show Vice-President Kamala Harris mouth "Ukrainian" after Biden's blunder. The president has also faced criticism on social media for his error.
Biden was attempting to comment on Russian President Vladimir Putin's invasion of Ukraine and the resistance he has faced from the country.
"In the battle between democracy and autocracy, democracies are rising to the moment, and the world is clearly choosing the side of peace and security," Biden said during his speech.
"This is a real test. It's going to take time. So let us continue to draw inspiration from the iron will of the Ukrainian people. To our fellow Ukrainian Americans who forge a deep bond that connects our two nations we stand with you.
"Putin may circle Kyiv with tanks, but he never gain the hearts and souls of the Iranian people. He will never extinguish their love of freedom. He will never weaken the resolve of the free world."
Following the blunder during the speech, the president was mocked on social media.
"'Putin will never gain the hearts and minds of the Iranian people.' That's a relief," conservative commentator Ann Coulter wrote on Twitter.
"Turned it off after Biden said Putin will never win the heart and soul of the Iranian people," former Pentagon official Amber Smith wrote in a tweet.
"Putin will never weaken the will of the 'Iranian' people? Someone, please get Joe Biden a map," Republican Representative Ken Buck tweeted.
"Biden's Freudian slip over Putin and the Iranian people perfectly encapsulates how US foreign policy sees everything outside of their Western bubble," sociologist Sabrina Fernandes tweeted.
Some social media users defended Biden's error and insisted that former President Donald Trump was not a perfect public speaker either.
"People are hung up on Biden saying Iranian people like Trump spoke perfectly the entire he was in office," singer Malynda Hale said on her Twitter page.
Philadelphia Inquirer columnist Will Bunch also defended Biden and said Fox News was focusing on the blunder rather than the other things Biden said in his speech.
"CNN, MSNBC, the networks: 'Biden hails economic gains, Ukraine alliance.' Fox News: 'Biden said Iranian,'" Bunch tweeted.
It comes after Fox News host Laura Ingraham took to Twitter and questioned whether she heard Biden say "Iranian people." Her tweet has so far been liked over 16,000 times and retweeted 1,500 times.
Newsweek has contacted the White House for comment.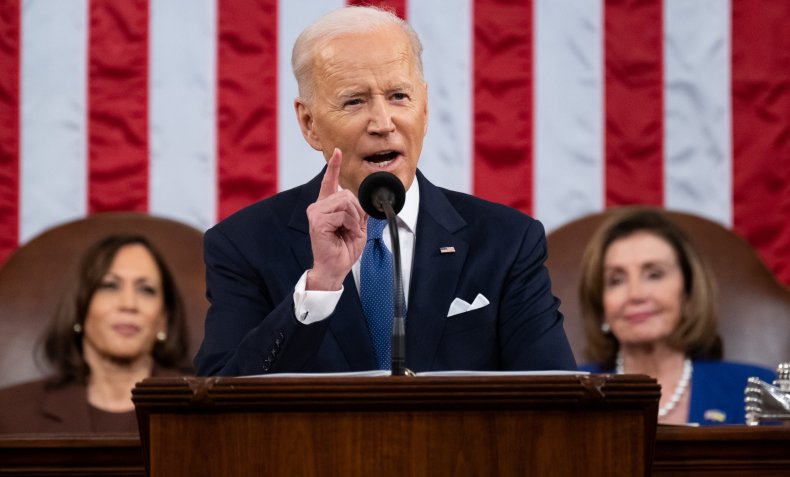 Update 3/2/22, 6:48 a.m. ET: This article was updated with additional information.