Is Joe Biden Irish? A Look at the President's Ancestry on St. Patrick's Day
President Joe Biden is known to be proud of his Irish roots, so we take a look at his ancestral connection to the country as it celebrates St. Patrick's Day.
St. Patrick's Day is held annually on March 17 — the date the patron saint of Ireland is said to have died in the fifth century.
Biden has often spoken about his Irish heritage and quotes poet Seamus Heaney in his speeches, including a verse from "The Cure at Troy" during his Democratic nomination acceptance speech.
He even made an official visit to the country when he was vice president under Barack Obama in 2016.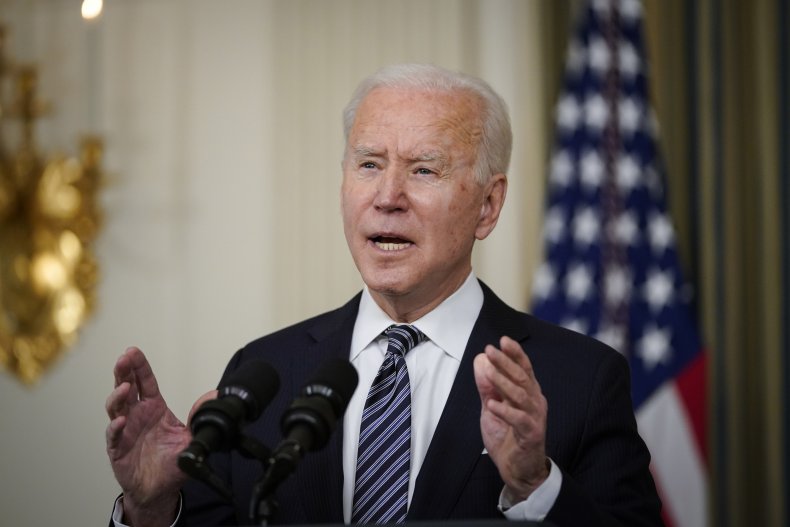 Last year, a clip showing an exchange between Biden and a British reporter from the BBC went viral. When the reporter asked him for a word, Biden told the reporter: "The BBC? I'm Irish."
What are Biden's Irish roots?
All eight of Biden's great-great-grandparents on his mother's side were born in Ireland in the 1800s, according to Irish Central.
The news outlet also reports that two great-grandparents on Biden's father's side were born in Ireland.
Biden can trace his Irish roots back to the Blewitt family in County Mayo and the Finnegans from County Louth in the 1800s.
The Blewitts
The President's great-great-grandfather Patrick Blewitt was born in the town of Ballina in 1832.
In the 1890s, Patrick allegedly emigrated to America alongside his parents and siblings, settling in Scranton, Pennsylvania.
His son Edward (Biden's great-grandfather) was a civil engineer who was elected to the Senate in 1907, records show.
Edward had four children with Mary Ellen Stanton—Gertrude, Patrick, Arthur and Geraldine, who married Ambrose Finnegan.
Their daughter Catherine, who was born in 1917, married Joseph Robinette Biden.
The president, born in 1942, is the oldest of their four children.
The Finnegans
The president's other great-great-grandfather was called Owen Finnegan. He was from the Cooley Peninsula in County Louth.
Their first four children were apparently born in Ireland. They included James Finnegan, who was Biden's great-grandfather.
In the late 1840s, the Finnegan family also emigrated to America like the Blewitts. However, they settled in Seneca, New York.
James and his wife Catherine Roche would later move close to Scranton where they had six children, including Ambrose J. Finnegan who went on to marry Geraldine from the Blewitt family.
Biden is distantly related to Irish rugby players Rob and Dave Kearney, who are his fifth cousin, according to research carried out by the Irish Emigration Museum.
In 2016, the president even congratulated his "cousin" Rob Kearney when the Irish team beat New Zealand for the first time during a game in Chicago.
When Biden won the election, Kearney tweeted back: "Congrats to you Mr President".
What Biden has said about his lineage?
In June 2016 when Biden was vice president, he wrote a letter expressing his pride in his Irish heritage before making an official trip to the country.
In it, he touched upon his lineage through the Finnegans and the Blewitts.
He wrote: "I'm leaving for a very special trip tomorrow.
"I'm going back to Ireland – the country from which my ancestors hailed, and a country whose independence the Easter Rising set in motion, 100 years ago this year."
He also said: "Over the course of my life, I've been to a lot of places. I've traveled all around the world – more than a million miles on Air Force Two alone. I've been honored to have held a lot of titles. But I have always been and will always be the son of Kitty Finnegan. The grandson of Geraldine Finnegan from St. Paul's Parish in Scranton; a proud descendant of the Finnegans of Ireland's County Louth. The great-grandson of a man named Edward Francis Blewitt, whose roots stem from Ballina, a small town in Ireland's County Mayo – sister city to my hometown in Scranton, Pennsylvania. An engineer with a poet's heart. Months after my mother passed away, I found an old box of his poems in my attic.
This chart, by Statista, shows how many Americans claim to have Irish ancestry according to the U.S. Census Bureau.