Joe Biden's Job Approval Numbers Are Second Lowest in Over 60 Years: Poll
Despite entering office with approval from a majority of Americans, President Joe Biden now has the second-lowest job rating of any elected commander-in-chief in more than 60 years.
According to a new Gallup poll, Biden's job approval rating in the fifth quarter of his presidency—which spanned from January 20 to April 19—was 41.3 percent. The only president since Dwight Eisenhower with lower approval during that time period was Donald Trump.
Biden's approval rating has been stuck in the low 40s for the past six months, a less-than-stellar sign for the Democratic Party as it aims to keep majority control of Congress in the upcoming midterm elections. Record-high inflation, the Russia-Ukraine war and the ongoing coronavirus pandemic have likely played a role in Biden's steadily low poll numbers.
"Typically, unpopular presidents' parties have lost seats in midterm elections, with the number of seats lost usually much higher for presidents with job approval ratings below 50 percent," according to Gallup.
The Labor Department recently reported that the consumer price index jumped 8.5 percent in March from a year prior, marking its largest increase since 1981. The White House has blamed rising prices on Russia's invasion of Ukraine, calling high energy costs "Putin's price hike."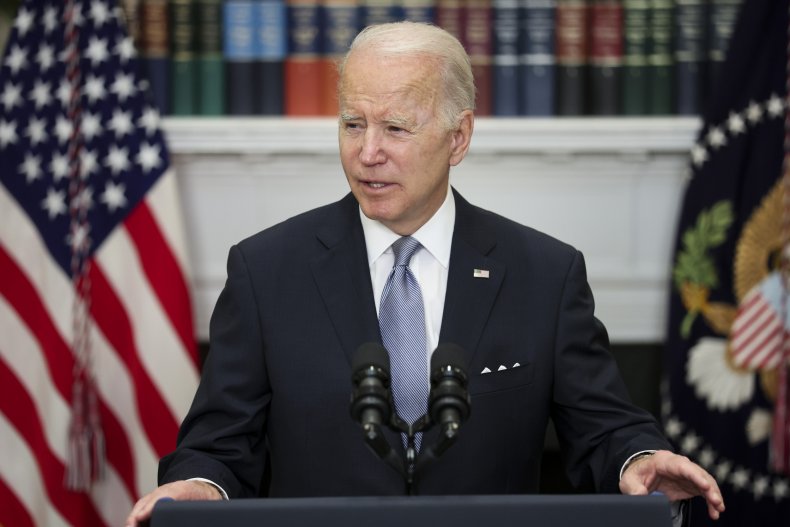 One key demographic souring on Biden has been younger voters. A previous survey from Gallup found his approval rating among U.S. adults from Generation Z, individuals born between 1997 and 2004, has dropped more than 20 percentage points. Progressives have ramped up their calls on Biden to cancel student loan debt, a move that would most appeal to younger Americans.
Ahead of the 2022 elections, the White House has attempted to shift focus to the administration's victories. Biden has been on the road this week in New Hampshire and Oregon to tout the $1 trillion bipartisan infrastructure law passed last year.
"You know, the last fella who had this job kept talking about 'Infrastructure Week' for four years. We have 'Infrastructure Decade,'" Biden said in New Hampshire.
But some Democrats are advising the administration and Congress to deliver another big agenda item before the November races or risk losing seats.
"Democrats win elections when we show we understand the painful economic realities facing American families and convince voters we will deliver meaningful change," Senator Elizabeth Warren wrote in a New York Times op-ed earlier this week. "To put it bluntly: if we fail to use the months remaining before the elections to deliver on more of our agenda, Democrats are headed toward big losses in the midterms."
Gallup polled a total of 3,043 U.S. adults between February, March and April. The surveys have a margin of error of plus or minus 2 percentage points.