Joe Biden Jokes He Got 'Permission' to Give a Hug in First Speech After Inappropriate Touching Allegations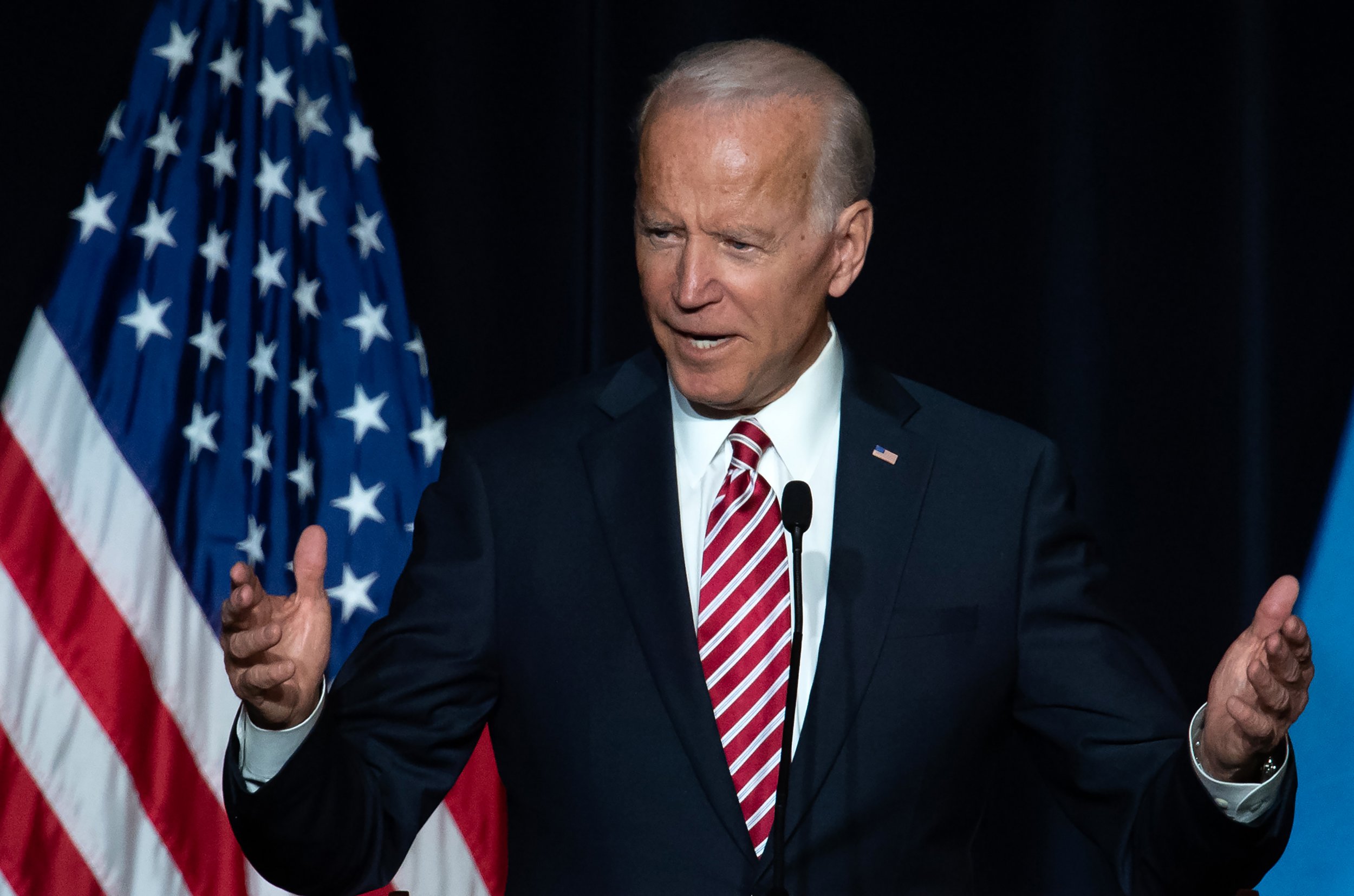 Former Vice President Joe Biden, who is considering a 2020 presidential run, began his first speech after he'd been accused by several women of inappropriate touching with a joke.
Biden was greeted with a standing ovation when he stepped onstage to speak to the International Brotherhood of Electrical Workers during a union conference in Washington, D.C., on Friday.
"I just want you know, I got permission to hug Lonnie," Biden said, referring to Lonnie Stephenson, the president of the labor union. The joke prompted some laughter and applause from the audience.
Later on in his speech, Biden brought children from the audience onstage with him. After giving each of them handshakes, he put his arm around one of the boys and said: "By the way, he gave me permission to touch him." Again, the comment prompted laughter and applause.
After the speech, Biden spoke with reporters to clarify his remarks, saying that it was not his intention to make light of the situtation.
"It wasn't my intent to make light of anyone's discomfort. I realize it's my responsibility to not invade the space of anyone who is uncomfortable in this regard," he said. "I literally think it is incumbent on me and everyone else to make sure if you embrace someone, you touch someone, it's with their consent regardless of your intentions."
Biden has been under fire since at least a half a dozen women have come forward over the past week with allegations that he had touched them in ways that were unwelcome.
The first was Lucy Flores, a former assemblywoman from Nevada, who said Biden had inappropriately kissed her on the back of the head and smelled her hair during a campaign event in 2014 when she was running for lieutenant governor. In an essay for The Cut, Flores recalled feeling "embarrassed" and "confused" by the encounter.
The former vice president remained quiet about the allegations until Wednesday, when he posted a video on social media in which he tried to explain his approach. He explained that giving hugs, handshakes and shoulder grabs was his way of showing support and "connecting" with people.
"But I'll always believe governing—and, quite frankly, life, for that matter—is about connecting, about connecting with people," Biden said in the two-minute video. "That won't change. But I will be more mindful and respectful of people's personal space."
Reaction to the video message was split, with some arguing that he did not offer a clear apology while others praised him for addressing the controversial topic.
President Donald Trump, despite his own track record of sexual misconduct with women, reacted to Biden's message by creating a parody video that he shared on his Twitter account. The 15-second clip was accompanied with the message: "WELCOME BACK JOE!"
The doctored video, which was also shared by Donald Trump Jr., shows Biden creeping up on himself and touching his shoulders as he delivered the message.
Biden hit back at Trump with a tweet on Thursday, writing: "I see that you are on the job and presidential, as always."