Joe Biden, Kamala Harris Tweets Backing Jussie Smollett Remain Up After Guilty Verdict
Democratic President Joe Biden and Democratic Vice President Kamala Harris have left up tweets expressing support for actor Jussie Smollett after he was allegedly a victim in a racist and anti-gay hate attack that occurred on January 29, 2019. However, on Thursday, a jury found that Smollett lied about the attack.
Biden's tweet reads, "What happened today to @JussieSmollett must never be tolerated in this country. We must stand up and demand that we no longer give this hate safe harbor; that homophobia and racism have no place on our streets or in our hearts. We are with you, Jussie."
Harris' tweet reads, ".@JussieSmollett is one of the kindest, most gentle human beings I know. I'm praying for his quick recovery. This was an attempted modern day lynching. No one should have to fear for their life because of their sexuality or color of their skin. We must confront this hate."
Newsweek contacted the White House for comment.
On Thursday evening, an Illinois jury found Smollett guilty on five counts of disorderly conduct related to lying to police about the attack.
Smollett now faces up to three years in prison, though many speculate that he'll receive probation and community service instead. A sentencing hearing will be set for a later date.
Smollett pleaded not guilty to the charges. Following the ruling, Smollett's lawyer said the actor is "100 percent innocent." The lawyer also said they felt confident that another court would overturn the conviction on appeal.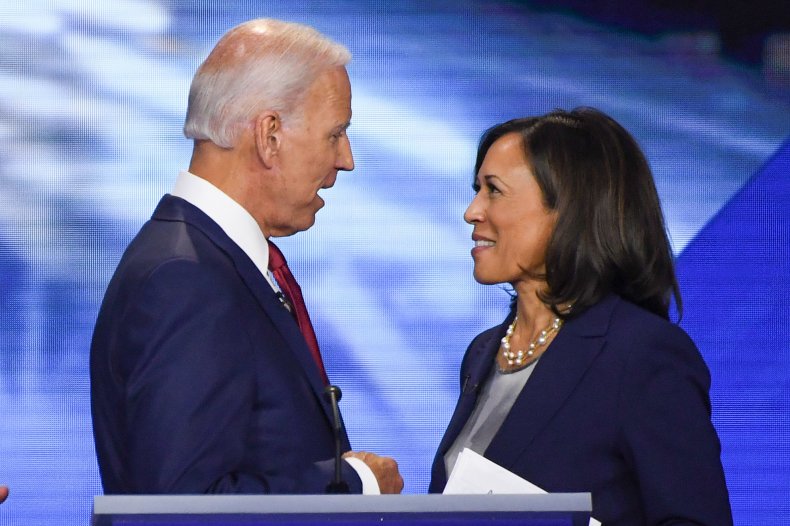 The actor told police that two white men attacked him, poured bleach on him, put a noose around his neck and shouted, "This is MAGA country." MAGA is an acronym for "Make America Great Again," the 2016 campaign slogan of Republican former President Donald Trump.
Prosecutors in the case alleged that Smollett had paid $3,500 to Abimbola Osundairo, his personal trainer, and Olabinjo Osundairo, Abimbola's brother, to stage the attack. Smollett faked the attack, prosecutors said to get a pay raise from his role in the Fox TV hop-hop drama Empire.
Lead prosecutor Dan Webb told the jury during closing arguments that Smollett had initially refused to help the Chicago Police Department investigate the attack by turning over his phone or submitting to a DNA test.
Smollett said he had paid the money to Abimbola Osundairo for personal training for an upcoming music video. He also claimed that he and the trainer had previously had a sexual encounter together and that the brothers harbored anti-gay feelings. However, the brothers denied these claims.
Smollett also said that he initially refused to help the police because he didn't want news of the attack to hurt his career. However, soon after Smollett faced allegations of faking the attack, Empire dropped him from its cast.