Joe Biden Keeps Donald Trump's Cap on Number of Refugees Who Can Enter U.S.
Amid mounting pressure to address the high number of arrivals at the U.S.-Mexico border, President Joe Biden is not raising a Trump administration ceiling on the number refugees allowed to resettle in the U.S.
While Biden signed on Friday an emergency determination to speed up the refugee resettlement process, he upheld former President Donald Trump's cap on refugees, keeping it at 15,000 for this fiscal year. "We will use all 15,000 slots under the new Determination and work with Congress on increasing admissions and building back to the numbers to which we've committed," national security adviser Jake Sullivan tweeted on Friday.
Biden had pledged to raise the refugee ceiling in February, but his commitment has been interrupted by increased concerns that masses of migrants arriving at the southwest border have overwhelmed the administration's ability to process refugees, a senior administration official told The New York Times.
The president's hesitancy to overhaul Trump's refugee resettlement policy has frustrated progressives and advocates alike, while also affecting those who are waiting to enter the country.
"Having fought for four years against the Trump Administration's full-scale assault on refugee resettlement in the United States, we were relieved to see you commit to increasing our refugee resettlement numbers so early in your Administration," Representatives Ilhan Omar (D-Minn.), Pramila Jayapal (D-Wash.) and Jan Schakosky (D-Ill.) wrote in a joint letter to Biden, prior to his Friday order. "But until the Emergency Presidential Determination is finalized, our refugee policy remains unacceptably draconian and discriminatory."
Representative Alexandria Ocasio-Cortez (D-N.Y.) responded Friday to Biden's decision by tweeting that "upholding the xenophobic and racist policies of the Trump admin, incl the historically low + plummeted refugee cap, is flat out wrong."
"Team Biden said they were going to return to a more normal posture in the US with respect to refugees, and they haven't yet done it," Senator Tim Kaine (D-Va.) told CNN. "If you did every program like the refugee program, people would be really happy because the level of vetting is so significant, but why is that program clamped down when people are trying to do the right thing?"
White House press secretary Jen Psaki told reporters that the situation at the border is a "factor" in Biden's decision to maintain Trump's cap on refugee resettlements. She added that the Office of Refugee Resettlement, which is part of the Department of Health and Human Services, "has personnel working on both issues" and added that "we have to ensure that there is capacity and ability to manage both."
"It took us some time to see and evaluate how ineffective or how trashed, in some ways, the refugee processing system had become," Psaki said. "And so we had to rebuild some of those muscles and put it back in place."
Keeping the cap may also be political posturing, a Democratic aide told CNN. The aide said the move is "vintage Biden" in that the president is not taking extreme steps on refugees in order to preserve his options and pick the one that works best for him politically.
Following the Trump administration, the United States Refugee Admissions Program (USRAP) doesn't have the capacity to let in the number of refugees Biden initially wanted to admit, ABC News reported.
"Infrastructure that had been built over four decades was ultimately decimated in four years," Krish O'Mara Vignarajah, the president and CEO of Lutheran Immigration and Refugee Service, told ABC in February. Vignarajah's organization works with the federal government to support the refugee resettlement program.
Vignarajah added, "The Trump administration didn't just try to throw a wrench in the gears, it actually tried to disassemble the entire resettlement infrastructure."
The U.S. has admitted only about 2,000 refugees this year, according to data from the Refugee Processing Center's "Refugee Admissions Report," as of March 31.
But the Biden administration's struggle to process thousands of asylum seekers arriving at the border shouldn't have anything to do with USRAP, which is a completely different system with an in-depth vetting and approval process for individuals who are forced to flee their home countries, according to Times.
Refugees are not to be confused with asylum seekers, according to the International Rescue Committee (IRC). They "must arrive at or cross a border" to qualify for legal protection and must appear before an immigration court. Refugees, on the other hand, apply for such protections while still abroad.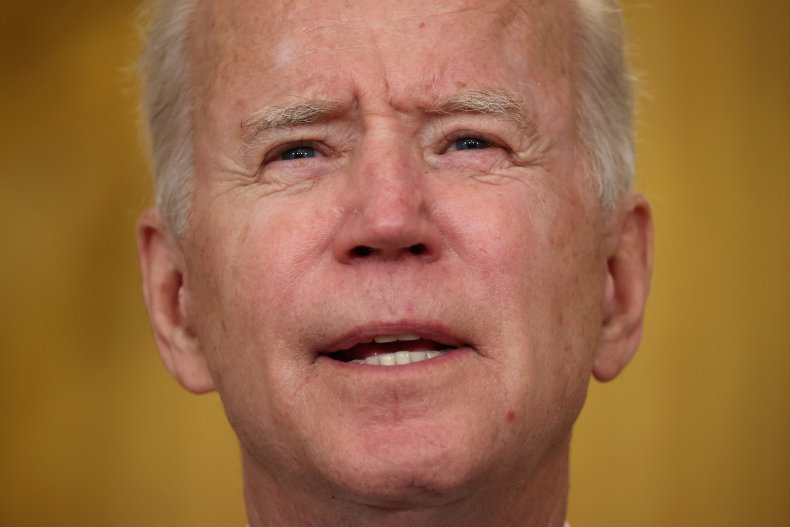 An IRC report released earlier this month said Biden has taken some initial strides to support USRAP, including a February executive order to "rebuild and expand" the program and revoking some Trump-era measures, as well as submitting a proposed Emergency Presidential Determination on Refugee Admissions for fiscal year 2021. The latter said that "to respond to all of these unforeseen and urgent situations, a revised target of 62,500 is proposed and is justified by grave humanitarian concerns and is in the national interest."
In another statement, released late Friday, Psaki confirmed that Biden did include his commitment to a raised refugee ceiling for the fiscal year starting in October 2021, but "he has been consulting with his advisors to determine what number of refugees could realistically be admitted to the United States between now and October 1."
She added that the Biden administration expects the president to establish a "final, increased refugee cap for the remainder of this fiscal year by May 15."
But delays by the Biden administration in issuing the revised policy on refugees have been "highly restrictive and discriminatory," the IRC wrote in the report. As a result of Trump-era policies still firmly in place, "tens of thousands of already-cleared refugees remain barred," leaving refugees in "limbo," the report says.
Despite the costs to refugees awaiting entry into the country, the Biden administration considers the decision to be one step in a much larger overhaul of U.S. immigration policy.
"This is just the beginning," Psaki wrote in a tweet Friday in response to the news about Biden keeping the cap. "This step lifts the restrictions put in place by prior Administration on where refugees can come from. We need to rebuild resettlement program and we are committed to continuing to increase refugee numbers."
Newsweek reached out to the Office of Refugee Resettlement for comment but did not hear back before publication.
This story was updated to include a late Friday statement from White House press secretary Jen Psaki.