Joe Biden Kicks Off ASEAN Summit by Getting Host Country Wrong
President Joe Biden's Southeast Asia trip got off to a rough start when he mistakenly thanked the "prime minister of Columbia," rather than Cambodia, for chairing a major summit.
The president is currently in Phnom Penh, Cambodia, for the Association of Southeast Asian Nations (ASEAN) summit, ahead of a visit to Bali in Indonesia for a G20 meeting next week.
Speaking at a meeting in Phnom Penh, Biden said: "Now that we are back together in Cambodia I look forward to building even stronger progress than we've already made. And I want to thank the prime minister of Columbia's leadership as ASEAN chair."
Cambodian Prime Minister Hun Sen is in fact the ASEAN chair, whilst Columbia isn't a member of the group and is led by a president.
The clip was shared by the official Republican National Committee (RNC) Research Twitter account, receiving more than 380 retweets.
Meanwhile, Saturday's gaff is the second time Biden has appeared to confuse Cambodia and Columbia.
Speaking to reporters as he left the White House on Thursday, the president said: "Anyway, you guys, I'm heading down to first of all, going to Cairo for the environmental effort [COP27], then heading over to Colombia and then—I mean, Cambodia."
After arriving in Cambodia, Biden was pictured with Hun Sen, who has ruled the country since 1998, outside the Sokha Hotel.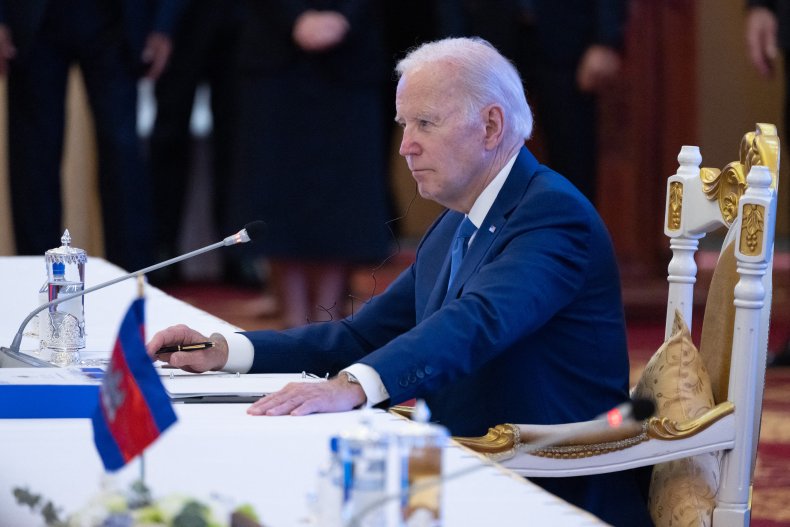 According to a White House readout, Biden raised concerns over the Chinese military's presence at Cambodia's Ream Naval Base, along with human rights in the country.
"The President raised concerns regarding the situation at Ream Naval Base and underscored the importance of full transparency about activities by the PRC military at Ream Naval Base," the readout read. "President Biden also urged Prime Minister Hun Sen to reopen civic and political space ahead of the 2023 elections. He also called for the release of activists detained on politically motivated charges, including U.S.-Cambodian dual citizen Seng Theary."
It continued: "President Biden reiterated the United States' commitment to the Cambodian people and their aspirations for a more prosperous, democratic, and independent country."
On Thursday, ASEAN, which has 10 member states, signed a cooperation agreement with Ukrainian Foreign Minister Dmytro Kuleba in Phnom Penh. Ukraine is expected to be a focus of the upcoming G20 meeting, which Russian President Vladimir Putin will not be attending in person, according to Russia's Indonesian embassy.
Earlier this month, Ukrainian foreign ministry spokesperson Oleg Nikolenko called for Russia to be expelled from the G20 in response to "missile strikes on Ukrainian civilians and energy infrastructure." However, there have been repeated calls to kick Moscow out the G20 since the start of Putin's invasion of Ukraine in February.
Chinese President Xi Jinping will attend the summit, where he is due to meet with Biden.
Relations between Washington and Beijing have deteriorated in recent months, with ongoing disputes over Taiwan, human rights and the Biden administration's ban on the sale of advanced computer chip making equipment to China.
Biden has been strengthened by stronger than expected midterm election results, with the widely expected Republican "red wave" failing to materialize.
Newsweek has contacted the White House for comment.