Joe Biden Accused of Unwanted Kiss From Behind During Campaign Event While Vice President
Joe Biden has been accused by Lucy Flores, a former member of the Nevada State Assembly, of unwanted kissing and touching while he served as Barack Obama's vice president in 2014.
Flores, who penned an essay for the Cut about her experience with the possible 2020 presidential candidate, said that Biden had volunteered to campaign on her behalf during her ultimately unsuccessful run for lieutenant governor in Nevada. After speaking at an event, Flores said Biden grabbed her shoulders, smelled her hair and then kissed her on the back of the head.
"My brain couldn't process what was happening. I was embarrassed," wrote Flores. "I couldn't move and I couldn't say anything. I wanted nothing more than to get Biden away from me."
Kissing someone on the back of the head hardly qualifies as sexual assault, but it does highlight a habit of Biden's—getting very close to female friends and supporters. "I'm not suggesting that Biden broke any laws," wrote Flores. "But the transgressions that society deems minor (or doesn't even see as transgressions) often feel considerable to the person on the receiving end."
A video of Biden putting his hands on Stephanie Carter, wife of former Secretary of Defense Ashton Carter, and whispering intimately into her ear gained some criticism by the media in 2015. Awkward photos of Biden kissing Senator Chris Coons's young daughter, kissing supporters on the lips and even bringing a motorcyclist onto his lap also exist.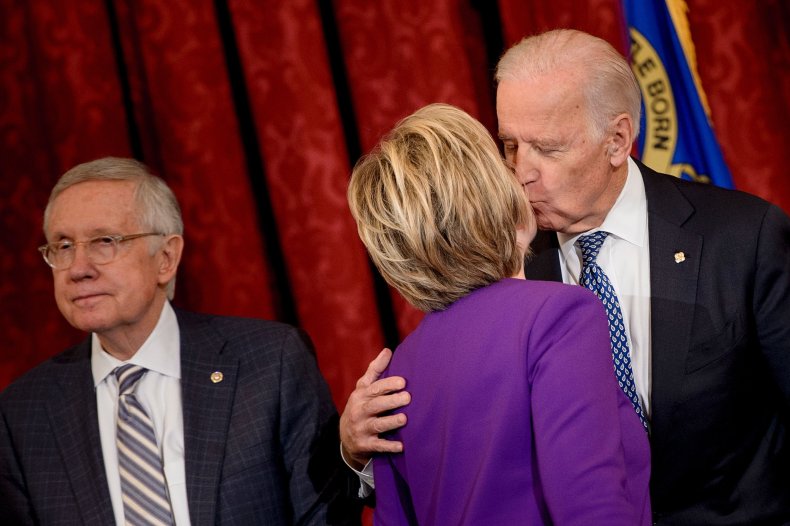 These Richard Dawson on Family Feud-type kisses make women uncomfortable, even if Biden doesn't mean for them to, said Flores.
"Biden was the second-most powerful man in the country and, arguably, one of the most powerful men in the world," wrote Flores. "He was there to promote me as the right person for the lieutenant governor job. Instead, he made me feel uneasy, gross, and confused. The vice-president of the United States of America had just touched me in an intimate way reserved for close friends, family, or romantic partners—and I felt powerless to do anything about it."
In a statement to Newsweek, Joe Biden's spokesperson Bill Russo wrote, "Vice President Biden was pleased to support Lucy Flores's candidacy for Lieutenant Governor of Nevada in 2014 and to speak on her behalf at a well-attended public event. Neither then, nor in the years since, did he or the staff with him at the time have an inkling that Ms. Flores had been at any time uncomfortable, nor do they recall what she describes." Russo continued that, "Vice President Biden believes that Ms. Flores has every right to share her own recollection and reflections, and that it is a change for better in our society that she has the opportunity to do so. He respects Ms. Flores as a strong and independent voice in our politics and wishes her only the best."
The essay comes as tensions rise over Biden's handling of the 1991 Senate hearing about Supreme Court Justice Clarence Thomas's alleged sexual harrassment of Anita Hill. Biden, who chaired the Senate Judiciary Committee at the time, used a speech at the Biden Courage Awards this week to apologize for his actions. Biden called Hill a "brave lawyer" who was forced to pay a "terrible price" after being grilled by "a bunch of white guys." Biden said that "she faced a committee that didn't fully understand what the hell this was all about. To this day, I regret I couldn't give her the kind of hearing she deserved. I wish I could have done something."
Hill still says that Biden has never personally apologized to her.
Biden is currently polling at the top of the Democratic field, despite his lack of a declaration. He is expected to come to a decision on whether to run by mid-April.
Update (03/29/19, 6 p.m.): This story was updated to include a statement from Joe Biden's spokesperson.