As Biden Lead Grows, Many Republicans Call Trump's Florida Rally 'Reckless'
Democratic presidential candidate Joe Biden's lead over Donald Trump continues to grow, as Republicans express concern over large party gatherings ahead of the November election.
A USA TODAY/Suffolk University poll found Biden had a 12-point advantage, with 53 percent asked intending to back him and 41 Trump.
The survey saw 1,000 respondents questioned through phone calls from June 25 to 29 and has a margin of error of plus or minus 3.1 percent.
The 12-point lead, from a combined 2-way ballot test, was up from a 10-point lead in a similar USA TODAY/Suffolk University poll in April. At that point Biden had 50 percent while Trump had 40.
In that survey, 1,00 respondents were asked over the phone between April 21 and 25.
Elsewhere in the latest poll, there were reservations over large in-person campaign rallies when respondents were asked about their views ahead of the political conventions in August.
The statement "holding big traditional gatherings in person, as the Republicans plan, is a mistake because the coronavirus pandemic makes that reckless and dangerous," was put to them.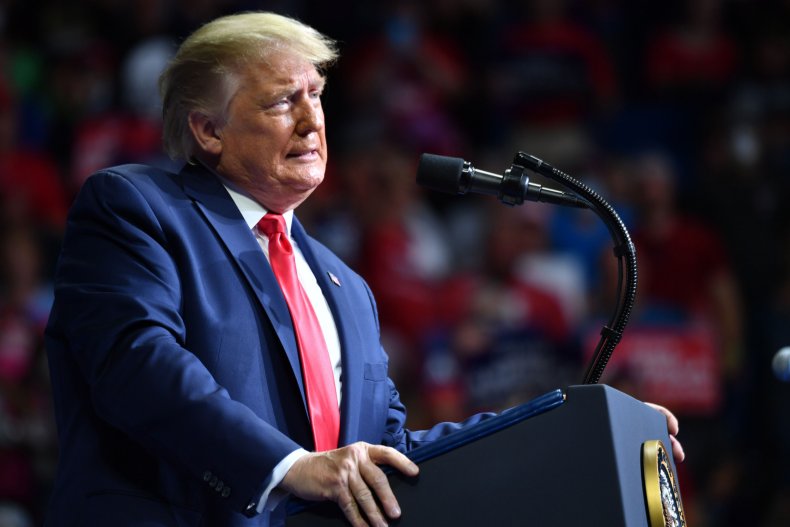 Overall 54 percent of respondents and 36 percent of Republicans asked said this came closest to their view.
Respondents also had the option of "holding big traditional convention gatherings remotely, as the Democrats plan, is a mistake because it will cost them an opportunity to generate enthusiasm and organize supporters."
A smaller number of Republicans, 34 percent, agreed with this statement than the former, while overall half as many agreed with it, at 27 percent.
The Republican National Convention is expected to be held in Jacksonville, Florida, in August, despite residents having expressed concerns over this due to the COVID-19 pandemic.
Doctors in the state have also criticized the plans, branding them "medically disrespectful" and "predictably harmful."
This comes as coronavirus cases continue to soar in Florida, with it becoming the state with the sixth-highest COVID-19 rate in the United States.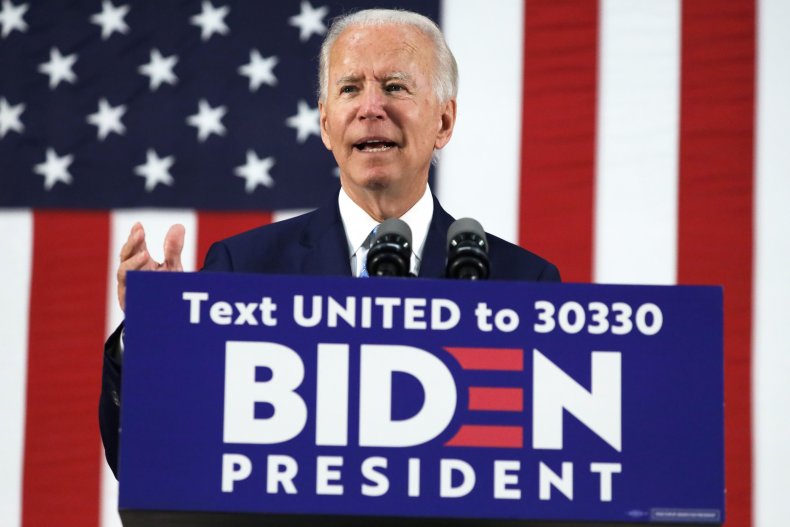 Responding to issues raised previously, an RNC spokesperson said: "The RNC looks forward to holding a safe event in Jacksonville to celebrate the re-nomination of President Trump and Vice President Pence. There will be safety precautions in place that will be adapted based on the situation at the time of the event.
"These include but are not limited to temperature checks, available PPE, aggressive sanitizing protocols, available COVID-19 testing, and regular phone calls and coordination with federal, state, and local health officials. More details will be announced in coming weeks."
Trump's return to physical events came in June, as he held a rally in Tulsa. Concerns were also raised ahead of that, with around 6,200 eventually attending despite it being held in a venue with around a 19,000 capacity and a much larger number of ticket sign-ups.
Despite these external concerns and those from poll respondents over the in-person events, Trump supporters mostly said they were excited to back the president ahead of his reelection bid.
Even with the polling gap, Trump was ahead on enthusiasm, with 50 percent of his supporters stating they were excited by their choice, compared with 27 of Biden's.
Nearly a third, 30 percent, of the former vice president's backers said they were not very or at all excited by him, compared to 14 percent for Trump.
This follows previous polling, which has also indicated higher levels of excitement among Trump supporters than Biden's.
Newsweek has contacted the Trump campaign, Biden campaign and the Republican National Convention for comment.