Joe Biden Leading in Crucial Pennsylvania, Where Trump Won by Less Than 1 Percent: Poll
New polling data shows President Donald Trump trailing behind former Vice President Joe Biden in Pennsylvania, a critical battleground state, three weeks ahead of the election.
Results of a Morning Consult survey, released Tuesday, placed the Democratic nominee 8 percentage points ahead of the president among likely Pennsylvania voters. Figures in Morning Consult's report show that 52 percent of Pennsylvania voters would support Biden if November's election took place on the day they were surveyed, while 44 percent would support Trump.
The survey, which collected responses from more than 16,000 likely voters across the U.S. between October 9 and 11, also indicated an 8-point lead favoring Biden among participants nationwide. Results showed 51 percent of respondents intended to cast votes for Biden, and 43 percent intended to do the same for Trump.
Morning Consult determined its latest state-specific polling data from surveys distributed over a slightly wider time period, from October 2 through 11. Between 835 and 4,785 likely voters per state provided responses. Of all state-level polling data collected, the market research company's Tuesday report showed that Biden leads in Pennsylvania by a wider margin than he does anywhere else. The Democratic candidate held a comparable edge over his GOP opponent in Florida, Wisconsin and Michigan, according to Morning Consult. All four are considered crucial swing states.
Another survey, conducted by Trafalgar Group, shows Biden maintaining a narrow advantage over Trump in Pennsylvania. Trafalgar Group's polling data reflects responses from 1,034 likely Pennsylvania voters who participated in its survey between October 10 and 12. Results showed Biden leading by 2 percentage points among the individuals surveyed, roughly 47 percent of whom supported the Democratic nominee. Another 45 percent of individuals who participated showed support for Trump's re-election.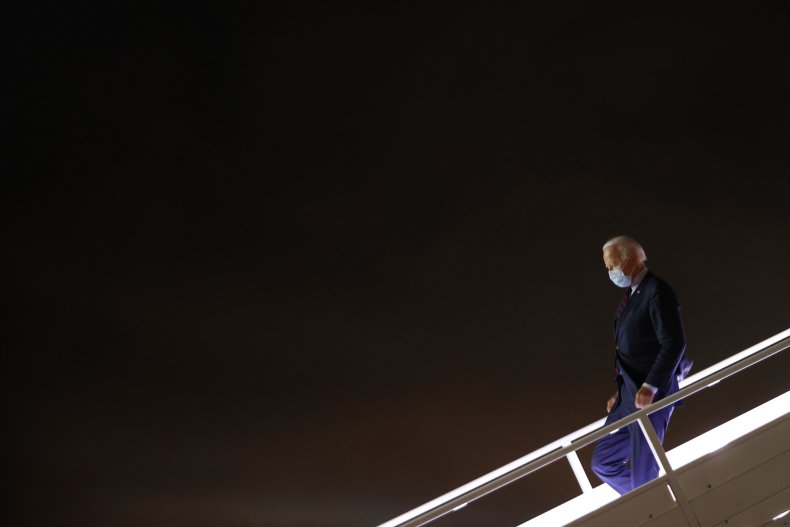 Tuesday's polling statistics followed a series of others that give Biden a lead over Trump among Pennsylvania voters. The president earned majority support in Pennsylvania by less than 1 percent during the election in 2016, having received 48.2 percent of the popular vote, compared with Democratic nominee Hillary Clinton's 47.5 percent. Whether Pennsylvania, described as a "tipping point state," votes Democratic or Republican this year could prove a deciding factor in November's election outcome.
With Pennsylvania's 20 electoral votes, the sixth-highest number of any U.S. state, both Trump and Biden are prioritizing campaign efforts in the state as Election Day approaches. Trump returned to the campaign trail this week, just 10 days after announcing his coronavirus diagnosis, and is scheduled to deliver remarks at a Pennsylvania rally on Tuesday evening.
Since the beginning of October, American Bridge, a pro-Democratic group that has given financial support to Biden's campaign, has reportedly shifted spending away from Michigan and Wisconsin to focus on increasing its efforts in Pennsylvania.