Joe Biden Leads Donald Trump by 3 Points in Traditionally Republican Arizona, New Poll Shows
Democratic presidential nominee Joe Biden appears to have the advantage over President Donald Trump in Arizona, which generally has been viewed as a reliable state for the GOP to carry in presidential elections.
New polling by CBS News/YouGov released on Sunday showed Biden ahead of Trump by 3 percentage points, backed by 47 percent of Arizona's voters compared to 44 percent who support the incumbent Republican president. The survey also showed that by double digits, Arizona voters see Biden as a better leader to guide the country through the ongoing novel coronavirus pandemic—with 50 percent saying the Democratic nominee would better handle the crisis and only 37 percent saying the same of Trump.
Democrats haven't won a presidential contest in Arizona since 1996, when former President Bill Clinton carried the state during his reelection campaign. Prior to that, Republicans had won in the southwestern state in every presidential election going back to 1952. Trump carried the state in 2016 by a margin of 48.7 percent to 45.1 percent—or a difference of 3.6 percentage points.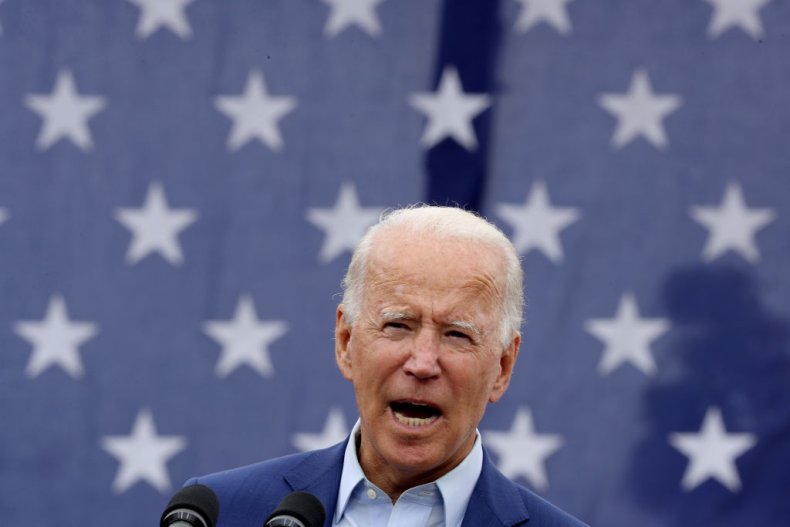 Analysts have pointed to changing demographics in Arizona, with many recent immigrants and Americans from other parts of the country moving there in recent years, to account for the shifting priorities of the southwestern state's voters. After decades of having two Republican senators, Democrat Kyrsten Sinema won in the 2018 midterm election to replace outgoing GOP Senator Jeff Flake.
Now, Republican Senator Martha McSally, who was appointed to serve out the remainder of the late Senator John McCain's term, appears to be trailing her Democratic opponent, astronaut Mark Kelly. The current RealClearPolitics average of Arizona polls shows Kelly with a lead of about 8.7 percentage points over McSally. The new CBS/YouGov survey shows Kelly with 49 percent support and McSally with 42 percent—a lead of 7 percentage points for the Democratic contender.
Most other recent polls show Biden leading Trump in Arizona. Polling conducted by Fox News from August 29 to September 1 had the Democratic challenger up 9 percentage points, backed by 49 percent of voters compared to 40 percent who supported the president. A CNBC/Change Research poll from September 4 to 6 showed Biden leading by 4 percentage points, with 49 percent support as opposed to 45 percent for Trump.
The president and his campaign officials have consistently dismissed negative polling numbers. They argue that polling is biased against Trump and Republicans, while also pointing to the 2016 presidential election. Most analysts and polls suggested in the last presidential campaign cycle that former Democratic nominee Hillary Clinton would be the winner, but Trump pulled off a series of victories in key swing states to come out victorious in the Electoral College.
But Biden appears to have a more sizable and durable lead compared to Clinton's standing back in the 2016 polls. Both the RealClearPolitics and FiveThirtyEight averages of national polling currently show Biden ahead of Trump by a margin of more than 7 percentage points.