Joe Biden Leads By Double-Digits In Florida, Ohio and Illinois Ahead of Tuesday Votes: Polls
Joe Biden has a double-digit lead over Bernie Sanders in three states set to vote in Democratic primaries on Tuesday, new polls have found.
The surveys published by Emerson College and Nexstar on Thursday night put former Vice President Biden more than 20 points ahead of Sen. Sanders (I-Vt.) in Illinois, Ohio, and Florida — the three states offering the most delegates on March 17. The three polls also found more voters were either undecided, or willing to vote for someone no longer in the race, than there were people intending to vote for Rep. Tulsi Gabbard (D-HI), who remains the last female candidate in the race for the democratic nomination in July.
Biden performed best in the Florida poll, with 65 percent of very likely primary voters in the state backing the former vice president and giving him strong odds of winning most of Florida's 219 pledged delegates.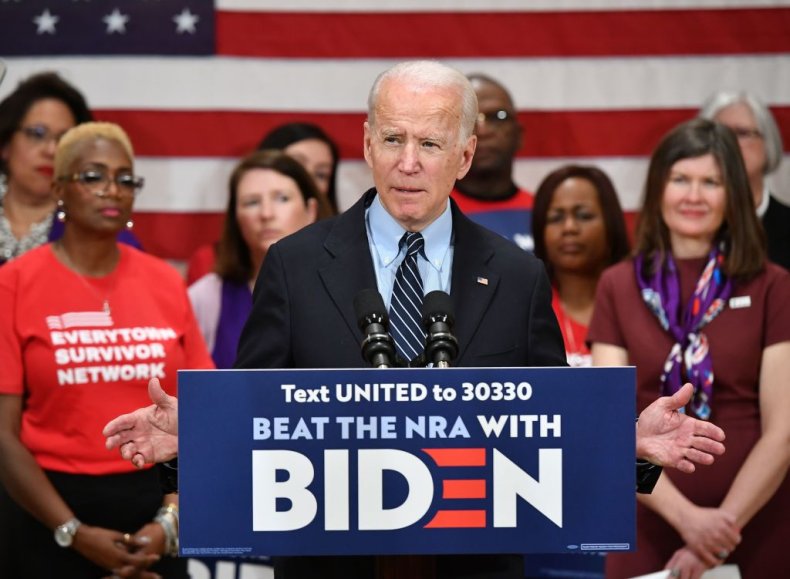 His performance in the Sunshine State put him 28 points above Sen. Sanders, who was supported by little more than a quarter (27 percent) of voters.
The former vice president's leads over his progressive challenger were slimmer in Illinois and Ohio, which are offering a combined 291 pledged delegates on Tuesday.
Fifty-seven percent of very likely primary voters in both states told pollsters that they would vote for Biden while 35 percent of Ohioans and 36 percent of Illinois Democrats said they would back Sanders.
Rep. Gabbard polled no higher than 2 percent in all of the state surveys as "someone else/undecided" polled at either 6 or 7 percent.
Emerson College conducted the three states surveys between March 11 - 12 with sample sizes ranging from 434 to 567 very likely primary voters.
Its Illinois poll had the lowest margin of error (4.1 percentage points), closely followed by the Ohio (4.5 points) and Florida (4.7 points) surveys.
The poll results lined up with state survey averages tracked by FiveThirtyEight that gave Biden 20-point leads in Ohio and Illinois, and a huge 42-point lead in Florida.
Before winning a series of key primaries on Super Tuesday, the former vice president was behind Sen. Sanders in both Ohio and Illinois, according to FiveThirtyEight poll trackers for the states.
After overtaking the progressive congressman in the two states, he extended his polling lead with a win in the Michigan primary and other races on March 10.
Sen. Sanders lost all three states to Hillary Clinton when he challenged the former secretary of state for the Democratic nomination in 2016.
He registered his worst performance in Florida, picking up jut a third of the vote and coming 31 points behind Clinton.