Joe Biden Leads South Carolina by Eight Points, Bernie Sanders Comes in Second, New Poll Says
Former Vice President Joe Biden leads the field of Democratic presidential candidates in South Carolina with 28 percent of likely voters giving him their support, according to polling data released Friday by East Carolina University (ECU).
Vermont Senator Bernie Sanders took second place in the poll with 20 percent while billionaire Tom Steyer placed third with 14 percent.
Former South Bend, Indiana Mayor Pete Buttigieg received 8 percent to take fourth place while Minnesota Senator Amy Klobuchar rounded out the top five with 7 percent.
While Biden still holds a substantial lead over his opponents with 28 percent of voter support, the numbers show his lead has declined by nine points since the last ECU survey, which was taken before the Iowa caucuses.
Biden claimed 37 percent in that previous poll while Steyer nabbed second place with 19 percent. Sanders was in third place with 14 percent.
Sanders overtook Steyer in Friday's poll results with an increase of six percentage points. This could mean a strong contest between Biden and Sanders during the South Carolina presidential primary which is expected to take place on the last day of February 2019.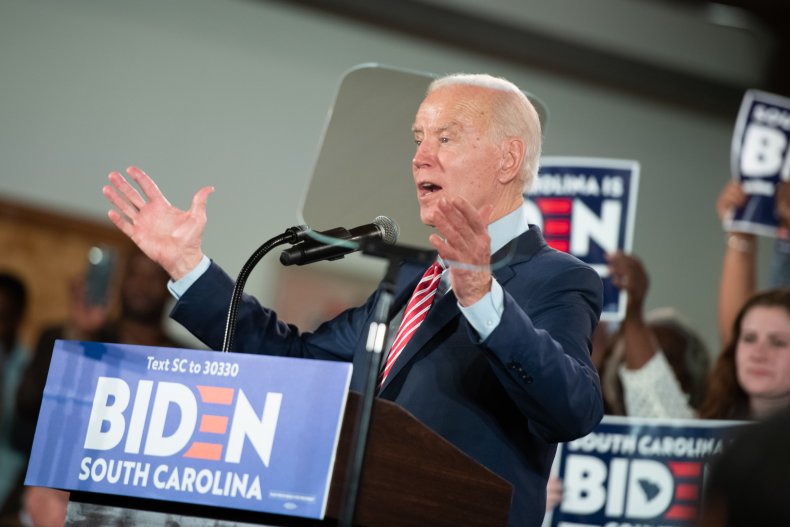 Newsweek reached out to the Biden campaign for comment but did not receive a response in time for publication.
Biden, who has spoken about his support for the "black community" in the past, may be counting on African American voters in South Carolina to help him make a good showing in the primaries, something Biden has failed to do in either the Iowa caucuses or the New Hampshire primaries in February.
"I'm part of that Obama coalition," Biden said during the fifth Democratic debate in November 2019. "I come out of the black community, in terms of my support. If you notice, I have more people supporting me in the black community that have announced for me because they know me. They know who I am."
South Carolina African Americans surveyed in the latest ECU poll who are 55 years old and older seem to back Biden, giving him 49 percent of their support. Younger African Americans tend to skew towards Sanders, leading the 54 and under group with 29 percent. Biden came in second with that demographic at 26 percent.
After coming in fourth in Iowa and fifth in New Hampshire, Biden told supporters in South Carolina that the race was far from over.
"We just heard from the first two of the 50 states," Biden said Tuesday. "Where I come from that's the opening bell, not the closing bell."
"When you hear all these pundits and experts and cable TV talkers talk about the race, tell them, 'It ain't over, man. We're just getting started,'" Biden continued. "Our votes count too. We're not going to let anyone take this election away from you."