Joe Biden Leads Tributes to Vicente Fernandez After Singer's Death Aged 81
Tributes for legendary singer Vicente Fernandez are pouring in following his death. The Mexican singer, also known as El Rey, was 81-years-old.
Known by his fans as the King of Mexican music, the ranchera star died after suffering a fall in August which later required surgery.
Some of his major hits include the songs "Volver, Volver," "Por Tu Maldito Amor," and "El Rey." He sold more than 65 million albums worldwide.
Fernandez's death was confirmed on his official Instagram page.
"Rest in Peace Mr. Vicente Fernández," the statement reads, translated from Spanish.
"We regret to inform you of his death on Sunday, December 12 at 6:15 am.
"It was an honor and a great pride to share with everyone a great musical career and to give everything for his audience. Thank you for continuing to applaud, thank you for continuing to sing."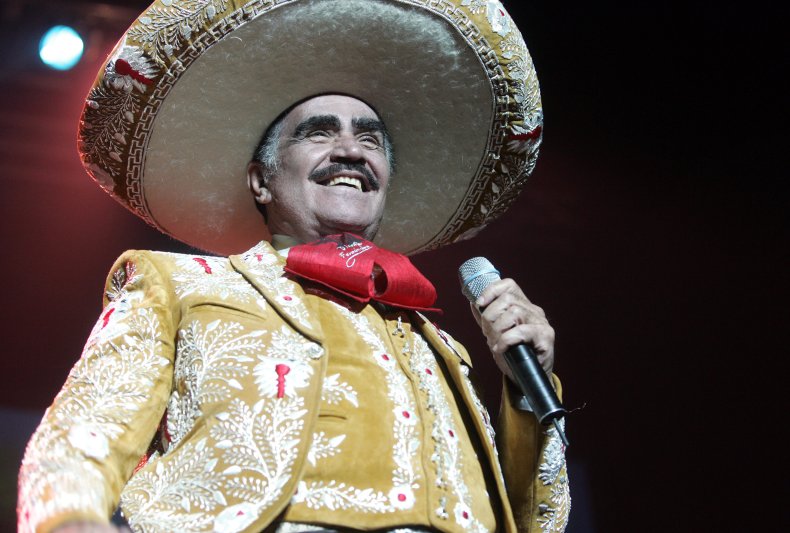 Leading the tributes to Fernandez is U.S. president Joe Biden, who said that "the world has lost an icon."
"The music of Vicente Fernández created memories for millions. We send our condolences to his family and all those who loved him," Biden tweeted. "Vicente will be remembered for generations to come."
Country music singer George Strait also paid tribute to Fernández, who he said was a hero of his.
"Sad news today. We lost The amazing legendary Vicente Fernández this morning. One of my heroes. May he Rest In Peace and may God bless and comfort his family. Hasta la Cruz Chente!! Gs," the "Amarillo by Morning" hitmaker tweeted.
Meanwhile, actor and presenter Mario Lopez also expressed his sadness at Fernandez's passing.
"Vicente Fernandez was not just a singer. He was the voice of a culture who filled the households of many of us who grew up listening to his songs. His music is the soundtrack to a ton of memories growing up.. Damn, I'm sad," Lopez tweeted.
Singer Pitbull is also among the celebrities paying tribute. He tweeted: "The legend of all legends. You will be missed but never forgotten. Que disfrutes en los cielos y de un Tequilasoooo de Rey a Rey. Dale Maestro! #chentesiguesiendoelrey #VicenteFernandez."
"Today we lost someone who was with us when we celebrated life and when we felt like life was over. Vicente Fernandez 'El Rey' will be loved, missed and celebrated forever!" said comedian Gabriel Iglesias. "Thank you for the impact you made on my life."
During a memorial service for Fernandez at his Hollywood Walk of Fame on Sunday night, shots were fired as people gathered. Police are investigating.