Joe Biden's Latest Photo Prompts Intense Speculation About His Legs
An innocuous photo of President Joe Biden hanging out in the Oval Office has got Twitter in a frenzy because of a bizarre optical illusion.
In the picture, the president can be seen leaning over his chair at the Resolute Desk with his arms resting on the top. "Ready to get more done for American families," the accompanying caption read, likely intended to indicate Biden's desire to get down to work following this month's midterm elections.
However, due to the placement of his suit jacket over the back of the chair, some Twitter users were thrown, believing it was actually his legs. The garment has been left in a way that makes it appear as if the president is sitting on top of the chair spread-eagle.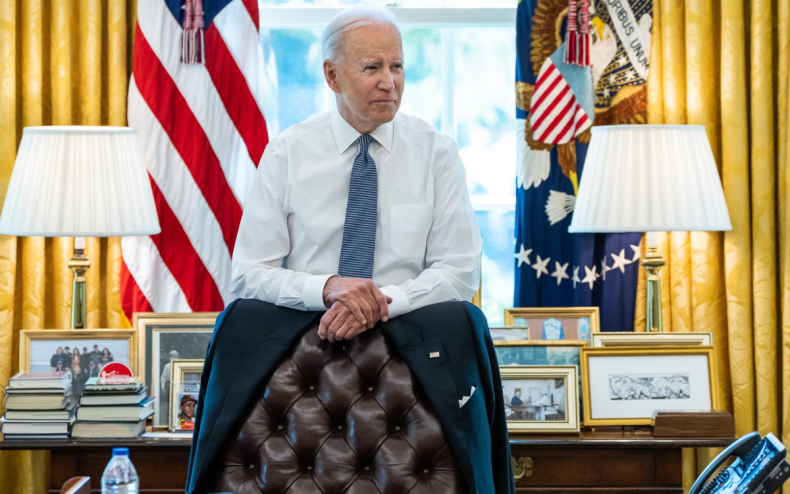 Many people on Twitter pointed out the hilarious optical illusion. Twitter user @Username_is_tbd tweeted: "At first I thought he was sitting on the back of the chair" with @Oliverisfab65 asking: "Who else thought that he was sitting on the chair in a weird way when they first saw it?"
Another Twitter user, @snarklefuss wrote that they too "thought he was sitting on top of that chair for a second." Smshngdonkeys22 added: "That jacket looks like pants."
Elsewhere, @frey wrote that it looked like Biden was "straddling the chair" with @Fundo_HD in disbelief, tweeting: "Okay so... I'm tired... and my eyes are blurring... but it looked like he was perched up on the back of the chair... and the jacket was his legs..."
User @BenVerhaegen thought it looked like the president "was sitting real casual on the desk" while @aadoyle549 tweeted, "I was so confused."
This isn't the first time Biden's limbs have made the headlines for the wrong reasons. In March 2021, the president fell down while boarding Air Force One. The White House later attributed his stumble to high winds.
More recently, in June, Biden suffered another fall while riding a bike near his home in Rehoboth Beach, Delaware.
In both instances, despite the embarrassment suffered, the president was otherwise unscathed.
The online discussion around limb-based optical illusions is not the preserve of the Democrat Party either.
Earlier this month, Eric Trump's wife, Lara Trump, sparked confusion on social media after stepping out in a dress with noticeably long sleeves for the wedding of her sister-in-law Tiffany Trump and Michael Boulos at Mar-a-Lago.
Update 11/24/22 5:45 a.m. ET: This article was updated with a new image of President Biden.