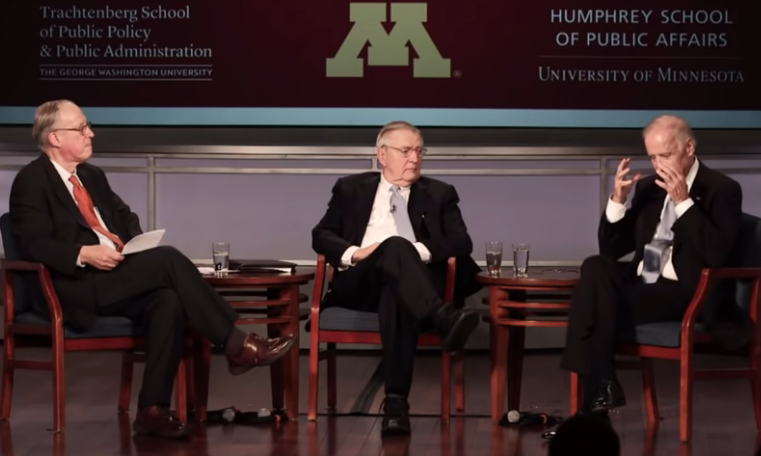 Former vice president and current 2020 Democratic presidential candidate Joe Biden was hit with criticism Thursday over a 2015 video showing him offering nuanced praise for Dick Cheney.
Biden made the now-controversial remark in October 2015 at the "Walter Mondale: A Living Legacy" event held at George Washington University and sponsored by the University of Minnesota's Trachtenberg School of Public Policy & Public Administration.
"First of all, I really like Dick Cheney for real. I get on with him, I think he's a decent man..." Biden said, in a discussion regarding advice between vice presidents. He also noted Cheney was "extremely helpful" regarding the "legal parameters" and "functioning" of holding that office.
Biden said during the event that Cheney was an extremely "powerful" vice president and had his own national security team. Biden added Cheney "had a very different relationship with President Bush" than Biden did with during his two terms with President Barack Obama.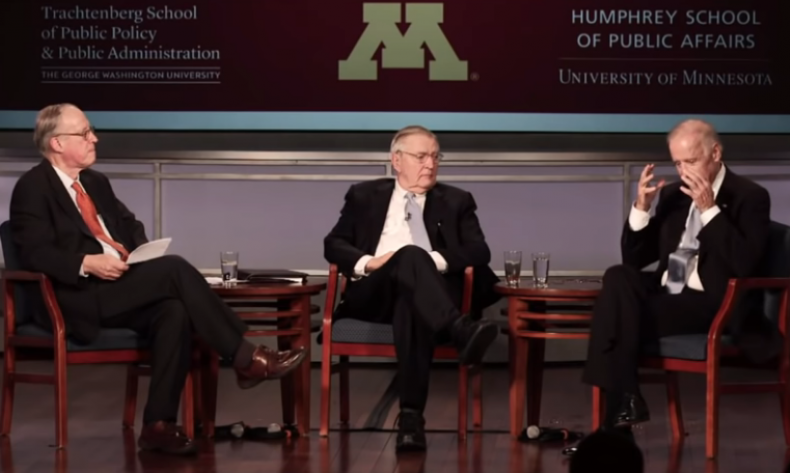 The honoree of the 2015 event, Walter Mondale, who was vice president under President Jimmy Carter and later the 1984 Democratic Party presidential nominee, subsequently separated himself from Biden's opinion of Cheney.
The pair discussed several topics, including their sadness about how Hubert Humphrey was treated and their potential advice to future vice presidents. But Biden's comments regarding the deeply unpopular Cheney irked many progressive and liberal factions of the Democratic Party who have long criticized Biden as an "old guard" corporate moderate.
"This is a problem. A decent man doesn't mislead a country into a misguided war that kills thousands of American GIs and leads to the deaths of hundreds of thousands civilians," wrote Mother Jones' David Corn Thursday.
"Y'all come get your dude. He went on and on about how much he likes Pence too. Disgusting," wrote Shaun King.
"Without any exaggeration, Dick Cheney is one of the most evil men to set foot in this world, a man behind whom a trail of war crimes follow, and Biden think he's a "decent man". Is this your man, Democrats?," tweeted AJ+ producer Sana Saeed.
Both Cheney and President George W. Bush have been the target of Trump family trash talk, with Donald Trump Jr. saying his father is "ending his reckless and endless wars" in March after he briefly criticized the Trump administration's foreign policy.
Cheney is derided in many liberal circles as a pro-war hawk who helped lead the push into a prolonged and deadly war in the Middle East following the September 11, 2001, terror attacks. A five-term member of Congress, former White House Chief of Staff, and Secretary of Defense, Cheney had an historically low approval rating of 13 percent when he left office in January 2009.