Joe Biden Marches in Pittsburgh Labor Day Parade, Tells Reporter 'Everything' Is at Stake During Midterms
Former Vice President Joe Biden joined thousands of people at a Labor Day parade in Pittsburgh, offering attendees the chance to joke that he's running—literally—for president while emphasizing the importance of the upcoming midterm elections.
Several people posted photos and videos of Biden at the event, including Politico reporter Edward-Isaac Dovere, who posted a video of the former vice president jogging down the street, prompting the joke that he's running.
"See, he's running," someone is heard saying in the video. "Told you."
At Pittsburgh Labor Day parade, one of the largest in the country, Biden spent time with Pennsylvania Representative Conor Lamb, which fueled speculation that Biden was setting the stage for a presidential run. But CNN reporter Rebecca Berg tweeted that Biden, who had marched in the parade three times in four years, said his presence "doesn't mean anything for my political future."
Biden hasn't ruled out a possible bid for the Oval Office, and in July he told CNN's Juan Carlos, who was moderating a forum in Bogota, Colombia, that polling data showed he could beat President Donald Trump. He acknowledged that the data might not mean anything and said he knew he had to make up his mind by January.
Biden said that he was going to hold an "altar call" after the midterms in November to gauge how likely his campaign would prove successful if he did run. While November's midterms will be a telling moment for the vice president, Biden explained that the election had a greater significance.
Dovere shared another tweet that when Biden was asked what's at stake during the upcoming midterm elections, Biden said, "Everything. It's simple: everything."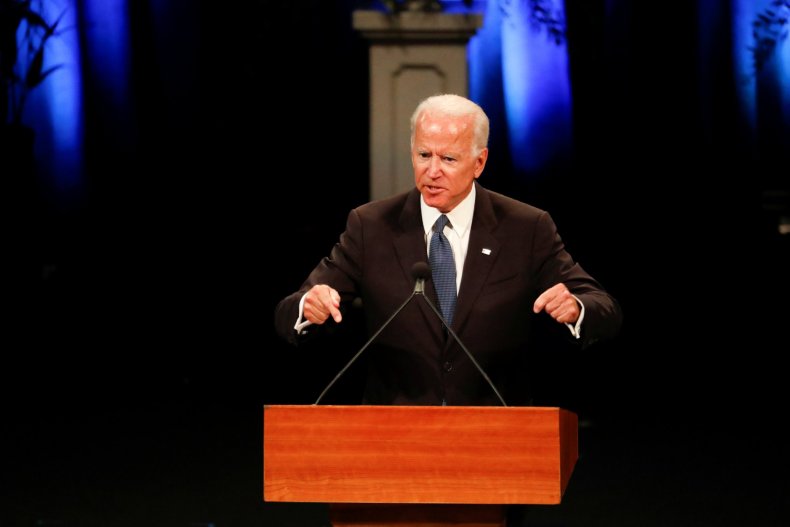 Biden also addressed the upcoming Senate confirmation hearings of Judge Brett Kavanaugh, Trump's pick for the Supreme Court, and told MSNBC that Democrats should stay in the room, demand answers and keep pointing out that they hadn't received the information that they'd requested.
Biden's appearance at the parade came days after he eulogized Senator John McCain during a memorial service in Arizona on Thursday. A reporter praised his eulogy, and asked what he hoped McCain's message showed the country.
"John was like a brother to me," Biden said. "He had the same value set, and he had a difference of perspective. As long as you were honorable, as long as you were honest, as long as you didn't leave anybody behind, as long as you treated people with dignity, you'd always get on with John even if you strongly disagreed with him."
In contrast, Biden said if you didn't have those "basic American values," then McCain didn't have a lot of respect for you. Regarding Trump's response to McCain's death, Biden waved the question away and said, "Everyone knows who the president is."
Joe Biden Marches in Pittsburgh Labor Day Parade, Tells Reporter 'Everything' Is at Stake During Midterms | U.S.