What Happened While Marjorie Taylor Greene Was Banned from Twitter
A row over fake news and freedom of speech online has deepened after Marjorie Taylor Greene was banned from Twitter for spreading misleading COVID-19 data.
The Republican Rep. was taken off her most-used platform over claims the virus only affects people under 65. Adding to a series of controversial comments about the pandemic, she tweeted Monday that vaccines should not be mandated and that COVID-19 "is not dangerous" for people aged under 65 who are not obese.
Two of her tweets were labelled "misleading" by Twitter shortly before she was taken offline. It follows Greene's furious reaction at the cancelation of an "American First" rally in Riverside, California after city officials claimed it was "widely condemned" by the public. The event soon turned into a protest with fellow Republican Rep. Matt Gaetz and their supporters, who claim they are being shut down by Democrat-run cities.
It follows a major row between President Biden and Facebook, which he accused of enabling the spread of false COVID information that was "killing people". The claims prompted a furious denial from the company's bosses, who accused the White House of "looking for scapegoats" over missed vaccination targets. The response caused the president to rethink his strategy late Monday, admitting that "Facebook isn't killing people" but continuing to push for social media firms to do more.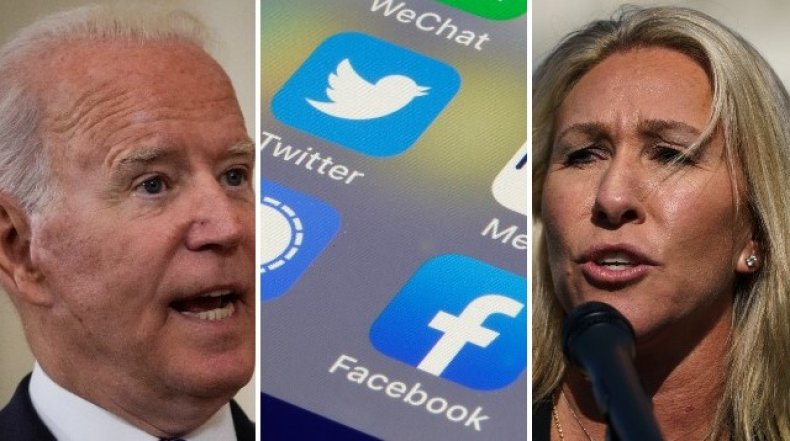 Among the actions the White House is calling for is the takedown of 12 people from Facebook and Twitter, who officials claim are responsible for the majority of fake COVID posts. "These 12 people who are out there giving misinformation," Biden said Monday, "anyone listening to it is getting hurt by it."
When her suspension was over, Greene returned to Twitter to compare social media giant's actions to communism.
"You know who else silences, censors, and bans people they don't like and want heard," she said. "Communist China."
Greene blames "California communists" for canceling her American First Rally over the weekend
Marjorie Taylor Greene's comment following her Twitter suspension echoed her claims made on Newsmax after three venues in California canceled her "America First" rally with fellow Republican Representative Matt Gaetz.
"We have to do is we have to crack down on the censorship, remove Section 230," Greene said on Newsmax Monday. "These companies should not be protected .... especially when they're working with the current regime to restrict Americans' free speech and censor our voices."
She said the "California communists" tried to stop the event.
"This is communism when you have American cities canceling two members of Congress events at private venues," she said.
"They're also canceling these businesses' ability to be able to serve a customer and make money," Greene added. "It's absolutely unbelievable and everyone should be outraged."
The Press-Enterprise reported that city officials canceled the events after concerns about public safety amid growing protests.
"The city of Anaheim shared public safety concerns with the operator, and those concerns are shared by the operator," Anaheim city spokesman Mike Lyster said in a statement.
He added that "as a city, we respect free speech but also have a duty to call out speech that does not reflect our city and its values."
Greene and Gaetz still held a "Free Speech Peaceful Protest" after their rally was canceled outside Riverside City Hall Saturday.
"We won't back down," Greene said at the protest. "The radical left wants to threaten you, they want to harass you, they want to target you, and they want to cancel you."
Marjorie Taylor Greene returns to social media, blasts Twitter
Following the end of her suspension from Twitter and Facebook, Marjorie Taylor Greene is calling out the "attack on free speech" from the "Silicon Valley Cartel."
"Twitter, Facebook, and the rest of the Silicon Valley Cartel are working hand in hand with the White House to censor Americans," Greene told Newsweek. "This is a Communist-style attack on free speech."
She added that Big Tech companies are "doing the bidding of the Biden regime to restrict our voices and prevent the spread of any message that isn't state-approved."
"I will not back down and I will continue to tell the truth to the American people," she said.
The 'disinformation dozen' spreading fake news that has the White House worried
The White House has become increasingly concerned over a group it calls the "disinformation dozen". Press Secretary Jen Pzaki told reporters Thursday last week that 12 individuals were responsible for around 65 per cent of all fake or misleading posts about COVID-19.
Officials are becoming increasingly concerned about the idea that misinformation is stopping people from getting their vaccine, with the president missing his "70 per cent by July 4" target. On Monday, President Biden lashed out at Facebook, claiming their inaction over the spread of false COVID-19 information was "killing people", triggering a serious spat between White House officials and Facebook executives.
READ MORE: Facebook Says Joe Biden 'Looking for Scapegoats' for Missing Vaccine Goals
Biden softens attack on Facebook as company accuses White House of scapegoating
The president told reporters late Monday that Facebook "isn't killing people" despite earlier accusing the company of enabling the spread of harmful COVID-19 posts.
But he still pressed the issue of the 12 people who the White House have identified as being responsible for most of the COVID fake news being posted online.
Facebook isn't killing people...these 12 people who are out there giving misinformation – anyone listening to it is getting hurt by it.
What did Marjorie Taylor Greene tweet that got her banned?
In the latest controversial statement about COVID-19, the Rep. suggested that people aged under 65 could not be harmed by the virus.
The controversial #COVID19 vaccines should not be forced on our military for a virus that is not dangerous for non-obese people and those under 65.
The tweet was quickly flagged by Twitter, who slapped a "misleading" warning on her post and signposted users to link explaining "why health officials recommend a vaccine for most people".
The tweet is still available to read online as she has only been suspended from accessing the account for 12 hours - with just one hour left until it is left.
Marjorie Taylor Greene banned from Twitter for second time in 2021
The controversial Republican Rep. had her account temporarily suspended yesterday after making false claims about vaccines and COVID-19.
Her tweets, still available to view online but marked with a "misleading" tag by Twitter, suggest widespread harm was being caused by the vaccine and the virus was only seriously affecting people aged under 65. Greene's last post on her profile, shortly before she was banned, was promoting her appearance on Newsmax to talk about the "assault on free speech".
The ban is understood to be lasting for 12 hours. She was previously banned "by accident" in April following an error with Twitter's automated monitoring system.
READ MORE: Twitter Suspends Marjorie Taylor Greene After She Said COVID Not Dangerous for People Under 65