Joe Biden Marks First 100 Days With Better Job Approval Rating Than Donald Trump Ever Achieved
Compared with his predecessor, President Joe Biden has fared much better in the court of public opinion during the first 100 days of his administration.
The latest survey from Gallup, released last week, found that 57 percent of Americans approved of Biden's job as commander in chief. Forty percent of those polled disapproved and 3 percent had no opinion.
The findings far exceeded those calculated at the 100-day mark of Donald Trump's presidency. At that point in 2017, Trump had a 41 percent approval rating.
In fact, Trump never eclipsed 50 percent in Gallup's approval rating tracker. His highest level of support was 49 percent approval, all of which were recorded in 2020. His lowest point was 34 percent job approval in January 2021, shortly after the insurrection at the U.S. Capitol.
While Trump's polling marks were historically low, Biden has also fallen short of the other presidents who served during the past two decades. In their first 100 days in office, Democrat Barack Obama saw a 65 percent job approval rating and Republican George W. Bush experienced 62 percent approval rating.
Along with Gallup's presidential tracker, Biden also surpassed Trump's best mark in the latest Reuters/Ipsos poll. The survey showed 55 percent of Americans approved of Biden's job performance—a level of support his Republican predecessor never reached in the survey during his four years in the Oval Office.
In the Reuters poll, Biden received the most praise for his handling of the coronavirus pandemic. Sixty-five percent of Americans approved of how he dealt with the public health crisis. In the last days of his presidency, just 38 percent of Americans signaled their support for Trump's handling of the outbreak.
When it came to the economy, an issue Trump championed, 52 percent of respondents liked how Biden has handled it. A majority of Americans (53 percent) also approved of his impact on jobs. Both were a few percentage points higher than Trump received in the final month of his administration.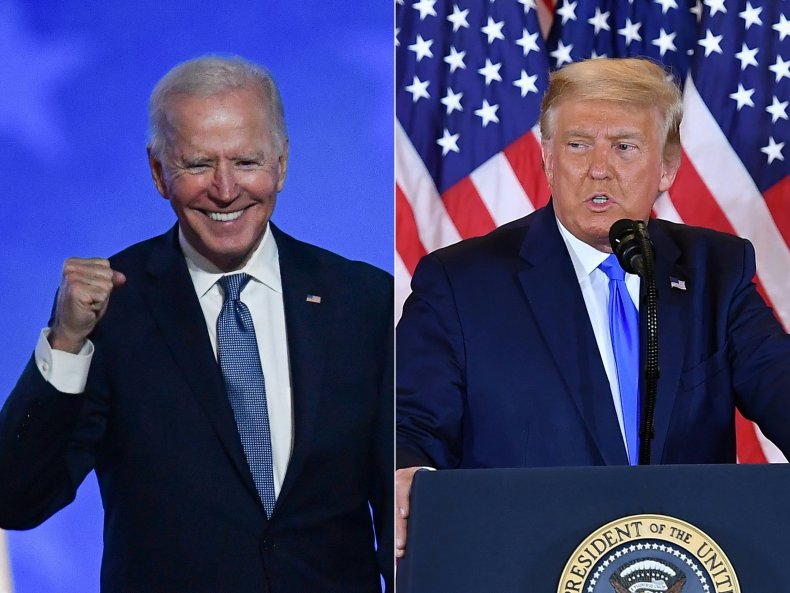 Throughout his term, Trump repeatedly decried public opinion polling that showed his low approval rating and sought to discredit them as "phony" or "rigged."
Meanwhile, Biden has so far been able to use polls to his advantage. During negotiations for the $1.9 trillion American Rescue Plan, the administration repeatedly referred to surveys that showed bipartisan support for the relief package.
The general public has broadly backed the large spending proposals that have defined Biden's first few months in office. A recent poll from Monmouth University found that roughly two-in-three Americans support his $2 trillion infrastructure-focused American Jobs Plan and the $1.8 trillion American Families Plan to invest in education, child care and paid family leave.
Gallup polled 961 adults between April 1 and April 21. The survey's margin of error is plus or minus 4 percentage points.
Reuters polled 4,423 adults online between April 12 and April 16. The survey has a margin of error of plus or minus 2 percentage points.