An 'Evolved' Joe Biden Marries Same-Sex White House Staffers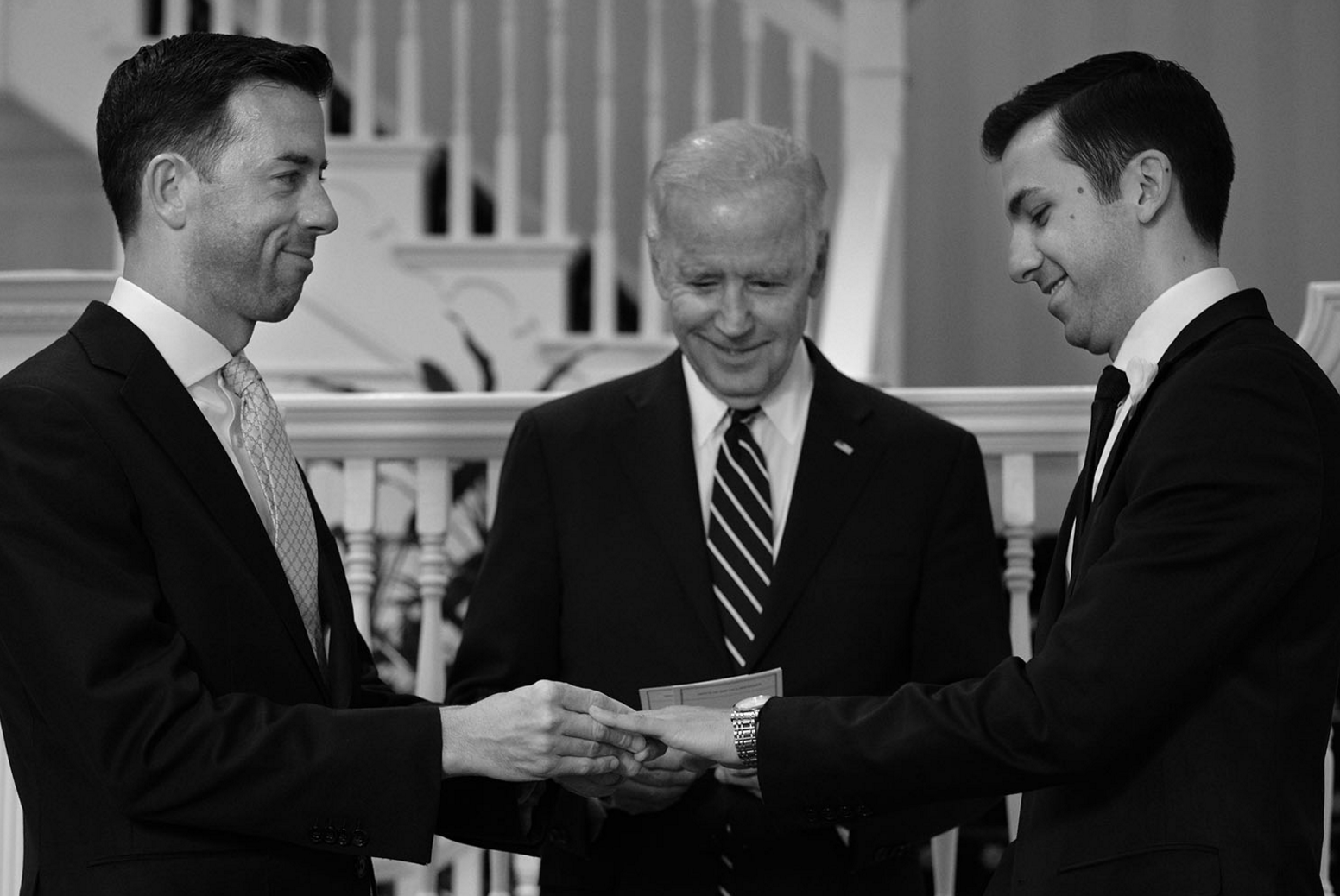 Vice President Joe Biden gave one of the most passionate speeches at last week's Democratic National Convention, forcefully proclaiming, "C'mon! We're America!" while shaking a fist as he left the stage. On Monday night, he toned down the aggro-patriotism to officiate a wedding between two male White House staffers. It looked lovely.
The wedding of Brian Mosteller and Joe Mahshie took place at Washington D.C.'s Naval Observatory. Biden obtained officiating certification solely to marry the couple of long-time White House staffers after Mosteller asked if he would do the honor. Biden's wife, Jill, approved, tweeting, "Love is love!"
Many consider the Obama administration the most progressive in America's history when it comes to gay rights. In 2012, Obama became the first president to announce his support of same-sex marriage. In 2015, the Supreme Court ruled that gay marriage was legal in the United States. Before these things happened, Biden publicly expressed his support of marriage equality two weeks after attending an event hosted by a same-sex couple.
"I look at those two beautiful kids," Biden said at the event. "I wish everybody could see this. All you got to do is look in the eyes of those kids. And no one can wonder, no one can wonder whether or not they are cared for and nurtured and loved and reinforced. And folks, what's happening is, everybody is beginning to see it."
Three days after Biden announced his support, Obama did the same. "I had hesitated on gay marriage, in part, because I thought civil unions would be sufficient," Obama told ABC News. "I was sensitive to the fact that—for a lot of people—that the word marriage is something that provokes very powerful traditions and religious beliefs."
The president added that his position had "evolved," which is a key word to keep in mind when considering Hillary Clinton's or anyone else's history of supporting gay marriage. Just because someone opposed marriage equality at some point in their lives, that doesn't mean they can't evolve and change their stance entirely. It happened to Biden, and four years after he publicly expressed his support, he's now the one making official a same-sex union between two people he cares about.