Joe Biden Mask Tweet Riles Republican Lawmakers
President Joe Biden angered Republican lawmakers on Thursday night after he told Americans they had to receive a COVID-19 vaccine or wear a face mask until they did.
GOP lawmakers likened the president to a "tyrant" in social media posts, saying the federal government couldn't force Americans to wear face coverings.
Yesterday the White House lifted the rule that all staff and visitors have to wear masks in the building. Those who have been fully vaccinated against coronavirus no longer have to wear face coverings. Politico reported that congressional staff were also told restrictions on Capitol Hill would be rolled back for those had received their shots.
"The rule is now simple: get vaccinated or wear a mask until you do," President Biden tweeted on Thursday. "The choice is yours."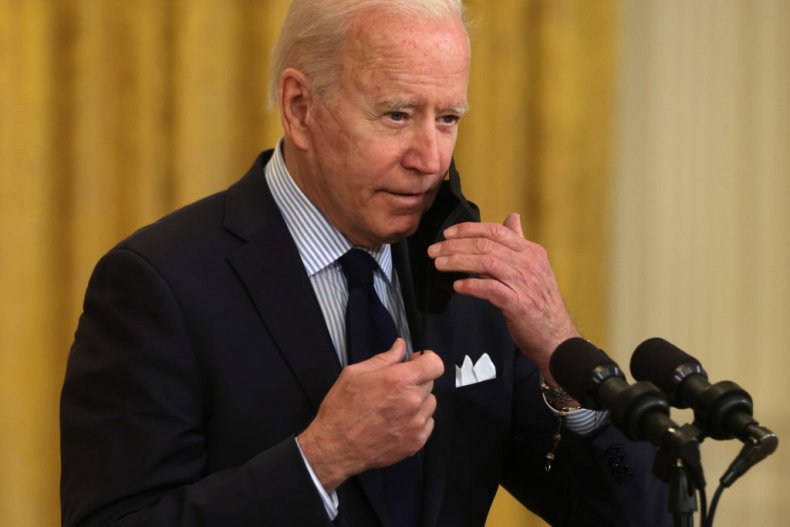 Responding to Biden's post, Rep. Paul Gosar (R-AZ) wrote: "Men must be governed by God or they will be ruled by tyrants."
Rep. Mike Gallagher (R-WI) tweeted that the federal government could not "force you to wear a mask until you're vaccinated" and would have "no way of tracking vaccinations" even if such a mandate were passed. "This doesn't account for natural antibodies," he added.
"'The choice is yours' sounds an awful lot like a threat, Joe," tweeted Rep. Andy Biggs (R-AZ). "You have no business issuing fear-based ultimatums to the American people. They have the freedom to choose whatever they please—vaccine or not."
Donald Trump Jr., the eldest son of former President Donald Trump, also weighed in on the issue. "Um, team Biden Joe somehow got a hold of his Twitter account and is talking all crazy again," he wrote.
Newsweek has contacted the White House for further comment and a response to the GOP lawmakers.
The Centers for Disease Control and Prevention released new face mask guidelines on Thursday. It said people who had received their final COVID-19 vaccine dose would not need to wear a face mask or keep 6 feet apart from others, starting 14 days after their final shot.
The guidelines apply to indoor and outdoor settings, but the CDC also cautioned that face coverings may still be required under federal or state laws.
"You can resume activities without wearing a mask or staying 6 feet apart, except where required by federal, state, local, tribal, or territorial laws, rules, and regulations, including local business and workplace guidance," the public health body said.
It added later that fully vaccinated people would still be required to wear a mask in health care settings and on planes, buses, trains and other forms of public transport while traveling into, within or outside the U.S.
Newsweek, in partnership with NewsGuard, is dedicated to providing accurate and verifiable vaccine and health information. With NewsGuard's HealthGuard browser extension, users can verify if a website is a trustworthy source of health information. Visit the Newsweek VaxFacts website to learn more and to download the HealthGuard browser extension.