President Joe Biden explicitly mentioned his White House predecessor, Donald Trump, by name eight times Thursday during his first solo news conference.
Biden fielded questions for roughly an hour on a range of topics, including the migrant surge at the U.S.-Mexico border, the legislative filibuster, voting rights and foreign policy challenges with China and Russia.
The president has faced criticism for his delay in holding a formal press conference. It took place more than two months after he was sworn into office on January 20. According to an analysis conducted by CNN, 15 of Biden's predecessors formally took questions from reporters 33 days into their presidencies.
Biden kicked off the event by announcing his new goal of 200 million vaccine doses by the end of his first 100 days in office. The U.S. has easily surpassed the president's original goal of 100 million COVID-19 shots in his first 100 days. The nation has already administered roughly 115 million doses, according to Bloomberg.
Biden also touted the passage of the American Rescue Plan, saying that more than 100 million stimulus checks have already been sent out to qualifying Americans. He also noted that for the first time since the pandemic, weekly unemployment claims fell below 700,000.
But in the Q&A session, members of the press focused on immigration and the legislative filibuster. No questions were asked about the coronavirus or the economy.
Biden took several jabs at Trump when asked whether he might be sending a message to immigrants that they can now cross the southern border. He pointed out that nobody suggested the influx of unaccompanied minors under Trump was "because he was a nice guy."
"The idea that I'm going to say, which I would never do, if an unaccompanied minor ends up on the border we're just going to let them starve to death and stay on the other side—no previous administration did that either, except Trump," Biden said. "I'm not going to do it."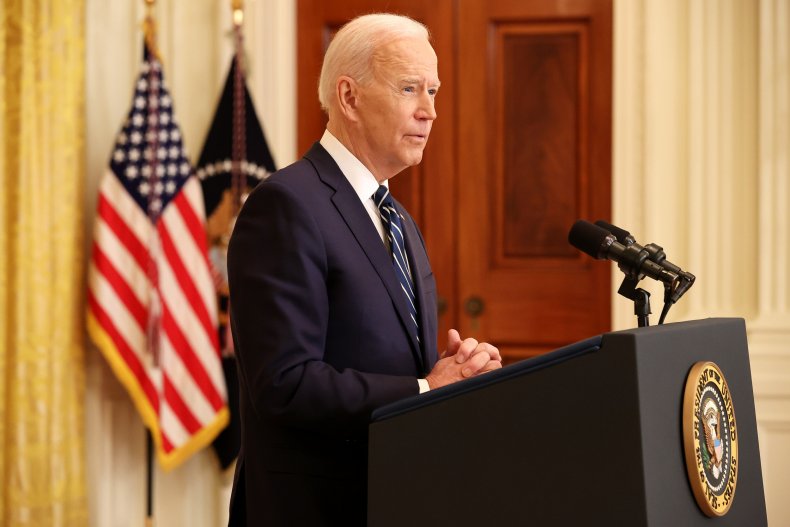 On the filibuster, Biden said it is "being abused in a gigantic way" and expressed support for reforming the Senate rule in order to pass big-ticket agenda items.
One of the biggest bombshells came later in the press conference, when Biden said he anticipated making a second run for the White House, in 2024. He would be 81 at the time of the election and 82 at his second inauguration.
"Yes, my plan is to run for reelection. That's my expectation," Biden said, adding that he would expect Vice President Kamala Harris to join him again on the ticket.
Asked whether he would defeat Trump in a rematch, Biden said he had "no idea" and doesn't even think about that.