Stimulus Games Could Dash Joe Biden's Hope of Productive Mitch McConnell Relationship
President-elect Joe Biden has said he is "looking forward" to working with Senate Majority Leader Mitch McConnell (R-KY), though the Republican figurehead's latest stimulus gambit highlights the potential blockade he could prove to be.
McConnell eventually broke rank with President Donald Trump and congratulated Biden earlier this month, after the Electoral College votes highlighting the Democrat's success had been cast.
Following this, Biden said he had a call with McConnell—expressing his desire to work in a bipartisan manner in future.
"I called him to thank him for the congratulations, told him that while we disagree on a lot of things there's things we can work together on," he told reporters earlier this month.
"I'm looking forward to working with him."
Despite this optimism of a bipartisan approach down the line, McConnell has sparked Democrat fury with his latest actions in regard to stimulus checks.
Having blocked a vote on the payments being boosted to $2,000, he has moved to tie the boost to other measures many of those in favor of the boosted checks will likely oppose.
"Instead of having a real debate and letting folks vote how they want, Sen McConnell is setting up a sham vote with the aim of nothing happening," Sen. Jon Tester (D-MT) said on Twitter, in response to the Kentucky Republican's plans.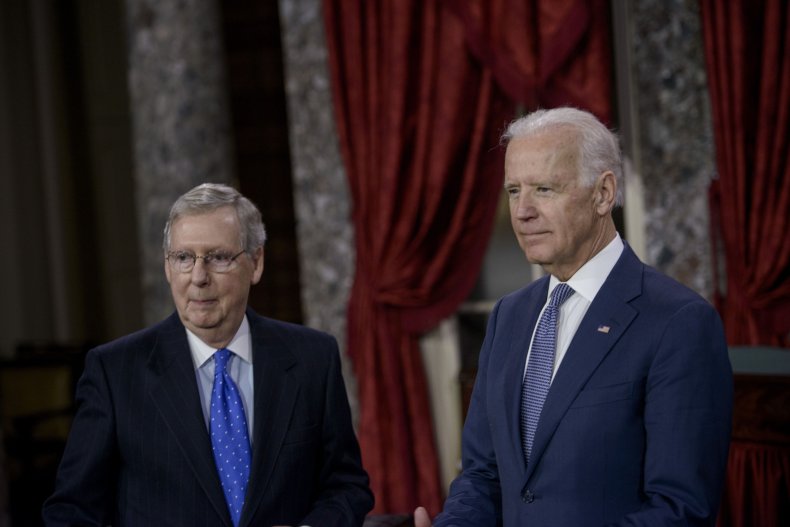 McConnell's actions here could foreshadow the sort of behavior he might exhibit during Biden's tenure.
"He'll always try to water it down, and when he can kill things outright, he'll do it," Larry Sabato, director of the Center for Politics at the University of Virginia, previously told Reuters, discussing how he thinks McConnell might approach Biden's agenda.
"He's proven that over and over again."
Having won re-election to his Senate seat in November, McConnell will continue to wield influence on the Capitol for the foreseeable future.
However, to what extent could be dependent on the Georgia Senate runoffs.
If the Democrats win, he will lose the Senate majority. If they do not oust the incumbent Republicans, he'll maintain control in the upper chamber of Congress.
"If we win, Joe Biden gets a chance to enact his agenda. If we lose, Mitch McConnell, the obstructionist-in-chief, remains in charge," Sen. Chris Murphy (D-CT) said, in a tweet promoting fundraising for the Democrat Senate candidates in Georgia.
This point has not been lost on Biden in the past, who spoke of needing Democratic control of the Senate to enact the measures he wants.
"There are folks in Congress threatening to do everything in their power to block our efforts," he said previously, when discussing potential COVID-19 relief as he promoted Democratic candidates Jon Ossoff and Raphael Warnock as they aim to take Georgia's Senate seats.
Newsweek has contacted the Biden transition team and McConnell's office for comment.