Joe Biden Mocked After Rooting for Eagles in Super Bowl—'Another L'
President Joe Biden is being taunted for supporting the losing team in Sunday's Super Bowl LVII which saw the Kansas City Chiefs overcome the Philadelphia Eagles in a classic.
Biden insisted before kick off that he wanted to remain impartial, but first lady Jill Biden influenced him into supporting the Eagles. Unfortunately, the presidential support wasn't enough for the Eagles to win the game, and this led to Biden being dragged on social media for suffering "another" loss.
The 2023 Super Bowl produced plenty of talking points for people to debate online: from questionable refereeing calls to Rihanna's pregnancy, and from bad turf to Damar Hamlin's comeback.
One thing that did delight some social media users was that the president's team lost as it was another excuse for his detractors to openly mock him.
Ahead of the game, Biden explained why he was supporting the Eagles. "As your president, I'm not picking favorites. But as Jill Biden's husband, fly Eagles, fly," he wrote, retweeting Jill Biden's video in which she walked in slow motion wearing an Eagles jersey.
While the president is from Delaware, not far from Philadelphia, Jill Biden was raised in the Philly area, explaining her affliction for the Eagles. Over the course of the 2022-23 season, she'd been seen attending a number of Eagles games.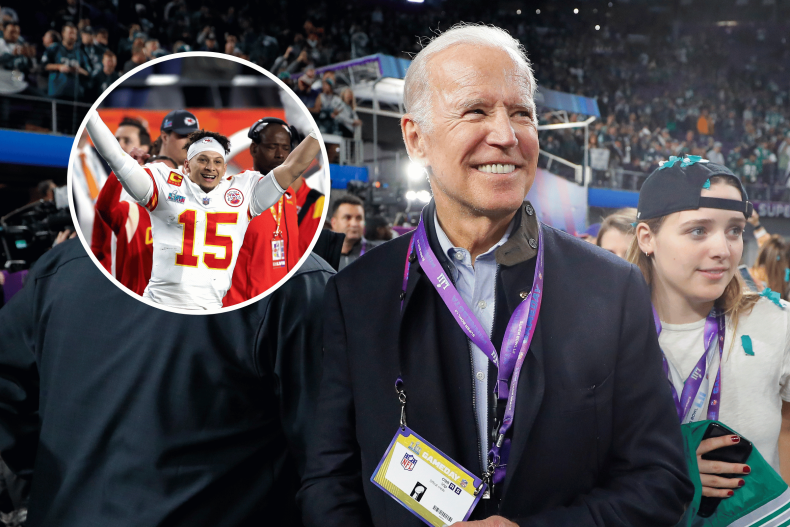 "Another L for the Biden administration," wrote the Twitter account for the finance brand Litquidity in response to Biden's tweet.
Twitter Blue subscriber Wes Stevens piled on and commented, "Nothing but L's for this administration." A number of people responded calling it an "L," which, for those unaware, is a colloquial way of saying loss.
"The second you tweeted this Chiefs returned the ball for a TD, classic," @douvy_ wrote in the comments section. In fact, a large number of comments replying to Biden's tweet were mocking him in some form.
American school safety advocate JT Lewis simply laughed, "Haha losers," in the Bidens' direction.
Popular right wing social media user Kambree suggested the Super Bowl result was a recurring theme for the Biden administration. "Everything Democrats touch, they destroy, including a win at the Super Bowl," she wrote to her half a million Twitter followers.
The Bidens were both mocked and criticized in the comment section for a number of recent talking points. This included Biden and his government's reaction to the recent unidentified flying object shootings, and Jill Biden's recent unexpected kiss on the lips with Kamala Harris' husband Douglas Emhoff.