Joe Biden Mocking Donald Trump by Drinking Water With One Hand in Viral Video
President Joe Biden appeared to mock Donald Trump during a campaign rally in Virginia.
In a video shared to Twitter by @Acyn, President Biden was filmed mid-speech making a point of stopping to drink from a glass of water.
"Excuse me," he said before putting the glass to his mouth using one hand in what seemed to be a comedic reference to Trump's previously noted habit of drinking water with both hands.
His actions drew loud cheers from the crowd at the rally being held in Arlington, Virginia as part of Democrat Terry McAuliffe's gubernatorial campaign.
The significance of Biden's sip was not lost on social media where the clip has been watched more than 576,000 times, earning over 1,300 retweets in the process.
In a separate tweet, Democrat political strategist and consultant Adam Parkhomenko shared the video commenting "Biden just trolled the s*** out of Trump with a cup of water."
Dr Dena Grayson, a scientist and former Democrat congressional candidate, retweeted the video stating that she loved having a president "who can drink a glass of water with a single hand!"
Writer Holly Figueroa O'Reilly also shared the tweet writing, "That sound you hear is a stubby-fingered, orange faced man-child crying about how his water bottle was rigged so he had to use two hands."
Author Majid M Padellan, meanwhile, posted the video alongside the words: "ONE. HAND."
At least two videos have since surfaced comparing Biden's ability to drink water with one hand to Trump's two-handed approach.
The former president's drinking style became the source of much debate last year when he was filming during a graduation speech at the US Military Academy at West Point, New York, struggling to raise a glass of water to his mouth.
In a video posted to Twitter, Trump appeared to be having some issue lifting the glass to his lips using his right hand and eventually had to use his left to help.
Following the speech the hashtag "#Trumpisnotwell" began trending on Twitter.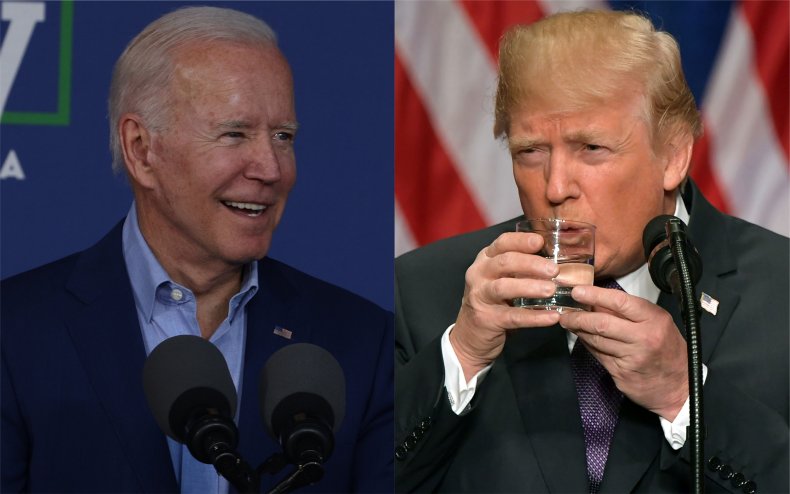 A week later, Trump addressed the incident during a campaign rally in Tulsa where he claimed he used two hands because he did not want to spill water on his silk tie.
"I look down at my tie because I've done it, I've taken water and spilled down onto your tie, it doesn't look good for a long time, and frankly the tie is never the same," he told the crowd.
To emphasize the point and dispel any notions of ill health, he then proceeded to pick up a glass of water with one hand and drink from it.
Since then, several conflicting videos have been shared online, some showing Trump appearing to drink one-handed with ease and others showing him using two.
Newsweek has reached out to the White House and Trump Organization for comment.