China President Warned Biden Democracy Is Dying: 'You Don't Have the Time'
President Joe Biden revealed that after being elected to the White House, Chinese President Xi Jinping cautioned him that democracies are on the decline and that one day "autocracies will run the world."
"We're living through a global struggle between autocracies and democracies," Biden said during his commencement address to the U.S. Naval Academy's graduating class.
"I've met more with Xi Jinping than any other world leader has. When he called me to congratulate me on Election Night, he said to me what he said many times before," the president said on Friday. "He said democracies cannot be sustained in the 21st century, autocracies will run the world. Why? Things are changing so rapidly. Democracies require consensus, and it takes time, and you don't have the time."
Biden and Xi have often struggled to see eye to eye on foreign policy, with the American leader championing democracy as his Chinese counterpart promotes autocracy.
On Friday, Biden reiterated that he believed democracies would prevail against autocracies like China and Russia. He used the war in Ukraine to bolster his argument, saying that while Russian President Vladimir Putin wanted to "'Finlandize' all of Europe" and force nations to be neutral, Putin's actions actually "NATOized" the continent.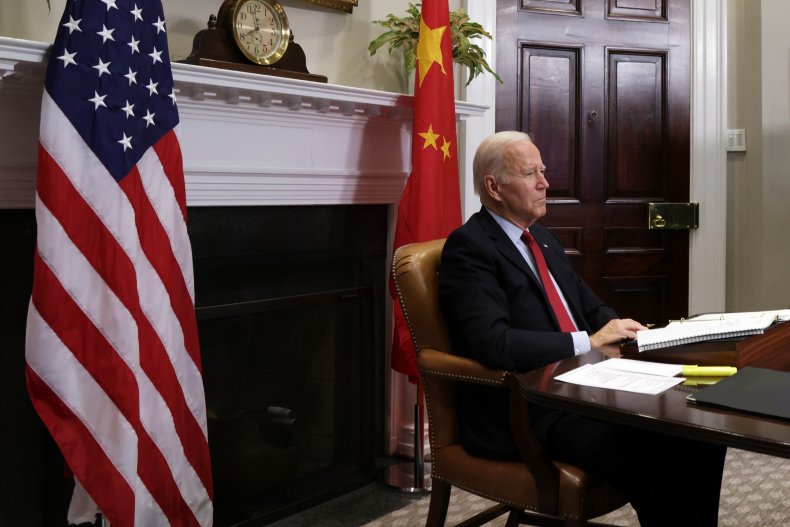 "Xi [is] wrong. Each of you, as you go out into the world, will not only be a proud member of the Armed Forces of the United States of America, you'll be representatives and defenders of our democracy," Biden said to the 2022 graduates gathered in Annapolis, Maryland.
"Sounds corny, but literally our democracy," he continued. "That's why you swear an oath, not to me as your commander-in-chief or any political leader, but to the Constitution. Our nation is placing in you great trust and great faith."
In recent months, many countries have moved to sanction Russia and supply Ukraine with military and humanitarian aid in an effort to support Ukraine as it defends its sovereignty. Russia has had few allies in the fight, although its most powerful has been China.
Outlining the contributions made by various nations to help Ukraine, as well as sanction Russia, during the three-month-long invasion, Biden said, "We're seeing the world align not in terms of geography—east and west, Pacific and Atlantic—but in terms of values."
"America leads not only by the example of its power but the power of its example. Think of why most nations agreed to support us," Biden said.
"The most powerful tool that you'll wield is our unmatched network of global alliances and the strength of our partnership," he said to the crowd.