Joe Biden's New Facebook Ad Lists Republicans Supporting Him Over Trump
The Biden campaign's latest election advertising on Facebook is focused on his support from Republicans critical of President Donald Trump.
Set to a soaring orchestral musical score, the new 52-second ad blast contains a series of statements made by politicians who say they will be casting votes in Biden's favor in the upcoming November 3 election, using the slogan: "Country over party."
The Facebook ad library—which maintains a database of paid political ads—shows the new campaign remains active, costing up to $20,000 and targeting key battleground states including Florida, Pennsylvania, Michigan, Wisconsin and Arizona.
The ad draws on statements from Cindy McCain, the former governor of Montana Marc Racicot, former governor of Ohio John Kasich, former secretary of homeland security Tom Ridge and ex-senior advisor to Vice President Mike Pence, Olivia Troye.
"There's only one candidate in this race who stands up for our values as a nation and that is Joe Biden," read the comment chosen from Cindy McCain, the widow of late Sen. John McCain who publicly endorsed the Democrat on September 23.
"John lived by a code: country first. We are Republicans, yes, but Americans foremost. There's only one candidate in this race who stands up for our values as a nation, and that is Joe Biden," she tweeted, a comment liked over half a million times.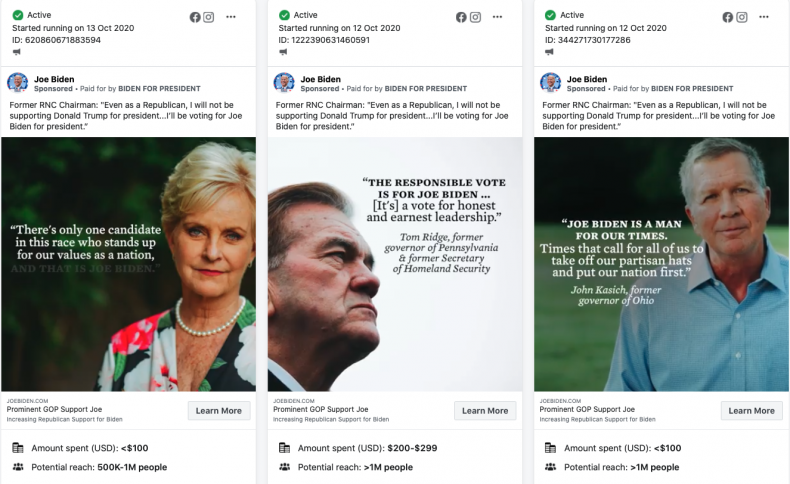 A statement attributed to Elizabeth Neumann, a former homeland security official in the Trump administration who previously blasted the president as racist, read: "We are less safe today because of [Trump's] leadership... I'll be voting for Joe Biden."
And in a line that seemingly fueled the advertising slogan itself, the marketing blast used a comment previously made by Troye, who said last month: "It's country over party right now for me." She previously said the U.S. was facing a "constitutional crisis."
According to the Ad Library, the Biden campaign has outspent the Trump campaign on Facebook ads over the past 30 days, with the Democrat's team pouring roughly $22.3 million into its messaging compared to the $17.4 million forked out by Trump.
Biden's new ad campaign comes after his campaign officials criticized the president over his rally in Florida on Monday, in the wake of his positive test for COVID-19.
A statement attributed to Biden said: "President Trump comes to Sanford today bringing nothing but reckless behavior, divisive rhetoric, and fear mongering."
A memo from the president's physician, Sean Conley, asserted yesterday that Trump had tested negative for COVID-19 on consecutive days, claiming the president is no longer "infectious to others." On Sunday, Twitter was forced to step in and flag a tweet after the president falsely claimed that he was now "immune" to the disease.