Joe Biden Not Opposed to Amy Coney Barrett, Says She 'Seems Like a Very Fine Person'
During Tuesday's presidential debate in Ohio, Democratic presidential candidate said President Donald Trump's nominee for the U.S. Supreme Court, Judge Amy Coney Barrett, seemed like a "very fine person."
Many Democrats have criticized Barrett's nomination, believing that the seat left vacant by the death of Ruth Bader Ginsburg in September should be left open until after the November election. Trump and other Republicans have said they have the right to nominate Judge Barrett. Biden said Tuesday night that he had no personal feelings against Judge Barrett.
"I have nothing-- I'm not opposed to the justice," Biden said. "She seems like a very fine person."
Newsweek reached out to the Trump campaign for comment.
However, Biden said that placing a new justice on the U.S. Supreme Court was "just not appropriate" in an election year.
"If [Trump] wins the election and the Senate is Democrat--er, Republican, then he goes forward," Biden said. "If not, we should wait until February."
Trump responded by telling Biden his administration had "plenty of time" to advance a nomination for the Supreme Court. "I'm not elected for three years," Trump said, "I'm elected for four years."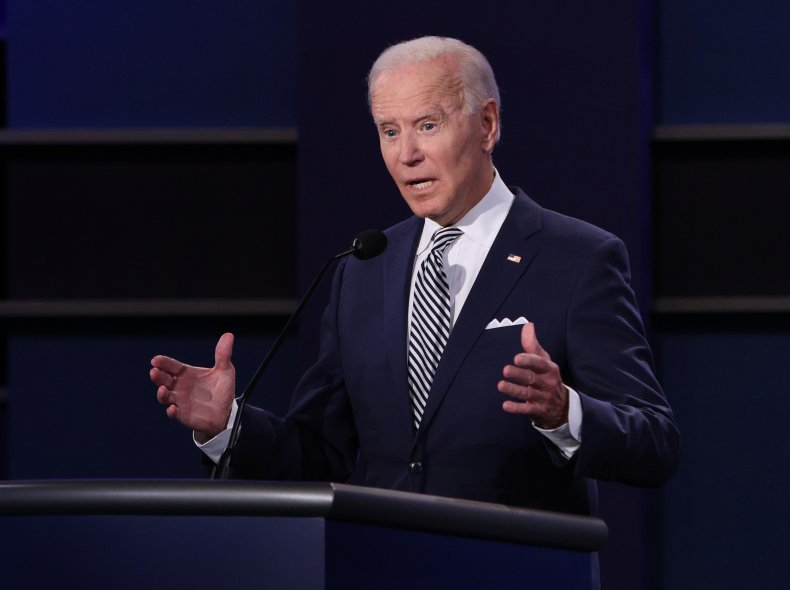 Should Barrett's nomination be approved, that would place six conservative justices on the Supreme Court, giving the GOP a majority on the bench. Trump has appointed three Supreme Court Justices during his first term.
Biden pointed out Barrett's previously stated opposition to the Affordable Care Act and women's access to health care as reasons to wait.
Trump said that the Democratic Party wanted to steer the U.S. toward socialized medicine. "They're gonna dominate you, Joe," Trump said, "and you know that."
"I am the Democratic Party right now," Biden said. "The platform of the Democratic Party is what I, in fact, approved of."
Trump also denied Biden's claims that Roe v. Wade, the 1973 ruling that allowed women to seek legal abortions, would be overturned if Barrett were to take a seat on the Supreme Court. After Biden said that Roe v. Wade was "on the ballot," Trump questioned the statement.
"Why is it on the ballot?" Trump asked. "It's not on the ballot. There's nothing happening there and you don't know [Barrett's] view on Roe v. Wade."
During an interview with Fox & Friends in September, Trump said that Barrett's presence on the Supreme Court could allow Roe v. Wade to be overturned. "Maybe they'd give it back to the states," Trump said. "You just don't know what's going to happen."