Joe Biden Notecard Detailing Instructions For President Revealed
President Joe Biden has revealed the comically detailed notes he used during a meeting on Thursday in a video that has now gone viral.
Biden was meeting with wind executives, after skipping a meeting with oil executives, when he revealed his cheat sheet to the camera, according to reports.
During this meeting, Biden reflected on the U.S. Supreme Court's decision to strike down a New York law requiring individuals to show "proper cause" in order to get a license to carry a firearm outside a home.
While speaking on this matter, Biden momentarily showed the cameras his cheat sheet and photographers were able to take snapshots of the notes.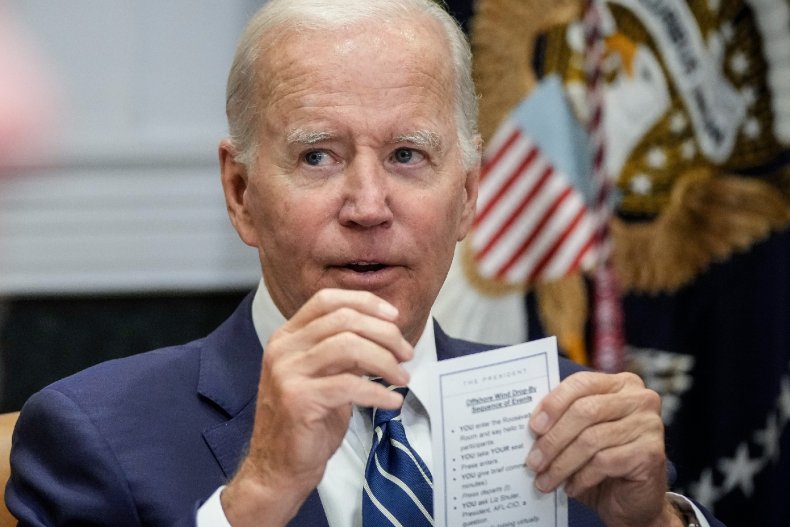 The instructions, titled "Offshore Wind Drop-By Sequence of Events," emphasize Biden's actions in capital letters throughout.
The bullet-pointed sheet says: "Enter the Roosevelt Room and say hello to participants."
Then it reads: "YOU take YOUR seat."
After it adds: "YOU give brief comments (2 minutes)," "YOU ask Liz Shuler, President, AFL-CIO, a question," YOU thank participants" and "YOU depart."
Biden has faced ridicule on Twitter for the overly detailed notes with many questioning his mental well-being.
"We are so Screwed: Joe Biden accidentally reveals his step-by-step notes on how to act, what to say," commentator Andrew Malcolm tweeted while sharing an article on the incident.
"This is Joe Biden inadvertently showing cameras a note card prepared for him today at a White House event. Disturbing, to say the least," conservative radio personality Chris Stigall tweeted while sharing a picture of Biden holding the cheat sheet.
Newsmax TV host Greg Raymond Kelly shared a similar picture and tweeted: "On Joe Biden's note card- there are BASIC INSTRUCTIONS on what Joe is supposed to do.
"1. Walk in room. 2. Sit Down. 3. Speak. 4. Ask question. Is he in NURSERY SCHOOL?"
Republicans have repeatedly questioned Biden's mental faculties during his time as president. In February of this year, Republican lawmakers called on him to take a cognitive test to prove he is fit to lead the country.
Representative Ronny Jackson of Texas sent a letter to the White House on the issue that was co-signed by 37 other Republicans.
It claimed Biden was showing signs of mental decline and should take a test to prove otherwise.
As recently as last week, concerns over Biden's mental capacity were dismissed by White House officials.
During an interview with CNN's Don Lemon, White House press secretary Karine Jean-Pierre responded with surprise after being asked about the president's mental fortitude, according to reports.
When pressed on Biden's mental health again she argued it was not a question we should be asking.
She went on to say: "Just look at the work he does. And look how he's delivering for the American public.
"We care about how we are going to deliver for the American people, how we are going to make their lives better.
"That's what the president talks about. That is his focus and that's what we'll continue to focus on."
Newsweek has contacted the White House for comment.