Joe Biden Has 74 Percent Chance of Winning Pennsylvania, According to Bookmakers
Joe Biden is favorite to win the crucial state of Pennsylvania, bookmakers said, with less than three weeks to go until election day.
According to betting website Oddschecker, the Republican party on Wednesday had odds of +257, meaning an implied chance of 28 per cent of turning the state red.
Democrats meanwhile had odds of -286, giving Biden a 74 percent implied chance of winning the key state.
Emphasizing the importance of Pennsylvania to the hopes of the Democratic candidate, a source close to the Biden campaign told Newsweek in recent days that the state was "driving everyone's strategy," adding: "We'll probably win here. But if we don't, we are so screwed."
Polling and political analysis website FiveThirtyEight has described Pennsylvania as "single most important state of the 2020 election."
According to FiveThirtyEight's presidential forecast, Pennsylvania is "by far the likeliest state" to provide either Trump or Biden with the decisive Electoral College vote, with a 31 percent chance of being the tipping-point state.
If Pennsylvania falls to Trump, the polling site gives the incumbent an 84 percent chance of remaining in the White House. But if Pennsylvania goes blue, FiveThirtyEight said Biden had a 96 percent chance of getting elected.
The importance of Pennsylvania lies in the fact that it is split almost down the middle when it comes to support for Democrats and Republicans. Yet the state also wields an impressive 20 Electoral College votes—making it tied in fifth place for states with the most electoral votes.
In 2016, Trump won the popular vote by just over 44,000 votes, but secured all 20 Electoral College votes.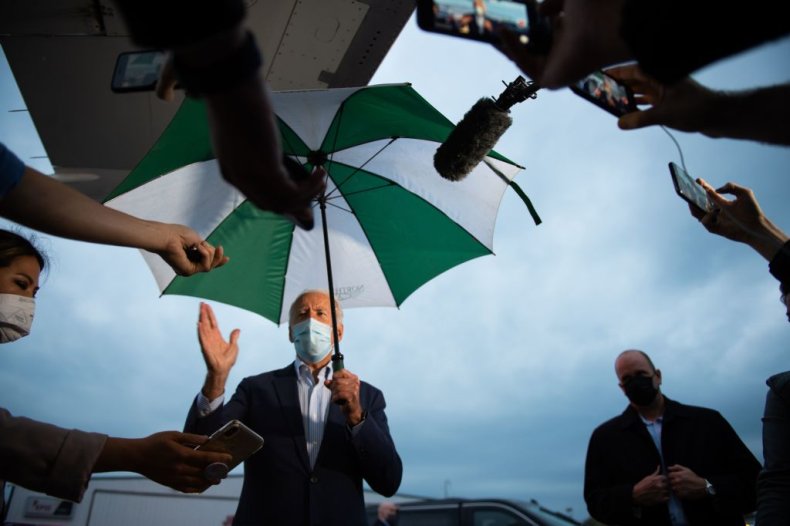 Then, Trump carried Pennsylvania by just 0.7 percentage points—making it 2.9 points redder than the nation as a whole, which backed Hillary Clinton in the popular vote, FiveThirtyEight said.
The result made Trump the first Republican presidential candidate to win the state since 1988.
Polling released on Tuesday showed Trump trailing the former vice president in Pennsylvania.
The Morning Consult survey gave the Democrat a lead of 8 percentage points ahead of the president among likely Pennsylvania voters, with 52 percent backing Biden and 44 percent favoring Trump.
The survey, which collected responses from more than 2,610 likely voters between October 2 and 11, had a margin of error of 1.9 percent.
Biden, a Pennsylvania native, has visited the state more than any other since the beginning of September.
Spending on television advertisements is also higher than in any other state except Florida, political ad tracking firm Kantar/CMAG said.