Joe Biden Offers 'Democracy and Decency' After Donald Trump, Says Theresa May
The former prime minister of the United Kingdom has welcomed the arrival of Joe Biden as U.S. president, saying his administration "will lead the world into a brighter future".
Former PM Theresa May spoke of her own relationship with President Donald Trump just hours ahead of the inauguration, referencing the moment Trump held her hand as they walked in front of the press during a trip to the White House in 2017.
She said: "I never knew what to expect. From being offered, sometimes literally, the hand of friendship to hearing him question core tenets of the transatlantic alliance. When a British prime minister walks out for a joint press conference with the world's media unsure if the United States president standing next to her will agree that NATO is a bulwark of our collective defense, you know you are living in extraordinary times."
President-elect Biden will be sworn into office as the 46th U.S. president without Trump in attendance, a reversal from long-standing tradition. Instead, Trump will address his supporters before heading to his home in Florida. Vice President Mike Pence is scheduled to attend Biden's inauguration but won't attend Trump's send-off event. In a video farewell address lasting almost 20 minutes, Trump, who spent months refusing to concede the election, didn't mention Biden by name but said he wishes the new administration luck.
May, writing in the Daily Mail, said Biden will put the U.S. national interest first but in comparison to his predecessor, "will be a more predictable and reliable partner" for the U.K.
She said: "The arrival of President Biden provides Britain with a golden opportunity. He is an experienced hand, having served eight years as a diplomatically engaged vice president. Together, a U.S. recommitted to international leadership and the United Kingdom guided by our common values can be a powerful partnership. We can lead the world in action to tackle climate change at COP26 in Glasgow. We can galvanize the other great democracies which share our belief in freedom under the rule of law. Together, we can make the 2020s a decade in which democracy and decency lead the world into a brighter future."
In the same article, May criticized her own successor, Boris Johnson, accusing him of "abandoning our position of global moral leadership" by threatening to break international law over Brexit. With the pandemic still raging, May said, and the long-term economic and social impact of COVID to be addressed, "it is now even more important that we work together with our allies". May said: "In Joe Biden and Kamala Harris, I believe Britain has partners for positive action to make our world a safer place.
"The U.S. and the U.K. share enduring values: respect for human dignity and human rights, freedom of speech and thought, representative democracy, equality and the rule of law. These values have shaped our societies. In the past, we have had common cause to defend them. Today, those values are under threat once again – and once again, the UK has a responsibility to play its part in defending them."
On the storming of the Capitol, the former U.K. prime minister said it was "not the act of a lone extremist or a secretive cell, but an assault by a partisan mob whipped up by an elected president". She said: "I know from experience that leaving power is not easy – especially when you feel that there is more you want to do. But anyone who has the honor of serving in such a position must always remember that the office is bigger than the individual."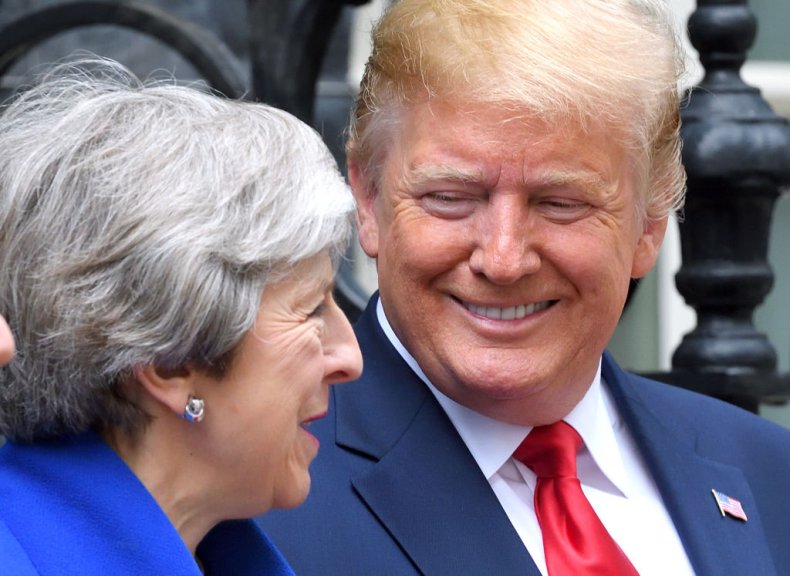 Prime Minister Johnson issued his own statement in which he said he is looking forward to working "hand in hand" with the new U.S. president. In advance of the historic day, Johnson said he hoped the U.K. and U.S. would join forces to address the most pressing challenges facing the world, which could only be tackled by "international co-operation".
The prime minister is keen to shake off the view held by some Democrats that he is a "Trump clone", an image created during previous meetings between the two leaders. Johnson pointed to the continuing common interests the U.K. and the U.S. share on defense, security and "defending democracy". He also highlighted Britain's upcoming role in chairing the G7 summit in Cornwall, England, and the Cop26 climate change conference in Glasgow, Scotland, both priorities for the new administration.
Johnson said: "I warmly congratulate Joe Biden on his historic inauguration as 46th president of the United States and look forward to working closely with his new administration as we defeat Covid and build back better from the pandemic.
"In our fight against Covid and across climate change, defense, security and in promoting and defending democracy, our goals are the same and our nations will work hand in hand to achieve them. Only through international cooperation can we truly overcome the shared challenges which we face."