Joe Biden Opens Up 21 Point Lead Over Bernie Sanders in Michigan Ahead of Primary: Poll
Joe Biden has a 21-point lead over Bernie Sanders in Michigan ahead of the state's Democratic primary contest on Tuesday, a new poll has found.
The latest survey by Mitchell Research & Communications reported that Biden was backed by 54 percent of Democrats in the state, while Sen. Sanders (I-Vt.) was supported by 33 percent.
It also found that the former vice president had a 43-point lead over the Vermont senator among African American voters in the state, with 64 percent opting for Biden and less than a quarter (21 percent) backing Sanders.
But the congressman did come out ahead of Biden among younger voters. Sixty-one percent of polled 18-29 year olds in Michigan said Sanders was their preferred candidate, while just 21 percent said the same of the former vice president.
Two-thirds (67 percent) of 30-44 year olds also backed Sen. Sanders over Biden, who had just 28 percent support among the age group.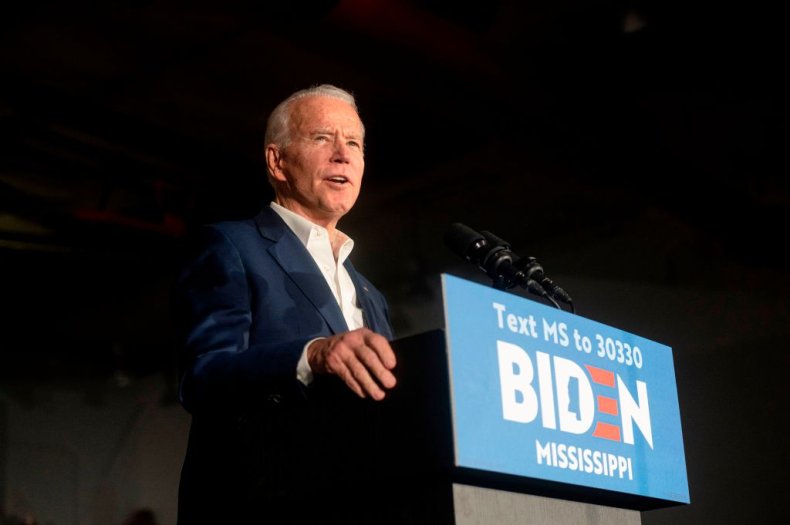 Former primary candidates were also included in the poll, despite some dropping out days before it was conducted. Sen. Elizabeth Warren (D-Mass.) polled at three percent while former New York City mayor Mike Bloomberg was backed by 1 percent of voters.
Mitchell Research surveyed 602 likely voters through automated phoning on Sunday, and the pollster says its margin of error is 4 percentage points.
A sizeable majority of the poll's respondents, 68 percent, were aged 45 and older, and 32 percent were 18-44 years old. By comparison, the Michigan Democratic primary's 2016 exit poll found 55 percent of voters were 45 and older while 45 percent were aged 18 to 44, according to data gathered by Edison Research.
The poll results have arrived just a day before Michigan and five other states are slated to pick their preferred 2020 Democratic candidate in Tuesday nominating contests.
They have also followed a series of high-profile endorsements of the Biden campaign, with former primary candidates Sen. Kamala Harris (D-Calif.) and Mike Bloomberg among those revealing their support for the former vice president's run.
"With former New York Mayor Mike Bloomberg, former South Bend Mayor Pete Buttigieg, and U.S. Sen. Amy Klobuchar all dropping out and endorsing Biden, it is clear that Biden has gained most of their voters," Mitchell Research & Communications President Steve Mitchell said in a statement published by Real Clear Politics. "The fact that the other 'Progressive,' Sen. Elizabeth Warren, has not endorsed Sanders has hurt the Vermont senator."
After noting that the Democratic primary race had changed "dramatically" in the wake of Biden's victories in South Carolina and the majority of Super Tuesday states, the pollster added: "Sanders has also been hurt by an almost constant onslaught by moderate Democrats saying that Sanders is too liberal to win.
"Sanders won by 1.5 percent four years ago, but he is not going to capture that magic this year."
Mitchell Research has a "D" rating from FiveThirtyEight, which is tracking national and state polling averages.
The FiveThirtyEight Michigan primary polling average has shown Biden's rating in the state spiking over the last week, taking him into the frontrunner spot with a 12-point lead over Sen. Sanders.
There will be 125 delegates up for grabs at the Michigan primary tomorrow, making it the nominating contest with the biggest delegate haul on March 10.
Sanders won the state in a surprise victory over Hillary Clinton during the 2016 Democratic primary. He finished just 1.5 percentage points above the the former secretary of state.
Correction 03/10/20 05:59 a.m. ET: The headline of this article was updated to reflect that Biden led by 21 points, not 11 points.