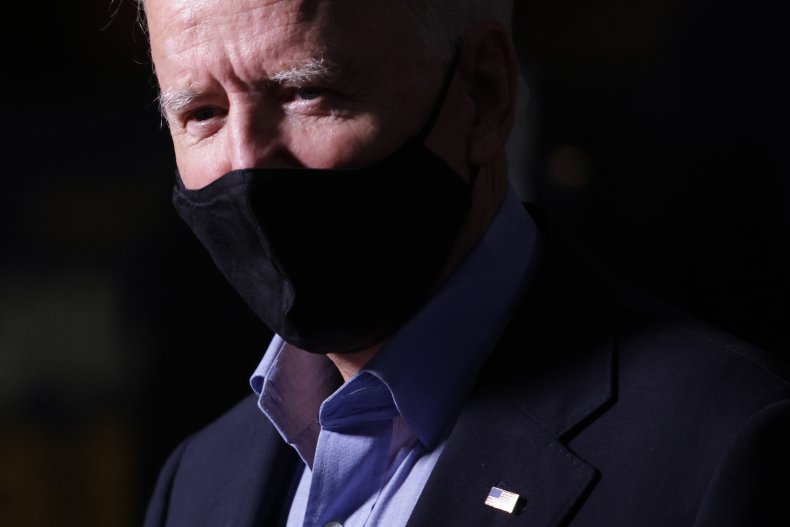 Just days after the two faced off in their first debate, Joe Biden is back on the campaign trail after his rival President Donald Trump tested positive for COVID-19.
Biden, who announced he tested negative Friday morning, is scheduled to speak in Grand Rapids, Michigan later in the afternoon.
Biden's campaign didn't immediately respond to Newsweek's request for more information about future plans for how the campaign would be affected by Trump's diagnosis, but his decision to go forward with the Michigan trip signals that he's not putting a pause while Trump is recovering.
Biden spent much of the summer on lockdown in his Delaware home as the pandemic spread across the country and avoided aggressive campaign travel.
Trump and his top campaign aides mocked Biden for "hiding in his basement" during that time, while the president has held multiple large-scale rallies where people often went unmasked.
The issue of masks and social distancing even became a point of contention during Tuesday's debate.
"He's been totally irresponsible the way he's handled social distancing and discouraging people to wear masks," Biden, 77, said about Trump, 74.
Trump, who has largely eschewed mask wearing though began referring to it as "patriotic" after facing backlash, joked about Biden's mask.
"I don't wear masks like (Biden)," Trump said during the debate. "Every time you see him, he's got a mask. He could be speaking 200 feet away from it, he shows up with the biggest mask I've ever seen."
In addition to the president, first lady Melania Trump and Hope Hicks, a top aide to Trump who attended the debate in Cleveland on Tuesday, also have tested positive in recent days since the debate.
Vice President Mike Pence, who did not attend the Ohio debate, has tested negative, according to the White House, but he also has no events on his public schedule for Friday but the campaign said he would soon resume events.
Biden was already scheduled to travel to Michigan on Friday but delayed his plans while awaiting his test results. His wife, Jill, also tested negative, according to a note from their doctor that was given to reporters. While in Michigan, he will give remarks at a local union hall to a limited crowd.
Trump had been scheduled to host a campaign fundraiser at his hotel in Washington, D.C., on Friday before traveling to Sanford, Florida for a rally. He was then slated to go to Wisconsin on Saturday. Those appearances have been canceled as Trump isolates at the White House. White House chief of staff Mark Meadows told reporters Friday morning that Trump has "mild symptoms" but remains active, taking calls.
"He continues to be not only in good spirits but very energetic," Meadows said.
Bill Stepien, Trump's campaign manager, told reporters Friday that the campaign is evaluating its options.
"All previously announced campaign events involving the president's participation are in the process of being moved to virtual events or are being temporarily postponed," he said.
Campaign events hosted by members of the Trump family have also been affected, Stepien said.
"In addition, previously announced events involving members of the first family are also being temporarily postponed," he said. "All other campaign events will be considered on a case-by-case basis and we will make any relevant announcements in the days ahead."