Joe Biden Outperforming Hillary Clinton in More Than a Dozen Key Swing States Critical to Trump's 2016 Victory
There may still be five months until Election Day but polling shows that former Vice President Joe Biden is already performing better in key swing states than Hillary Clinton did in 2016—a troubling sign for President Donald Trump's reelection effort.
An analysis by political scientist Alan Abramowitz for the election forecaster Sabato's Crystal Ball found Biden, the presumptive Democratic nominee, ahead in more than a dozen states critical to Trump's success and Clinton's downfall in 2016: Arizona, Colorado, Florida, Georgia, Maine, Michigan, Minnesota, North Carolina, New Hampshire, Nevada, Pennsylvania, Virginia, and Wisconsin
Not only is Biden leading Trump in hypothetical head-to-head matchups in each of these areas, but he's also performing better than Clinton's vote margin from the 2016 contest. That means in November, Biden could be a stronger Democratic candidate than Trump has faced before. On average, Biden is running more than six points ahead of Clinton in these 13 states.
"In the recent polling, Biden is outperforming Clinton's actual performance in the election," Abramowitz told Newsweek. That factor, he said, could mitigate skepticism of presidential polling that has carried over from the 2016 election.
"It's showing Biden with a bigger margin for error," Abramowitz said.
Leading up the 2016 contest, both state and national polling significantly underestimated support for Trump. The president still criticizes surveys that show him at a deficit. Earlier this week, he called one poll that found Biden with a 10-point national lead a "Heavily biased Democrat Poll."
But many polling organizations have adjusted their procedures and sampling methods to correct the errors made in the previous election cycle. And even with those changes, Biden is still polling better now than Clinton's final survey numbers in 11 of the 13 states.
Abramowitz acknowledged that there could still be errors but it's unlikely to be the same pattern as the 2016 cycle. Overall, he said the data is a positive sign for the Biden campaign as "you would definitely rather be ahead than behind."
Michael Starr Hopkins, a political strategist who worked on President Barack Obama's 2008 campaign and Clinton's run in 2016, agreed that it's a "strong showing for Democrats that Biden is outperforming Hillary at this point in the election."
With a leg up in key swing states, Biden could block Trump from running away with the Electoral College like in 2016. While Clinton won the popular vote in 2016, Trump defeated her in large part due to his victories in swing states. The president won seven of the 13 swing states for a total of 118 electoral votes compared to Clinton's 45. If today's polling is reflective of the final results, Biden could walk away with nearly all 163 electoral votes offered by these states.
Hopkins said with states like Georgia and Florida being more in play for Biden, Trump "will run out of states to make the map into 270."
In response to the data, Trump's campaign said that "2016 proved that polling is notoriously wrong and has always underestimated the President and his ability to connect with the American people."
"President Trump's America First agenda ushered in an economic renaissance, renewed national security, better trade deals for workers, and an unprecedented whole of America response in the war against the coronavirus," deputy press secretary Sarah Matthews told Newsweek."Contrast his success with Joe Biden's dismal track record of slow economic growth, China appeasement, and creating the mass incarceration policies that Black communities are still reeling from today, and it's even clearer what a poor choice Biden would be."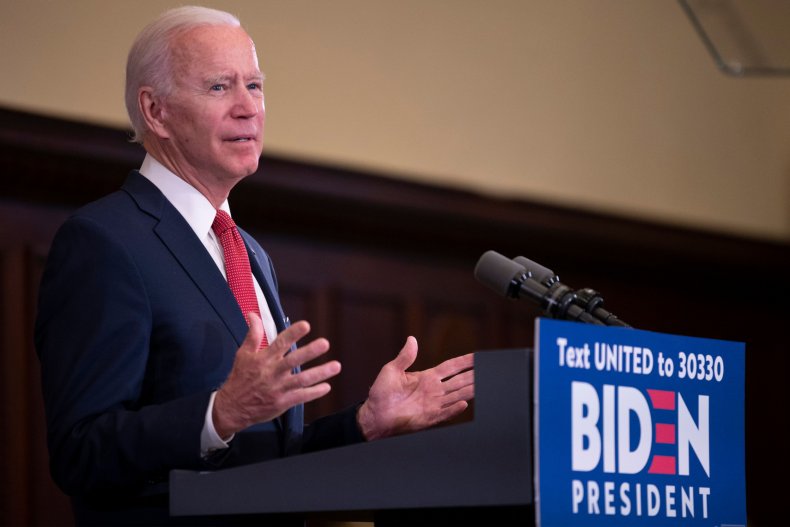 National surveys also show Biden outpacing Clinton in factors such as favorability.
The most recent Washington Post/ABC News poll found Biden ahead of Clinton in favorability. At this point in 2016, the Post reported Clinton's favorability was 53 percent negative—five points worse than Biden.
Neither Trump or Biden were viewed favorably by a majority of Americans. The survey showed that 46 percent of those polled viewed Biden favorably while 48 percent had an unfavorable view. For Trump, 42 percent had a favorable view while 55 percent did not.
Clinton endorsed Biden in late April, following Vermont Senator Bernie Sanders' exit from the Democratic primary race. In her statement, Clinton touted Biden as a "friend" and said she wished he was president right now.
"Just think of what a difference it would make right now if we had a president who not only listened to the science, put facts over fiction, but brought us together, showed the kind of compassion and caring that we need from our president, and which Joe Biden has been exemplifying throughout his entire life," the former secretary of state said.
Representatives from Biden's campaign have yet to respond to Newsweek's requests for comment.
Update: This story has been updated to include comment from the Trump campaign.