Joe Biden is Outraising Trump, Mirroring Kerry Race Against Bush in 2004
Joe Biden has outraised President Donald Trump for the second month in a row, mirroring the fundraising achievements of John Kerry—the last Democratic presidential candidate to face off against a Republican incumbent.
Releasing details of its second quarter fundraising haul on Wednesday, the Biden campaign said it had raised a little more than $282 million between April and June.
At the same time, the Trump 2020 campaign and Republican National Committee announced that they had raised $266 million over the same period, putting their haul $16 million behind the former vice president's receipts.
The Biden campaign and Democratic National Committee said they bagged a combined $141 million in June alone, the biggest single-month haul of the Democratic challenger's campaign.
By comparison, President Trump' re-election team touted their own $131 million fundraising total over the same month—up from $74 million in May.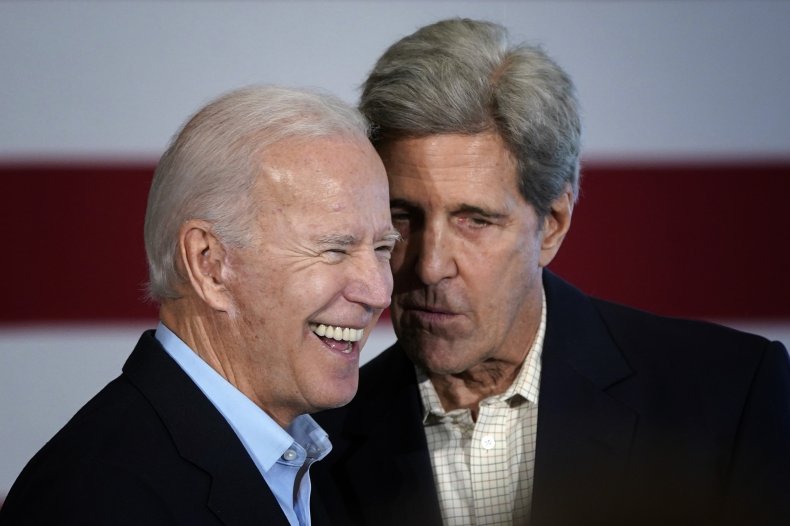 Announcing their own fundraising haul for May, the Biden campaign said they had raised a little more than $80 million, putting them roughly $6 million ahead of the Trump campaign.
In a message to supporters, Biden's campaign manager Jen O'Malley Dillon said: "While we're still counting, it looks like you did it again! I am proud to announce that in June — with your support — and the support of so many others — we raised over $141 million.
"Not only is this a jaw-dropping sum of money, but we once again outraised Donald Trump!"
Biden's successive fundraising victories over the president's campaign echo the success of Kerry's 2004 campaign against former President George W. Bush.
As NPR reported in 2012, Kerry's campaign reported outraising Bush for the third month in a row back in May, 2004. A month earlier, the former secretary of state's team raked in almost twice as the Bush re-election campaign.
The Washington Post reported that Kerry raised $30 million to the then-president's $15.6 million.
Fast-forward eight years, and the Republican presidential candidate Mitt Romney was pulling off similar fundraising feats against then-President Barack Obama.
The U.S. Senator of Utah raised more than $101 million in July 2012, surprassing Obama's haul by a little more than $25 million over the same period. The blow to the president's campaign came a month after Romney and the Republican National Committee raised $106 million to Obama's $71 million.
Kerry and Romney both lost on the popular vote and electoral college despite their fundraising successes, with each candidate picking up roughly 3 million fewer votes than the incumbent they challenged.
It is not clear whether Biden will suffer a similar fate in November. At the time of writing, the FiveThirtyEight average of national head-to-head polls puts Biden more than 9 points ahead of Trump, with several individual surveys giving the former vice president double-digit leads over the president.
Several polls published last month also showed Biden leading Trump by significant margins in key swing states, including Florida, Wisconsin and Pennsylvania.